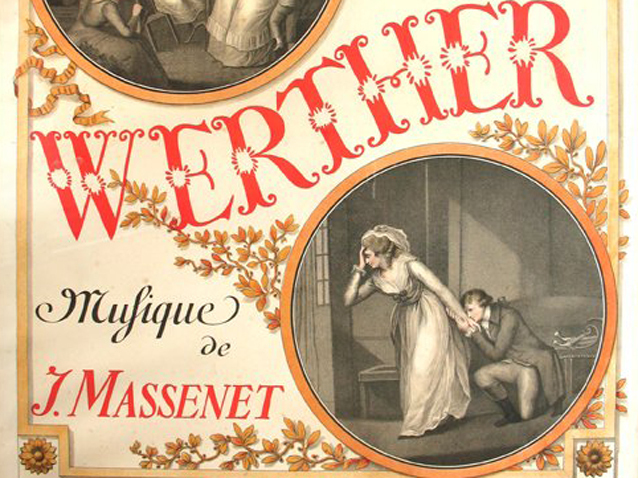 General informations
Composer:Jules Massenet
Librettist:

Edouard Blau

Creation date:

1892

Creation place:

Austria

Acts number:

4

Original language:

French

Opera House of original production:

Opéra Impérial

Original orchestration:

3/3/2/1 sax.alto/2 - 4/2/3/1 - timp, percu, harpe, orgue, clavier de timbres, strings

Publishers:

Georges | Hartmann
Work description
Werther, Massenet's masterpiece, was written in German, in Vienna, and reprised the following year at the Opéra Comique in French. The libretto was inspired by Goethe's epistolary novel, The Sufferings of Young Werther, whose intense romanticism perfectly suited Massenet's temperament. Reynaldo Hahn pithily summarised the instant sensation created by Massenet's music: "Everyone loves Massenet, except perhaps for the inhabitants of Mars." After a period of relative oblivion, new productions revived the full power of this work, whose tormented hero seeks in death an answer to his impossible love. The score features magnificent duets between Werther and Charlotte, torn between their aspiration to happiness and implacable compliance with social and familial convention that the young woman could not escape. While utilising the resources of the large symphony orchestra, Massenet creates an intimate and penetrating atmosphere, best illustrated by a magnificent aria: "Why awaken me, O breath of spring," a true "hit" that every tenor wants to include in his repertoire.
Summary
The action takes place at Wetzlar, near Frankfurt, around 1780. Werther, a young poet, falls in love with Charlotte, the eldest daughter of the bailiff left a widower with young children. The girl replaces her siblings' dead mother, whom she promised to wed Albert, the perfect potential husband. Bound by this promise, sacred in her eyes, Charlotte prefers to renounce her attraction to Werther. She marries Albert and makes Werther promise to go away until Christmas. But the separation brings no relief to the two young people. Werther can see no other outcome than death for their impossible love. Charlotte arrives too late to save him. Mortally wounded by the pistol he borrowed from Albert, Werther dies, at peace, in the arms of Charlotte, who finally admits her love for him.
Act I
The curtain rises on the ruckus being made by the Bailiff's children singing Christmas carols in the middle of summer. Charlotte, the eldest, is the guardian angel of her younger siblings, whom she watches over with a mixture of authority and kindness. The young poet Werther, a friend of the family, succumbs to her charms and confesses his passionate love for her when they return from an outdoor dance. But Charlotte, although moved, does not respond to his passion. She must respect her mother's last will that she marry the sensible Albert. Werther is in the throes of despair when Albert's return is announced.
Act II
After being married to Charlotte for three months, Albert considers Wether a friend, and Sophie, Charlotte's younger sister, secretly in love with the poet, hopes he will seek consolation in her. But Werther remains desperate, and Charlotte, becoming fearful, asks him to leave and return at Christmas when he has recovered his peace of mind.
Act III
On Christmas Eve, Charlotte excitedly rereads Werther's passionate letters, allowing herself to be overcome by a dark melancholy. ("Go on! Let my tears flow.") Werther then appears, trembling with the memory of the past and now haunted by suicidal thoughts. The exalted evocation of Ossian's verses further sharpens the pain of his impossible passion. (Why awaken me, O breath of spring….) Charlotte remains inflexible. Werther announces his departure on a "long voyage" and asks Albert to lend him his pistols. Albert finally suspects his wife's emotion and, in a fit of jealousy, orders her to take the fatal weapons to poor Werther.
Act IV
Charlotte, gripped by a frightful foreboding, rushes to Werther, whom she finds dying. She finally confesses her love for him, thus providing him the few moments of happiness and peace that he wanted so much. As the joyful singing of the children celebrates Christmas night, Werner, finally happy, dies in the arms of the one he loved so passionately.