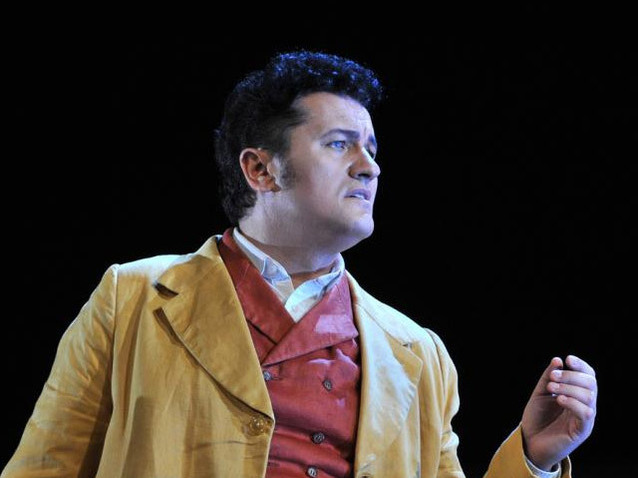 Looked down on by the official cultural savants (including psychoanalysts) for embodying the trivialisation and heavy-handed simplification of one of the most powerful love stories of the western culture, almost like a creation myth; and despised as well by the scholarly musicology of the 20th century that considered Massenet to colour everything with an unbearable bourgeois temperateness and a sticky and decorative sweetness, Werther is one of those "Cinderella" titles that survives in the repertoire thanks to the permanent support of the audience, who may not be savant but recognises or intuits that this opera brings music with sensitivity and delicateness to a poignant story.
Singing Werther at Liceu isn't an easy task, still wandering in the stage are the shadow and the souvenir of Alfredo Kraus, the perfect performer for the role, who 25 years ago featured in the last performances of this title in the house.
Opera, more than any other form of artistic expression, is nowadays so unbearably nostalgic that, for better or worse, the memories of singers from the past (so often forged by affection) become ghosts, an unsurmountable obstacle for today's singers. How many soprano careers has Maria Callas ruined post mortem?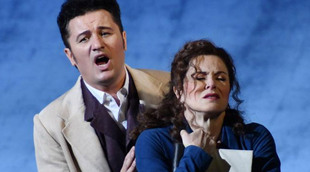 Werther - Gran Teatre del Liceu (2017) Ⓒ Antoni Bofill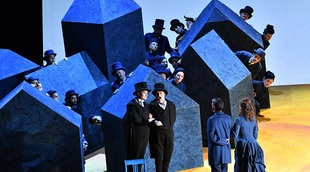 Werther - Gran Teatre del Liceu (2017) Ⓒ Antoni Bofill
Polish tenor Piotr Beczala, one of today's best performers for the role, alien to the romance between Liceu and Kraus, had secured a very good Werther in the 1st and 2nd acts. He showed a well-rounded, supported, beautiful voice, with good phrasing, expression and perfect style, without doing bel canto (which would have been too sweet) nor verismo (which would have been too aggressive). However, the pearl of the role Pourquoi me réveiller was yet to come in the 3rd act and Kraus's souvenir was more present than ever, almost like a vibration of the air.
Beczala attacked cleanly, controlling the flow of air perfectly, breathing with the orchestra, respected the decrescendi prescribed by the score, gave depth and presence to the notes on the lower register, planted two A sharps that crossed the room like bright arrows and ended with an exquisite messa di voce on the last note. The theatre was collapsing, Kraus had disappeared and was finally resting in peace. Liceu had found another ideal singer for Werther, a sublime Werther: Piotr Beczala. This is how history is written in opera theatres.
Beczala's apotheosis was such that there was a repetition of the whole aria, the most unusual and rare thing, which hadn't happened at Liceu for years.
Anna Caterina Antonacci was a good Charlotte, with a praiseworthy Va! Laisse couler mes larmes and Joan Martín-Royo was a good Albert. Alain Altinoglu (debuting at Liceu) conducted well an orchestra that responded optimally. All the secondary roles were good too, but Werther is very clearly a "tenor" opera and the intense light of the tenor leaves the audience blind to any other beauty.
The production, an old one from Frankfurt´s Opera that has toured the planet, directed by Willy Decker, is good, cold (perhaps a little too much), has clean lines, is austere, moves away from the anecdote and local colour and focuses essentially in the interaction between the characters. The stage direction draws the figure of Charlotte, a woman trapped in the contradiction between her feelings and her marriage, very well and with plenty of nuances, giving her almost most attention than to Werther himself, who is very well presented as what he deeply is: an immature narcissist.
As Anna Caterina Antonacci rightly pointed out in an interview published the day before the premiere, this staging often reminds us of Chekhov, Bergmann or Ibsen, good and relevant referents for a story that, although arrives to us from France, we must not forget is born with Goethe.
Werther by Jules Massenet. Piotr Beczala, tenor. Anna Caterina Antonacci, soprano. Joan Martín-Royo, baritone. Elena Sancho Pereg, soprano. Stefano Palatchi, bass. Antoni Comas, tenor. Marc Canturri, baritone. Orquestra del Gran Teatre del Liceu. Alain Altinoglu, conductor. Willy Decker, stage director. Stefan Heinrichs, director of restaging. Wolfgang Gussmann, scenography and costumes.
Production by Frankfurt's Opera. Gran Teatre del Liceu. Barcelona, 15th January.
the 17 of January, 2017
|
Print