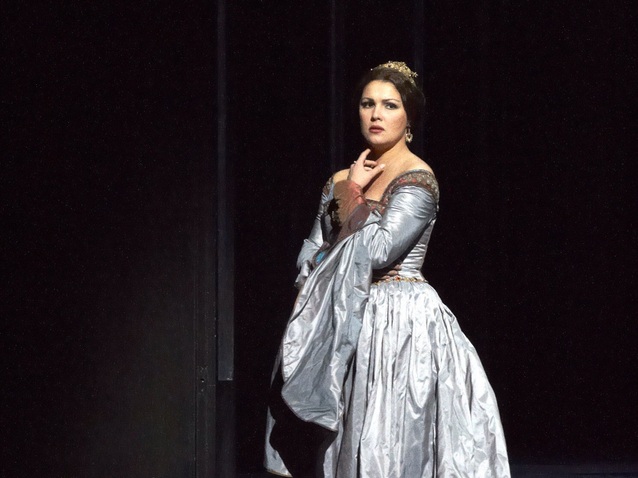 © Wiener Staatsoper Michael Pöhn
Anna Netrebko is back to Vienna and gives another demonstration of her current vocal class of its own. She acts as Queen Anne, wife and victim of brutal Henry VIII, the selfish and intrigue womanizer. Anna Bolena is Gaetano Donizetti's 25th opera and his first long lasting success.
In the unspectacular and simple direction of Eric Genovese but in elegant costumes by Luisa Spinatelli, it is Anna Netrebko's appearence and elegant play together with her brilliant voice that makes the evening to an outstanding experience and a top event for opera lovers.
Andriy Yurkevych is the musical director of this belcanto highlight of top class cast. He starts vivid, a bit clumsy and hard but during the evening he softens and brings full romantique harmony and volume, in fine tuning with the singers.
Luca Pisaroni presents the powerful but brutal ruler who contributed so much to English history and culture with Italian elegance and style, too much of a gentleman to be convincing. Ekaterina Semenchuk as the competing Lady Giovanna Seymour misses the dignity of Anna Netrebko's play and voice. She sets to much power and lacks of differentiation in her expression. Celso Albelo is a young fresh tenor who shows a self confident and well tuned tenor with timbre and volume. Margarita Gritskova is an imbecile Smeton who fails in his passion for the queen.
The grande finale gives Anna Netrebko the platform as the Primadonna assoluta, a vocal queen of noble colleraturas. The audience is thrilled and gives a longlasting and overwhelming applause.
Helmut Pitsch
the 13 of April, 2015
|
Print