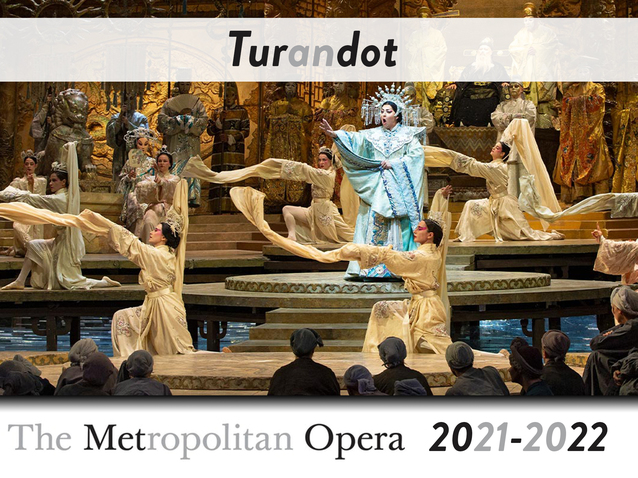 © DR
Description
Maestro : Marco Armiliato
Revival of the production by Franco Zeffirelli, available on DVD. Created in New York in 1987 with Eva Marton, this production has since been repeated several times, such as in 2012-2013, 2015-2016, 2017-2018 and 2019-2020, and it was also given at the Arena of Verona several years and where we saw it in 2014.
Two of today's most thrilling voices share the title role of the legendary cold-hearted princess: Christine Goerke, the reigning Met dramatic soprano, and superstar Anna Netrebko, making her long-awaited Met role debut after providing a hair-raising preview in 2019's New Year's Eve Gala.
More information is available on the official website of the opera house.
After 16 months of closure, the Met has had to make some changes to the start of the 2021–22 season to accommodate the necessary technical preparations, and as a result, the Met has cancelled the first date (october 7th) of this production
Schedule
October 07, 2021 19:00:00
October 12, 2021 19:00:00
October 16, 2021 20:00:00
October 21, 2021 19:00:00
October 24, 2021 15:00:00
October 29, 2021 19:30:00
November 02, 2021 19:30:00
November 06, 2021 20:30:00
November 12, 2021 19:30:00
November 16, 2021 19:00:00
April 30, 2022 20:00:00
May 03, 2022 20:00:00
May 07, 2022 13:00:00
May 11, 2022 20:00:00
May 14, 2022 20:00:00
Work's characters list
Director
Turandot
Turandot
Timur
Timur
Calaf
Calaf
Liu
Liu