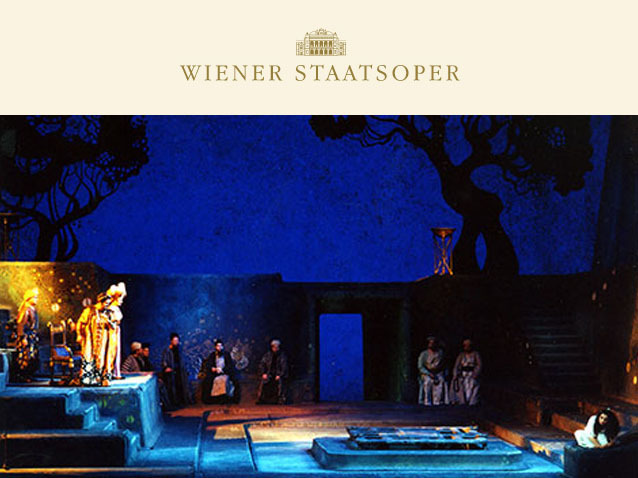 Description
In St. Mark's Gospel, Chapter VI, verse 17 we read: "For Herod had sent forth and laid hold upon John, and bound him in prison for Herodias' sake, his brother Philip's wife, for he had married her. For John had said unto Herod, it is not lawful for thee to have thy brother's wife. Therefore Herodias had a quarrel against him, and would have killed him, but she could not. For Herod feared John, and when he heard him he was embarrassed, yet he heard him gladly. And then a convenient day was come, that Herod on his birthday made a supper to his lords, high captains, and the nobles of Galilee."
Salome, the daughter of Herodias, leaves Herod's "supper" in a petulant mood. She becomes aware of the voice of the prophet held captive in the cistern and is fascinated by him. She demands to see him, and Narraboth, a Syrian captain who is hopelessly infatuated with her, agrees to let him out in defiance of Herod's orders. The prophet's unrelenting hostility serves only to inflame Salome's passion, and she hardly even notices Narraboth's suicide.
Herod appears with Herodias, and once again the voice of the prophet is heard from the cistern. Herodias is for having the prophet silenced once and for all, but Herod will not agree, plagued as he is by the controversy over how the scriptures are to be interpreted. His misgivings are increased by hearing two Nazarenes talking about the coming of the Messiah.
Herod wants Salome to dance for him; and after a lot of coaxing she agrees, provided that Herod will grant her one wish. After the Dance of the Seven Veils she states her terms: the head of John the Baptist on a silver platter. Hysterically frightened, Herod promises her almost half his kingdom if she will change her mind, but she insists and Herod has to keep his promise. Herodias takes from his finger the ring which is the sign of the death sentence and hands it to the executioner. Presently the head of John the Baptist is presented to Salome on a silver platter, and Salome kisses the dead lips: "For the mystery of love is greater than the mystery of death." Salome does not have to wait long for the mystery of death to be revealed to her: on Herod's instructions she is put to death by the guards. 
More information is available on the opera house's official website.
Schedule
December 07, 2015 00:00:00
December 10, 2015 00:00:00
January 16, 2016 00:00:00
January 19, 2016 00:00:00
January 21, 2016 00:00:00
Work's characters list
Director
Director
Conductor
Conductor
Salome
Salome
Herodias
Herodes
Herodes
Jochanaan
Jochanaan