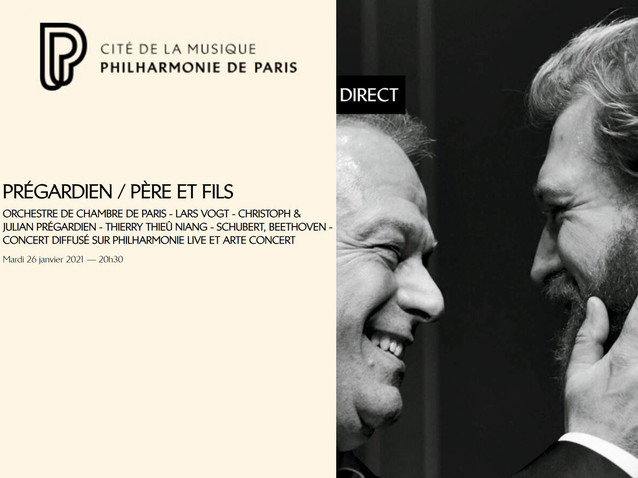 © Copyright all right reserved
General Information
Production title :

Prégardien, Père et fils - Philharmonie de Paris (2021)

Creation date :

26/01/2021

Work - Composer :

Récital

-

Compositeurs divers

Opera house :Philharmonie de Paris.
Description
Concert broadcast live and recorded on Philharmonie Live and Arte concert.
Program :
Ludwig van Beethoven
Prométhée (ouverture)
Franz Schubert/Max Reger
Prometheus D 674
Franz Schubert/Johannes Brahms
Greisengesang D 778
Franz Schubert
Der Vater mit dem Kind D 906
Franz Schubert/Hector Berlioz/Franz Liszt/Max Reger
Erlkönig D 328
Ludwig van Beethoven
Coriolan (ouverture)
Christus am Ölberge op. 85
/ Meine Seele ist Erschüttert
Franz Schubert
Lied vom Wolkenmädchen
(extrait d'Alfonso und Estrella)
Franz Schubert/Anton Webern
Der Wegweiser D 911
Franz Schubert
Totengräbers Heimwehe D 842
Der Doppelgänger D 957
(texte d'Heinrich Heine)
Nacht und Träume D 827
(orchestration Clara Olivares)
More information is available on the official website of the Philharmonie.
Schedule
January 26, 2021 20:30:00
Work's characters list
Conductor
Ténor
Ténor