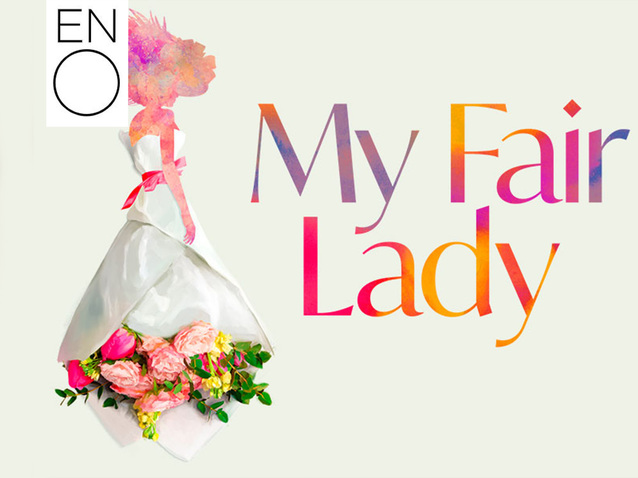 © DR
General Information
Production title:

My Fair Lady - English National Opera (2022)

Creation date:

2018

Work - Composer:

My Fair Lady

Opera house:English National Opera.
Description
The Lincoln Center Theater's critically acclaimed, multi-award-winning production of My Fair Lady comes to London in Summer 2022, the first major West End revival of Lerner & Loewe's much-loved musical for 21 years.
More information is available on the official website of the opera house.
Schedule
May 07, 2022 19:00:00
May 09, 2022 19:00:00
May 10, 2022 19:00:00
May 11, 2022 19:00:00
May 12, 2022 14:00:00
May 12, 2022 19:00:00
May 13, 2022 19:00:00
May 14, 2022 14:00:00
May 14, 2022 19:00:00
May 16, 2022 19:00:00
May 17, 2022 19:00:00
May 18, 2022 19:00:00
May 19, 2022 14:00:00
May 19, 2022 19:00:00
May 20, 2022 19:00:00
May 21, 2022 14:00:00
May 21, 2022 19:00:00
May 23, 2022 19:00:00
May 24, 2022 19:00:00
May 25, 2022 19:00:00
May 26, 2022 14:00:00
May 26, 2022 19:00:00
May 27, 2022 19:00:00
May 28, 2022 14:00:00
May 28, 2022 19:00:00
May 30, 2022 19:00:00
May 31, 2022 19:00:00
June 01, 2022 19:00:00
June 02, 2022 14:00:00
June 02, 2022 19:00:00
June 03, 2022 19:00:00
June 04, 2022 14:00:00
June 04, 2022 19:00:00
June 06, 2022 19:00:00
June 07, 2022 19:00:00
June 08, 2022 19:00:00
June 09, 2022 14:00:00
June 09, 2022 19:00:00
June 10, 2022 19:00:00
June 11, 2022 14:00:00
June 11, 2022 19:00:00
June 13, 2022 19:00:00
June 14, 2022 19:00:00
June 15, 2022 19:00:00
June 16, 2022 14:00:00
June 16, 2022 19:00:00
June 17, 2022 19:00:00
June 18, 2022 14:00:00
June 18, 2022 19:00:00
June 20, 2022 19:00:00
June 21, 2022 19:00:00
June 22, 2022 19:00:00
June 23, 2022 14:00:00
June 23, 2022 19:00:00
June 24, 2022 19:00:00
June 25, 2022 14:00:00
June 25, 2022 19:00:00
June 27, 2022 19:00:00
June 28, 2022 19:00:00
June 29, 2022 19:00:00
June 30, 2022 14:00:00
June 30, 2022 19:00:00
July 01, 2022 19:00:00
July 02, 2022 14:00:00
July 02, 2022 19:00:00
July 04, 2022 19:00:00
July 05, 2022 19:00:00
July 06, 2022 19:00:00
July 07, 2022 14:00:00
July 07, 2022 19:00:00
July 08, 2022 19:00:00
July 09, 2022 14:00:00
July 09, 2022 19:00:00
July 11, 2022 19:00:00
July 12, 2022 19:00:00
July 13, 2022 19:00:00
July 14, 2022 14:00:00
July 14, 2022 19:00:00
July 15, 2022 19:00:00
July 16, 2022 14:00:00
July 16, 2022 19:00:00
July 18, 2022 19:00:00
July 19, 2022 19:00:00
July 20, 2022 19:00:00
July 21, 2022 14:00:00
July 21, 2022 19:00:00
July 22, 2022 19:00:00
July 23, 2022 14:00:00
July 23, 2022 19:00:00
July 25, 2022 19:00:00
July 26, 2022 19:00:00
July 27, 2022 19:00:00
July 28, 2022 14:00:00
July 28, 2022 19:00:00
July 29, 2022 19:00:00
July 30, 2022 14:00:00
July 30, 2022 19:00:00
August 01, 2022 19:00:00
August 02, 2022 14:00:00
August 02, 2022 19:00:00
August 03, 2022 19:00:00
August 04, 2022 14:00:00
August 04, 2022 19:00:00
August 05, 2022 19:00:00
August 06, 2022 14:00:00
August 06, 2022 19:00:00
August 08, 2022 19:00:00
August 09, 2022 19:00:00
August 10, 2022 19:00:00
August 11, 2022 14:00:00
August 11, 2022 19:00:00
August 12, 2022 19:00:00
August 13, 2022 14:00:00
August 13, 2022 19:00:00
August 15, 2022 19:00:00
August 16, 2022 19:00:00
August 17, 2022 19:00:00
August 18, 2022 14:00:00
August 18, 2022 19:00:00
August 19, 2022 19:00:00
August 20, 2022 14:00:00
August 20, 2022 19:00:00
August 22, 2022 19:00:00
August 23, 2022 14:00:00
August 23, 2022 19:00:00
August 24, 2022 19:00:00
August 25, 2022 19:00:00
August 26, 2022 19:00:00
August 27, 2022 14:00:00
August 27, 2022 19:00:00
Casting
Vanessa Redgrave
Maureen Beattie
Harry Haddon-Paton
Sharif Afifi
Work's characters list
Director
Conductor
Elisa Doolittle
Mrs Higgins
Mrs. Pearce
Professeur Henry Higgins
Freddy Eynsford-Hill