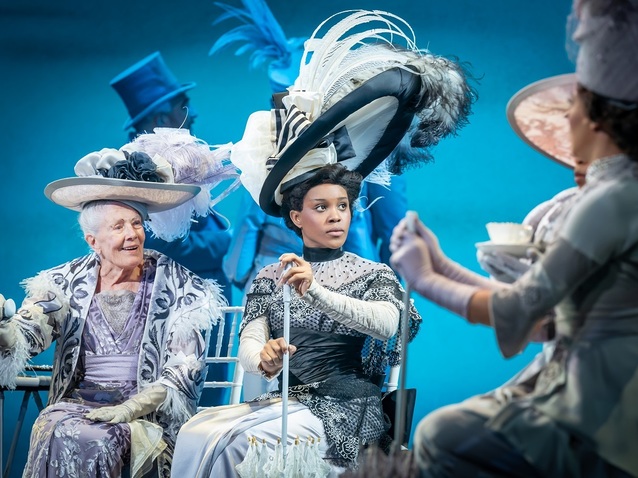 Alan Jay Lerner and Frederick Loewe's 1956 Broadway musical My Fair Lady is based on George Bernard Shaw's Pygmalion of 1913. Set in Edwardian London, it sees phonetician Professor Henry Higgins make a bet with one Colonel Pickering that he cannot pass off Eliza Doolittle, a Cockney flower girl, as a lady. He intends to do so by giving her intensive speech lessons with the test being whether she can fool everyone at an Embassy Ball. She succeeds when a rival phonetician insists she must be an Hungarian princess, but Higgins takes all the credit for the triumph as if none of it was down to Eliza herself. Through this and other actions, he shows himself to be cynical, thoughtless and supposedly impervious to women's charms, but still it becomes obvious that he does have feelings for her. Eliza also develops some for him, which makes it even harder for her when he treats her so cruelly, and it leaves her with the dilemma of whether to stay with him or leave and face the world alone.
Bartlett Sher's production first appeared at the Lincoln Center Theater in 2018, and has since enjoyed a North American tour that is still ongoing. It now comes to the London Coliseum for four months, where it enjoys the services of The English National Opera Orchestra under the baton of Gareth Valentine and Alex Parker. It is entirely appropriate for the Coliseum to include such works in its scheduling because, although it is now home to ENO, it was actually founded in 1904 as the 'people's palace of entertainment'. However, whether this production lives up to the promise that its history would suggest is more open to debate.
Certainly, Michael Yeargan's sets are gorgeous as the front cloth sports a turn of the twentieth century view of London, which rises to reveal Covent Garden complete with St Paul's Church and the Royal Opera House. In reality, these two buildings do not face each other in quite the way that is suggested here but the monumentality of the columns of the church's portico in the foreground contrast well with the slightly more dreamy feeling theatre behind. The sets convey both enclosed and more open spaces, with Higgins's house revolving so that we not only see different rooms within it, but also gain a sense of time passing as it keeps spinning around to reveal a servant at different stages of rendezvousing with a policeman.
If all these look wonderful, what fills them often feels more pedestrian. The dance routine for 'Get Me to the Church on Time' is just about exuberant enough to deliver the goods, but a show of this nature should feature four or five numbers that reach the same dizzying heights. Of course, it is right that some scenes should be presented more sedately as the Ascot races episode is deliberately designed to convey excitement in a stereotypically English upper class way. As a result, it is good to see the chorus freeze in some extremely elegant poses when the focus first turns to the principals in the scene, while the costumes they sport, courtesy of Catherine Zuber, look beautiful. However, there is no similar excuse for there being such little dancing of note at the Embassy Ball.
The standout performance comes from Amara Okereke who as Eliza Doolittle undergoes the large transformation required of her character extremely convincingly, and shows how Eliza has a strong heart as well as a good brain. Her voice is also extremely fine, and if it feels just a little too thick to make the top lines of 'I could have danced all night' really bloom, it is never less than compelling. Harry Hadden-Paton is an interesting Henry Higgins because he initially seems particularly cruel for the reason that he makes it difficult for us to see the flaws in his own character that would generate just a little sympathy for him. However, as the evening wears on he does reveal all of the facets to his personality, so that he becomes quite a fascinating figure.
Malcolm Sinclair is a suitably noble and gentle Colonel Pickering and Maureen Beattie an excellent Mrs Pearce, while if on her first appearance Dame Vanessa Redgrave seems to bring more class than focus to the role of Mrs Higgins, after this she certainly applies both to everything she does. However, Sharif Afifi feels just too silly as Freddy, even though he is supposed to be nice but far from intellectual, while Stephen K Amos does not quite hit the mark as Alfred P Doolittle. 'With a Little Bit of Luck' may be more 'Cockney knees-up' than virtuoso ballet, but, even allowing for that, his movements with his two companions require a greater degree of flair and accomplishment.
This My Fair Lady is thoroughly decent and respectable, but the insights it offers into the characters by virtue of some strong performances from the leads is not matched by the staging itself. As a result, although we can take an interest in the choice of ending and what it signifies for the piece as a whole, it seldom amounts to being much more than a sedate and pleasant night in the theatre.
By Sam Smith
My Fair Lady | 18 May - 27 August 2022 | London Coliseum
Credit: Marc Brenner
the 23 of May, 2022
|
Print