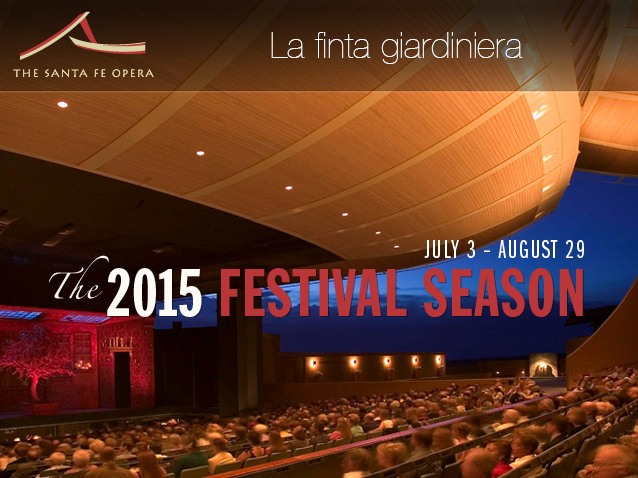 Description
New production
Chief Conductor Harry Bicket, who is a long-time admirer of La Finta Giardiniera, leads performances of
the work, one of the young Mozart's lesser known early comedies. It is sometimes called The Pretend or
Phony Gardener; however, it is primarily known by its Italian name. It is a wildly improbable story about
love, double identities, the hero and heroine believing they are Greek gods, and finally everyone
revealing their true selves. Jon Morrell, who designed the sets and costumes for the Company's highly 7
praised Maometto II in 2012, is the costume designer; scenic designer, Hildegard Bechtler, served in that
capacity for the 2009 production of The Letter.
The production will be directed by Tim Albery who gave Santa Fe Opera audiences the delightful
Beatrice and Benedict (1998, 2004),The Magic Flute (2006, 2010), and in 2012, Arabella. Several
favorites are in the cast: Susanna Phillips, Heidi Stober, William Burden and Joshua Hopkins. They will be
joined by Romanian-American soprano Laura Tatulescu, in the cast of the 2014 Don Pasquale. Making
their Company debuts are Cecelia Hall in the trouser role of Ramiro and Joel Prieto as Count Belfiore.
American mezzo-soprano Cecelia Hall is a member of the Metropolitan Opera Lindemann Young Artists
Program. She recently received critical acclaim for her performance of the title role in Handel's Teseo at
Chicago Opera Theater. Mr. Prieto was born in Spain and grew up in Puerto Rico. The young tenor, who
has an international career, sang the role of Count Belfiore in a production of La Finta at the Berlin
Staatsoper. He was a winner of the 2008 Operalia Competition.
More information is available on the opera house's official website.
Schedule
July 25, 2015 20:30:00
July 29, 2015 20:30:00
August 07, 2015 20:00:00
August 13, 2015 20:00:00
August 21, 2015 20:00:00
Work's characters list
Director
Conductor
La marchesa Violante Onesti (Sandrina)
Arminda
Il contino Belfiore
Il cavaliere Ramiro
Serpetta
Roberto (Nardo)
Podesta