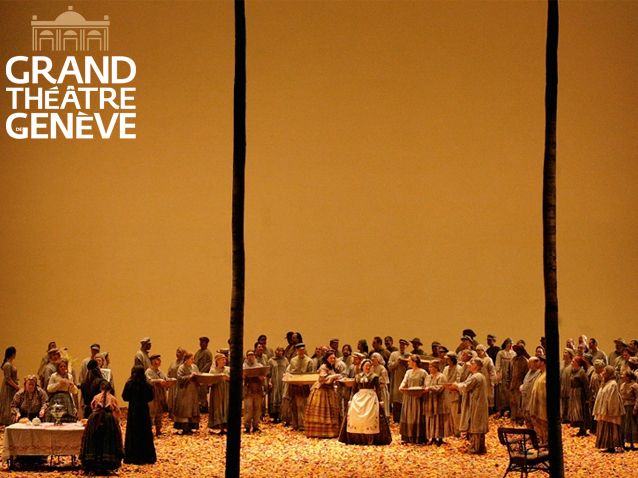 © Grand Théâtre de Genève
Description
Reprise of the Metropolitan Opera's production. 
When Eugene Onegin coolly spurns Tatyana's declaration of love, has he any idea that only a few years later, his indifference will be replaced by a powerful attraction to this young woman, now become a lady of high social rank? Is he aware that by flirting with Tatyana's sister Olga, out of sheer boredom, he is poised to lose his best friend Lensky forever? Featuring two sides of Alexander Pushkin's Russia – its placid countryside and Moscow high society – Tchaikovsky's most famous opera tells the story of the gradual decline of a "superfluous man", eroded by his egotism and worldliness. This intimate drama emerges from an exquisite score full of poignant lyricism and deep melancholy, which puts to music the affective and sentimental lives of its characters. From the Letter scene to the Duel, Eugene Onegin lifts the veil on some the most personal emotions of the human soul.
More information is available on the operahouse's official website.
Schedule
October 09, 2014 19:30:00
October 11, 2014 19:30:00
October 13, 2014 19:30:00
October 15, 2014 19:30:00
October 17, 2014 19:30:00
October 19, 2014 15:00:00
Casting
Daniel Mauerhofer
Maija Kovalevska
Maija Kovalevska
Work's characters list
Director
Conductor
Eugen Onegin
Vladimir Lenski
Capitaine
Zaretski
Triquet
Madame Larina
Tatiana
Tatiana
Olga
Filipjevna
Prince Gremin