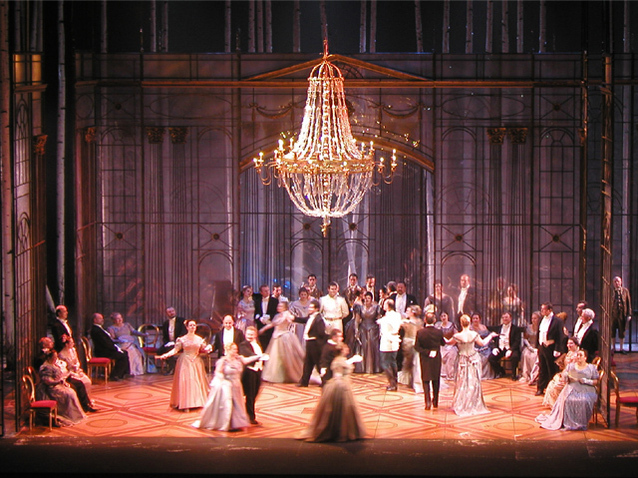 © DR
General informations
Composer:Piotr Ilitch Tchaïkovski
Librettist:

Constantin Chilovski

Creation date:

1879

Creation place:

Russian federation

Acts number:

3

Reference:

op.24

Original language:

Russian

Opera House of original production:

Théâtre Maly

Original orchestration:

1picc,2fl,2ob,2cl,2fg,4cors,2tp,3tbn,percu, timb, 1harpe, cordes
Work description
Singing that is as natural as speaking…Is that not the ideal of most composers? In any event, this is one of the impressions made by Eugene Onegin, where words just seem to flow forth, in a story that is all lightness and fluidity. Due to its intimate character, Tchaikovsky preferred to call Eugene Onegin a series of "lyrical scenes" rather than an opera. In fact, the opera was performed for the first time by students at the Moscow Conservatory instead of a theatre, by young singers capable of rendering its simplicity and sincerity. Pushkin could never have imagined a finer psychological portrayal of his characters than in the emotional world created by Tchaikovsky. A marvellous construction of interwoven themes, generating the kind of dramatic tension that only Tchaikovsky is capable of, Eugene Onegin has a constant burning quality, like a dark star in the constellation of Russian opera.
Summary
The story takes place at a country estate near St Petersburg at the end of the 18thcentury. Madame Larina has two daughters, Olga and Tatyana. The first is light-hearted and in love with a young poet, Lensky. The second is dreamy and melancholic. Lensky introduces his friend, Onegin, to Tatyana who immediately falls for the blasé young man. However, rejects her love. Apparently insensitive, Onegin goes as far as flirting with Olga at a country ball. This only makes Tatyana more miserable and Lensky, mad with jealousy, challenges Onegin to a duel in which he dies. Several years pass. Eugene Onegin finally understands his feelings for Tatyana, but it is too late - she is married to Prince Gremin. Onegin confesses his love to Tatyana and his regrets about the past, but she rejects him and remains faithful to her husband. Onegin is left alone with his despair.
Act 1
While Tatyana and Olga are singing, Madame Larina reminisces with the nurse, Filippyevna. The melancholy Tatyana who is absorbed by a romantic novel, says songs make her dream, while Olga, who is more light-hearted, claims they make her want to dance. Lensky, a young poet and Olga's fiancé, arrives accompanied by his friend Eugene Onegin, a world-weary and blasé young man. Tatyana is immediately attracted to him. That very evening, she confesses to Filippyevna that she is in love and decides to write a letter to him.
Onegin receives Tatyana's letter the following day and agrees to visit her to give his answer. But when he arrives he explains, rather bluntly, that he is not a man who loves easily and is unsuited for marriage. Tatyana is devastated.
Act 2
During a country ball organised to celebrate Tatyana's birthday, Onegin, who is bored, decides to flirt with Olga. Lensky becomes extremely jealous. The tension between the two friends becomes stronger, with Lensky challenging Onegin to a duel. At dawn the following day, Lensky thinks about his feelings for Olga as he waits for Onegin. He has a bad feeling about the duel and believes he will be shot dead by Onegin…
Excerpt : « Kuda, Kuda… »
Act 3
Several years have passed. Onegin has travelled a great deal, haunted by his repressed feelings for Tatyana. Invited to a ball in St Petersburg, he meets Prince Gremin and his wife…Tatyana who is now a grand aristocratic beauty. The Prince tells Onegin how much Tatyana means to him.
Onegin decides to write to Tatyana. When they meet, Tatyana admits she still loves him, but asks him to leave. Onegin begs for her love and pity, claiming his passion is real. Tatyana rejects him. Although she still has feelings for Onegin, she decides to remain faithful to her husband. She leaves him alone with his despair.