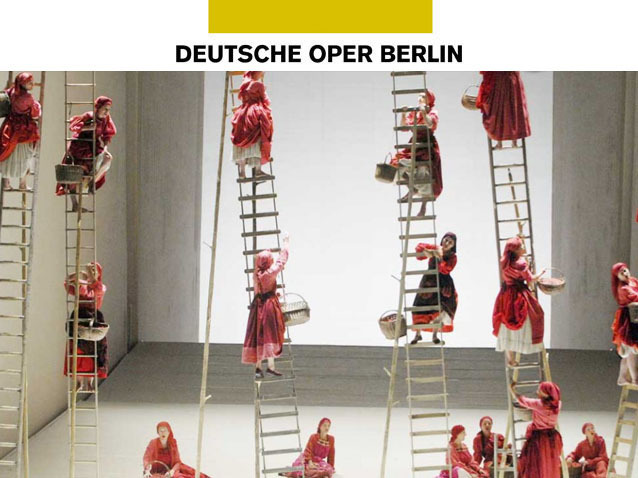 Description
The young poet Lenskij is engaged to fun-loving Olga. When he introduces his friend Eugene Onegin to Larina, his future mother-in-law and a landowner, in her country house, Olga's sister Tatjana, a shy dreamer, is vastly impressed by Onegin and falls in love with this man of the world. In a letter she confesses her love to him, but he remains insensitive to her feelings and rejects her. Tatjana's unhappiness intensifies when, by way of provoking his friend Lenski, Onegin courts Olga during a ball at her mother's house. An argument ensues. The jealous Lenskij senselessly challenges Onegin to a duel and is killed. Onegin escapes and goes abroad. Years later he returns to his home country. At a glamorous party in St. Petersburg he bumps into Tatjana, who is now married to Prince Gremin. Filled with sorrow, Onegin realizes what it is that he has lost. He is passionate in his endeavours to win Tatjana back, but she declares that she will honour her marriage vows although she still loves him. Onegin remains behind, alone.
EUGENE ONEGIN is, along with PIQUE DAME, Pyotr I. Tschaikovsky's best-known opera and among his most beautiful works written for the stage. Finding a suitable subject had been difficult as he was very specific about what he wanted: »I desire nothing that forms part of the so-called Grand Opera. I am looking for an intimate but forceful drama that derives from a conflict that really touches me. Not that I scorn the fantastic at all; the fantastic knows no obstacles since the realm of fantasy knows no limits.« [letter of January 14th 1878]
Eugene Onegin, a verse novel very much in the Pushkin vein, corresponded closely to what he was looking for. The outer sequence of events seemed unspectacular, except for the duel, but the conflicts of the persons involved immediately touched hearts and in many respects reflected Tschaikovsky's own experiences. The full spectrum of emotions - melancholy, longing, passion and grief over a life wasted –influences a musical landscape enriched by stirring choruses and lively dances and enhanced by folkloristic elements.
In the Deutsche Oper Berlin production these scenes are some of the most colourful and charming moments in the entire opera. Tschaikovsky was especially fascinated by the character of Tatjana, who led him to write one of the most moving letter scenes in opera history. Each of the figures has his or her own charm: the cheerful Olga, the rapturous Lenski, the dignified Prince Gremin, whose role is all the more impressive for its briefness, and of course the hero of the opera, whose character develops significantly in the course of the story. The episodic structure of the opera does not follow traditional opera dramaturgy, but the composer had rejected this approach from the outset. The opera's structure is far more a precondition for the special atmosphere that permeates those »lyrical scenes«, as Tschaikovsky called his opera, far more a special characteristic of Slavic opera in general. For director Götz Friedrich, however, this opera of all operas is also remarkable in that » the Onegin scenes do not unfurl patriotic and historical images or employ national legends. Instead, scenic, musical sequences portray the complex, inner thought processes of distinctly unheroic individuals in their day-to-day social interactions… The ›lyrical scenes‹, beginning with Tatjana's motif of longing, conclude with Onegin's loneliness, his sense of perdition. Is he plunging into the void? Or will he find a new meaning to life?
More information is available on the official website of the opera house.
Schedule
December 12, 2016 19:30:00
December 15, 2016 19:30:00
December 20, 2016 19:30:00
Casting
Samuel Johnson
Karan Armstrong
Work's characters list
Conductor
Eugen Onegin
Vladimir Lenski
Capitaine
Zaretski
Triquet
Madame Larina
Tatiana
Olga
Filipjevna
Prince Gremin