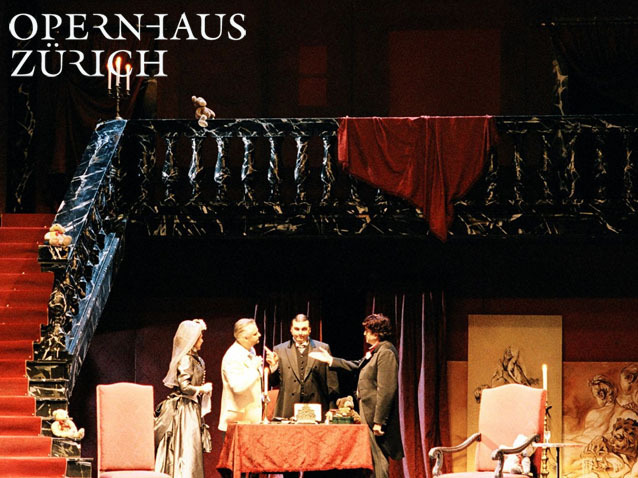 © Copyright all right reserved
Description
Of Donizetti's later works, only Don Pasquale was the only one immediately to gain a permanent place in the repertoire. Premièred in Paris in 1843, the opera owes it great success to the tried and tested situation comedy of opera buffa, a genre that Donizetti led to a late flowering with his brilliantly orchestrated score.
The elderly Don Pasquale has decided to marry so as to disinherit his nephew and thus discourage his love for the penniless widow Norina. It would seem that the cunning Doctor Malatesta has found just the right woman for Don Pasquale – his sister Sofronia – and arranges the wedding. However, scarcely have the pair signed the marriage contract when Sofronia makes Don Pasquale's life hell and threatens to drive him to ruin. In the end, the theatrical intrigue is exposed: Sofronia turns out to be Norina, Don Pasquale sees the error of his ways and gives the young lovers his blessing.
Our revival presents Javier Camarena, one of the most distinguished bel canto tenors of our times, in the role of Ernesto. Popular favourite Carlos Chausson sings the title role, and Aleksandra Kurzak, acclaimed as Gilda in our production of Rigoletto, will be performing the part of Norina.
More information is available on the opera house's official website.
Schedule
January 17, 2016 20:00:00
January 20, 2016 19:00:00
January 23, 2016 19:00:00
January 28, 2016 19:00:00
January 30, 2016 20:00:00
Work's characters list
Director
Conductor
Don Pasquale, vieux garçon
Docteur Malatesta, ami de Don Pasquale
Ernesto, neveu de Don Pasquale
Norina, jeune veuve