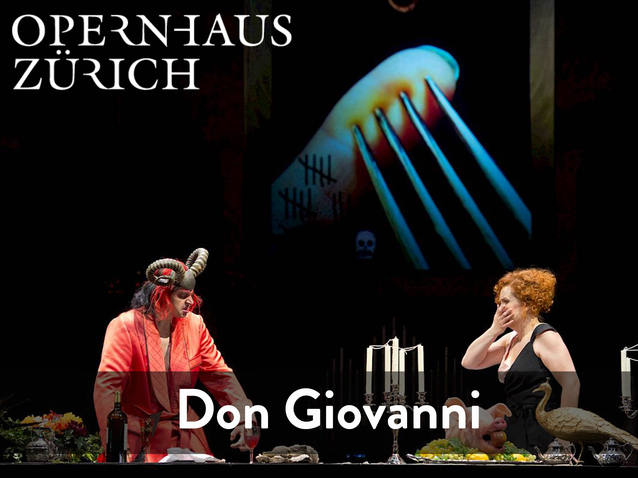 © DR
Description
Revival of the production created in 2013, already scheduled for 2017 and 2020.
The Opernhaus Zürich production of Mozart's Don Giovanni – featuring director Sebastian Baumgarten's visually striking and garishly-colored work – was highly controversial when it premiered ten years ago. It has since successfully found its way into the Opernhaus repertoire. For his version, the German director tried to make the eponymous figure's rebellious nature and objectionably scandalous lifestyle recognizable to our liberal 21st century sensitivities. He moves the action to a sanctuary belonging to a strict religious cult, in which Don Giovanni wreaks havoc in constantly changing disguises. Baumgarten playfully brings the didactic characteristics of the original Don Juan legend back to life. His imagery is collage-like, and his production deliberately employs narrative breaks and subversive wit.
More information is available on the official website of the opera house.
Schedule
January 25, 2022 19:30:00
January 28, 2022 19:00:00
January 30, 2022 20:00:00
February 05, 2022 19:00:00
February 11, 2022 19:00:00
February 18, 2022 19:30:00
Work's characters list
Director
Conductor
Don Giovanni
Don Giovanni
Leporello
Il Commendatore
Donna Anna
Don Ottavio
Don Ottavio
Donna Elvira
Zerlina
Masetto