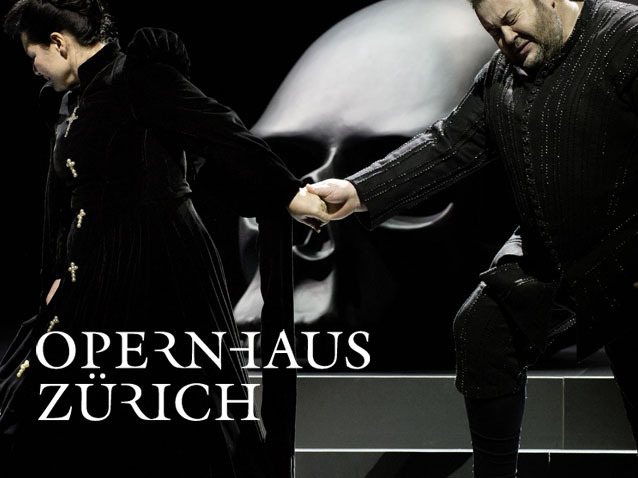 Description
Love and politics, ominously and inextricably linked – the point of departure for most of Giuseppe Verdi's operas with tragic endings. In Don Carlo, it is the Spanish prince's unhappy love for Elisabetta that inspired Verdi to create a score of great psychological sophistication and hitherto unparalleled depth. Newly in love, the Infante Carlos learns that his father, King Philip II, intends to marry Elisabetta, daughter of the King of France, for political reasons. To distract Carlos from his unhappy love, Marquis Posa attempts to win him for the cause of the struggle for freedom in the province of Flanders. The scheming of Princess Eboli, who denigrates Elisabetta with the King out of disappointed love for Carlos, contributes to the tragic ending, as do the brutal methods of the Inquisition.
The cast of this revival will make every opera lover's heart beat faster: as at the 2012 première, world-class soprano Anja Harteros will sing Elisabetta; and Ramón Vargas will sing the role of Carlos at Zurich Opera House for the first time. Audiences can also look forward to a reunion with Peter Mattei (Marquis Posa) and René Pape (Philip II). General Music Director Fabio Luisi will conduct Verdi's passionate score.
More information is available on the official website of the opera house.
Schedule
November 27, 2016 18:00:00
December 01, 2016 19:00:00
December 04, 2016 19:30:00
December 07, 2016 19:00:00
December 10, 2016 19:00:00
Casting
Otar Jorjiikia
Sara Lee
Otar Jorjiikia
Andrzej Filoncyk
Work's characters list
Director
Conductor
Un araldo reale (Un héraut royal)
Elisabetta di Valois (Elisabeth de Valois)
Rodrigo (Rodrigue)
Filippo II (Philippe II)
Don Carlo (Don Carlos)
Il Grande Inquisitore (Le Grand Inquisiteur)
Un monaco (Un Moine)
Tebaldo (Thibault)
Il Conte di Lerma (Le comte de Lerme)
La Principessa Eboli (La princesse d'Eboli)
Una voce dal cielo (Une voix céleste)
Deputati fiamminghi
Deputati fiamminghi