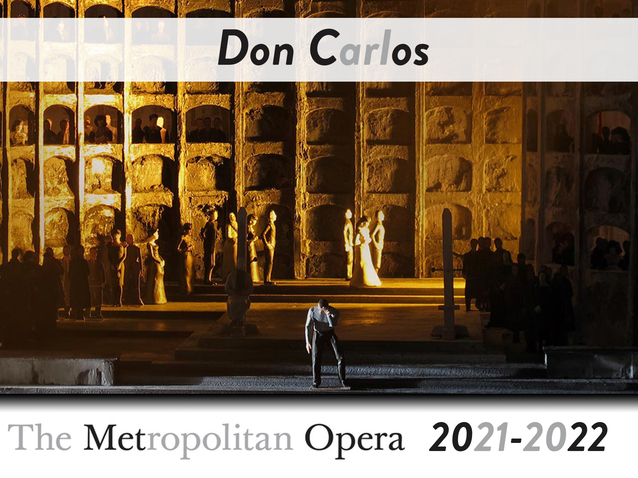 © DR
Description
New production.
"For the first time in company history, the Met presents the original five-act French version of Verdi's epic opera of doomed love among royalty, set against the backdrop of the Spanish Inquisition."
Directed by David McVicar.
More information is available on the official website of the opera house.
Schedule
February 28, 2022 18:30:00
March 03, 2022 18:30:00
March 06, 2022 14:00:00
March 10, 2022 18:30:00
March 13, 2022 14:00:00
March 18, 2022 18:30:00
March 22, 2022 19:00:00
March 26, 2022 12:00:00
Work's characters list
Conductor
Elisabetta di Valois (Elisabeth de Valois)
Rodrigo (Rodrigue)
Filippo II (Philippe II)
Don Carlo (Don Carlos)
Il Grande Inquisitore (Le Grand Inquisiteur)
La Principessa Eboli (La princesse d'Eboli)