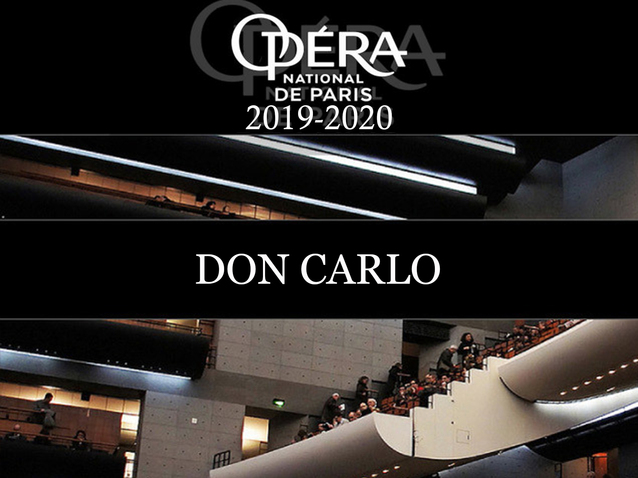 © DR
Description
Revival of the production played in 2017.
An Italian adaptation of Don Carlos, a great French opera, Don Carlo is more passionate about his language than the original version. But from one version to another persist the finesse of the score and the dramatic plot that, from the Escurial to Flanders, intermingles political, family and love conflicts. A historical fresco to which Krzysztof Warlikowski confers the depth of a closed session where the human psyche is exposed, revealing the paralysis of men in the face of the inheritance of power.
More information is available on the official website of the opera house.
Schedule
October 25, 2019 19:00:00
October 28, 2019 19:00:00
October 31, 2019 19:00:00
November 04, 2019 19:00:00
November 07, 2019 19:00:00
November 11, 2019 19:00:00
November 14, 2019 19:00:00
November 17, 2019 14:00:00
November 20, 2019 19:00:00
November 23, 2019 19:00:00
Work's characters list
Director
Conductor
Un araldo reale (Un héraut royal)
Elisabetta di Valois (Elisabeth de Valois)
Elisabetta di Valois (Elisabeth de Valois)
Rodrigo (Rodrigue)
Filippo II (Philippe II)
Don Carlo (Don Carlos)
Don Carlo (Don Carlos)
Il Grande Inquisitore (Le Grand Inquisiteur)
Un monaco (Un Moine)
Tebaldo (Thibault)
Il Conte di Lerma (Le comte de Lerme)
La Principessa Eboli (La princesse d'Eboli)
Una voce dal cielo (Une voix céleste)