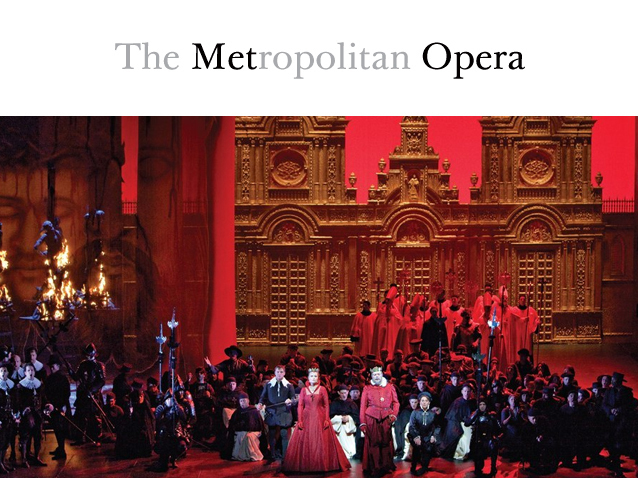 © MET
Description
Dynamic maestro Yannick Nézet-Séguin conducts Verdi's ambitious score with a stand-out cast in Nicholas Hytner's handsome production. Yonghoon Lee sings the title role, with Barbara Frittoli, Ekaterina Gubanova, Simon Keenlyside, James Morris, and Ferruccio Furlanetto, reprising his definitive portrayal of King Philip.
Co-production of the Metropolitan Opera; Royal Opera House, Covent Garden, London; and the Norwegian National Opera and Ballet
 
More information is available on the operahouse's official website.
Schedule
March 30, 2015 19:00:00
April 02, 2015 19:00:00
April 06, 2015 19:00:00
April 11, 2015 12:00:00
April 15, 2015 19:00:00
April 18, 2015 12:00:00
April 22, 2015 19:00:00
April 25, 2015 19:00:00
Work's characters list
Director
Conductor
Elisabetta di Valois (Elisabeth de Valois)
Elisabetta di Valois (Elisabeth de Valois)
Rodrigo (Rodrigue)
Rodrigo (Rodrigue)
Filippo II (Philippe II)
Don Carlo (Don Carlos)
Don Carlo (Don Carlos)
Il Grande Inquisitore (Le Grand Inquisiteur)
La Principessa Eboli (La princesse d'Eboli)
La Principessa Eboli (La princesse d'Eboli)