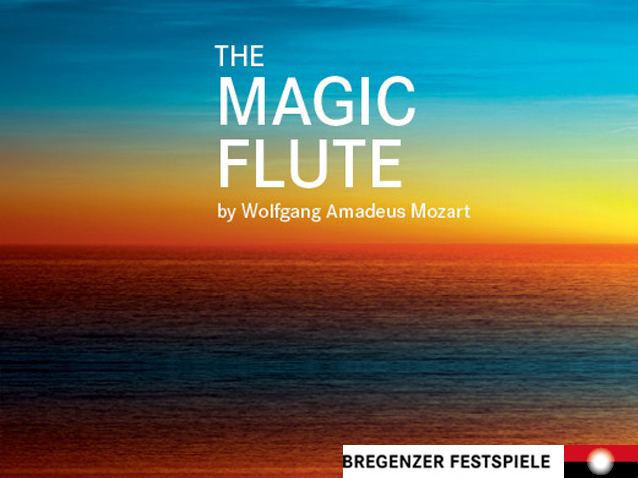 © Bregenzer Festspiele
Description
Cast (respective cast will be available in july) : 
Musical Director
Patrick Summers
Hartmut Keil
Director
David Pountney
Sarastro (bass)
Albert Pesendorfer
Alfred Reiter
Tamino (tenor)
Norman Reinhardt
Nikolai Schukoff
Rainer Trost
Speaker / 2nd Man in Armour (bass)
Eike Wilm Schulte
Wilfried Staber
Queen of the Night (soprano)
Laura Claycomb
Daniela Fally
Kathryn Lewek
Pamina, her daughter (soprano)
Anja-Nina Bahrmann
Bernarda Bobro
Gisela Stille
First Lady (soprano)
Magdalena Anna Hofmann
Second Lady (soprano/mezzo)
Verena Gunz
Sabrina Kögel
Third Lady (contralto)
Bernadett Fodor
Katrin Wundsam
First Boy (soprano)
Hanna Herfurtner
Jana Baumeister
Second Boy (soprano)
Eva Dworschak
Veronika Vetter
Third Boy (soprano)
Dymfna Meijts
Viola Zimmermann
Papageno (bass-baritone)
Markus Brück
Paul Armin Edelmann
Daniel Schmutzhard
Papagena (soprano)
Dénise Beck
Susanne Grosssteiner
Monostatos (tenor)
Alexander Kaimbacher
Martin Koch
What begins like a fairy-tale turns into a playful fantasy midway between magic farce and Masonic mysticism. Wolfgang Amadeus Mozart's The Magic Flute, premiered in 1791, will be returning to the Bregenz Festival lake stage in summer 2014. It is directed by the festival's artistic director David Pountney with a stage design by Johan Engels, and costumes and puppets designed by Marie-Jeanne Lecca. Accompanied by the bird catcher Papageno, three enigmatic ladies and three prescient boys, Prince Tamino sets off on  his mission to free Pamina, daughter of the Queen of the Night, from Sarastro's clutches.
The Magic Flute conveys an enlightened, humanistic ideal of man: at the end it is a normal man and a normal woman who bear responsibility for the future of society, while the machinery of power serving queens and priests reveals itself to be nothing but superfluous bombast. At one point, Sarastro's priest asks if Tamino will manage to complete all the ordeals since he's a prince. Sarastro answers, "More than that he's a human being!" And by the end of the opera we do indeed see Tamino and Pamina no longer as prince and princess, but simply as a man and a woman. For me, that's the essence of this work. The Magic Flute is steeped in the ideas of the Enlightenment, a movement that placed its faith in human reason and thus called into question the authority of time-honoured powers like the aristocracy and religion.
More information is available on the festival's official website.
Schedule
July 25, 2014 21:15:00
July 26, 2014 21:15:00
July 27, 2014 21:15:00
July 29, 2014 21:15:00
July 30, 2014 21:15:00
July 31, 2014 21:15:00
August 01, 2014 21:00:00
August 02, 2014 21:00:00
August 03, 2014 21:00:00
August 05, 2014 21:00:00
August 06, 2014 21:00:00
August 07, 2014 21:00:00
August 08, 2014 21:00:00
August 09, 2014 21:00:00
August 10, 2014 21:00:00
August 12, 2014 21:00:00
August 13, 2014 21:00:00
August 14, 2014 21:00:00
August 15, 2014 21:00:00
August 16, 2014 21:00:00
August 17, 2014 21:00:00
August 19, 2014 21:00:00
August 20, 2014 21:00:00
August 21, 2014 21:00:00
August 22, 2014 21:00:00
August 23, 2014 21:00:00
August 24, 2014 21:00:00
August 25, 2014 21:00:00
Work's characters list
Die Königin der Nacht