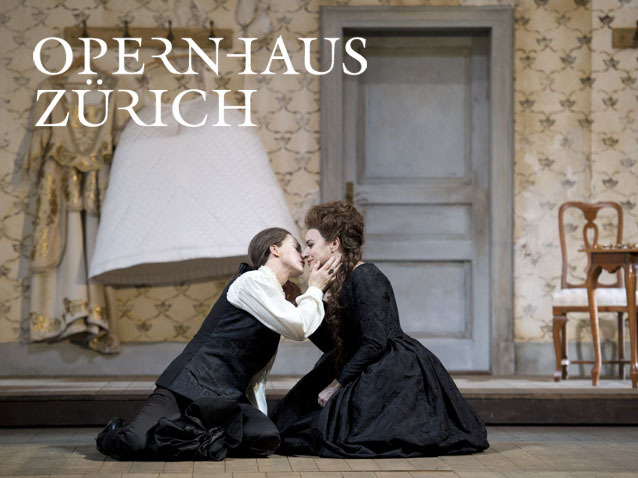 Description
The seductive enchantress Alcina has already lured many men to her island kingdom, making them forget their origins, goals and identities and keeping them as male concubines. Once she tires of them, she usually turns them into stones, plants or animals. However, everything suddenly changes with the arrival of the crusader Ruggiero: for the first time, the self-confident sovereign Alcina experiences herself as a loving woman who ultimately has to fight for her love with every means at her disposal.
With the figure of Alcina, Georg Friedrich Handel outlined the fascinating profile of a great lover that is well in advance of the modern age. Yet the other figures in this "magical opera" are also characterised individually. They embark on a long journey, at the end of which they are all reunited in a labyrinth of profound, sombre emotions.
In his production, acclaimed by critics and audiences alike, director Christof Loy initially chooses the baroque theatre as a scenographic metaphor for Alcina's illusory magical kingdom. He then gradually reveals the downside of this beautiful world. The cast of this revival is a dream: Cecilia Bartoli can once again be heard as Alcina. At her side, Philippe Jaroussky – probably one of the most sought-after countertenors of our time – will introduce himself at Zurich Opera House as Ruggiero. Julie Fuchs as Alcina's sister Morgana and Varduhi Abrahamyan as Ruggiero's fiancée Bradamante perfectly embody the baroque character of this work. The Italian baroque specialist Giovanni Antonini will once again be at the rostrum of the Orchestra La Scintilla.
More information is available on the official website of the opera house.
Schedule
December 31, 2016 18:00:00
January 02, 2017 19:00:00
January 04, 2017 19:00:00
January 06, 2017 19:00:00
January 08, 2017 19:30:00
January 10, 2017 19:00:00
Work's characters list
Director
Conductor
Alcina
Morgana
Bradamante
Oronte
Melisso