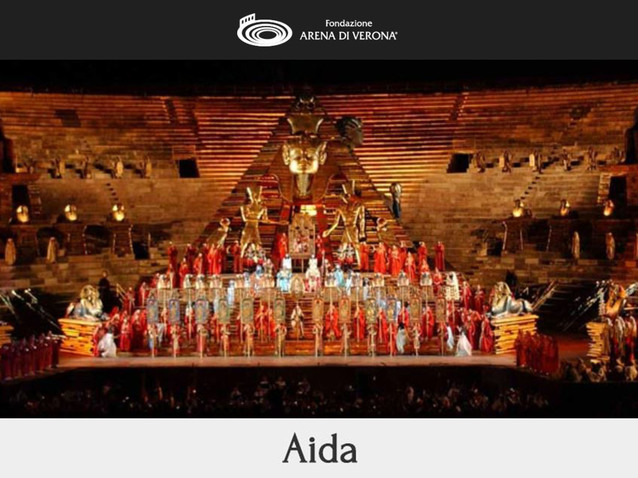 © DR
Description
Revival of the production of Franco Zeffirelli created in 2002, already resumed in 2018 (read our French column).
More information is available on the official website of the Arena.
Following the measures adopted by the government within the framework of the fight against the propagation of the coronavirus COVID-19, the festival had to cancel this production in 2020, and postpone it to 2021.
Schedule
June 20, 2020 21:00:00
June 25, 2020 21:00:00
July 05, 2020 21:00:00
July 10, 2020 21:00:00
July 14, 2020 21:00:00
July 18, 2020 21:00:00
July 24, 2020 21:00:00
July 30, 2020 21:00:00
August 02, 2020 20:45:00
August 05, 2020 20:45:00
August 09, 2020 20:45:00
August 12, 2020 20:45:00
August 20, 2020 20:45:00
August 29, 2020 20:45:00
September 01, 2020 20:45:00
September 05, 2020 20:45:00
June 26, 2021 21:00:00
July 01, 2021 21:00:00
July 09, 2021 21:00:00
July 15, 2021 21:00:00
July 21, 2021 21:00:00
August 04, 2021 20:45:00
August 08, 2021 20:45:00
August 12, 2021 20:45:00
August 21, 2021 20:45:00
August 27, 2021 20:45:00
September 04, 2021 20:45:00
Work's characters list
Director
Conductor
Conductor
Conductor
Conductor
Aida
Aida
Aida
Aida
Aida
Radames
Radames
Radames
Radames
Radames
Radames
Amneris
Amneris
Amneris
Amneris
Amneris
Amneris
Ramfis
Ramfis
Ramfis
Ramfis
Ramfis
Ramfis
Amonasro
Amonasro
Amonasro
Amonasro
Amonasro
Amonasro
Il Re
Il Re
Il Re
Un Messagero
Un Messagero
Un Messagero
Un Messagero
Una Sacerdotessa