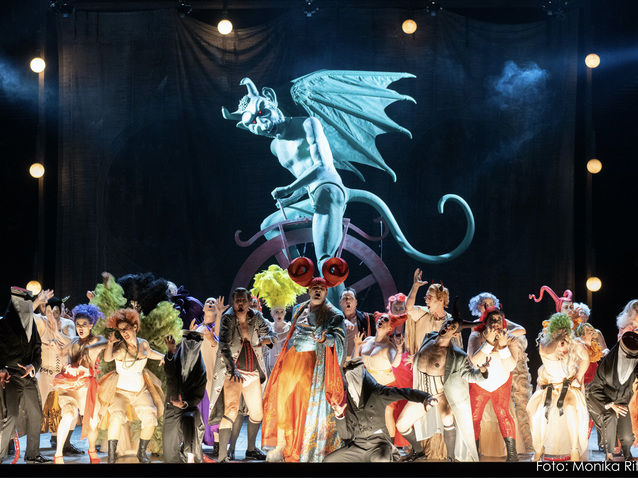 © Monika Rittershaus
After the great success at the Salzburg Festival in summer 2019, the co-production with Komische Oper of Orpheus in the Underworld was finally able to take place in front of a 100% full house in Berlin. 2G+ (vaccinated or recovered, wearing a mask at all times) regulations makes it possible.
For his first full-length opera, Jacques Offenbach based his inspiration on the Greek legend of Orpheus and Eurydice, but shifted it to the France of the 2nd Republic and used it as an opera buffa and satire of the society of the day - even Napoleon III is said to have recognised himself as the god Jupiter, and was amused. Together with the librettists Hector Crémieux and Ludovic Halévy, Jacques Offenbach premiered a first version in 1858, which was then considerably changed and expanded in 1874. In the current production, the dialogue was spoken in German - dialogue version Frank Harders-Wuthenow - and sung in French.
Barrie Kosky sticks to the story in his way: the great love between Orfeo and Eurydice has given way to a humdrum daily life. They each amuse themselves with extra-marital affairs. Euridyce with the bee-keeper Aristaeos, who is really Pluto, ruler of the underworld. He lures her into his realm, she follows him willingly - an adventure at last! Orpheus is equally happy, now he can have fun with a lovely nymph. But wait, the Public Opinion, dressed in appropriate monastic black, comes and threatens to ruin his good reputation and demands that Orpheus ask for Eurydice back, going directly to the boss of the gods, Jupiter. The latter, curious, travels with his entourage of gods to the underworld, where Pluto having abducted Eurydice - after all, she followed of her own volition - and of knowing where she is. Jupiter has no choice but to transform himself into a fly to find Eurydice. He finds her, transforms himself once again into human form and promises Eurydice a life in a more beautiful world. While Pluto is throwing a big party for the divine guests from Olympus, Public Opinion bursts in with its protégé Orpheus, and he must meekly reclaim his wife. Jupiter agrees, but he sets the condition that Orpheus must under no circumstances turn around on his way to the upper world, otherwise he will lose Eurydice forever. On the way there, Eurydice takes her fate into her own hands by snatching the violin from the well-behaved Orpheus, who turns around - and loses Eurydice. As with many Offenbachian heroines, she has the last word: self-confidently, she decides that she wants to become a high priestess to God Bacchus and joins his merry lifestyle.
Anyone who knows director Barrie Kosky knows that this operetta is entirely in keeping with his style, slightly over the top and exaggerated - but it suits the music and story. Rufus Didwiszus conjures up elegant bedrooms and a ravishing oversized dragon with sparkling red eyes who rides a bicycle. Add to this the extremely imaginative costumes by Victoria Behr - although a few less glittering genitals and erotic attributes would not have harmed the whole. The ingenious choreography by Otto Pichler, which he rehearsed with the phenomenal dance ensemble of the Komische Oper, is certainly one of the highlights of the production: starting with bees swarming around the bee-keeper Aristaeos, then a gang of red-bearded devils and ending with the famous can-can at the big party in hell that is eternally associated with the name of Jacques Offenbach. Barrie Kosky showed his appreciation during the curtain calls and bowed to Pichler at the end of the opera - after all, the two have staged more than 20 productions together.
There is no doubt, that Barrie Kosky loves this genre and has a talent for updating it for today's audiences. After all, he has contributed more to the renaissance of operetta in recent years than anyone else. In this production, he and Esteban Muñoz, who took over the rehearsals in Berlin while Kosky was busy with a new Don Giovanni at the Vienna State Opera - instill the singers and chorus with Dyonisian attributes and physical expressions of frivolous and erotic pleasures. Yet this constant actionism gets tiresome and wears thin after two hours - as so often is the case, less would have been more.
Among the soloists, actor Max Hopp's portrayal of John Styx must be mentioned first and foremost. In the original, the role of Styx is a minor supporting role. Kosky expands it to a leading role and Styx becomes narrator, servant, conferencier, noisemaker, confidant. Hopp - in a conspicuously shiny purple satin tuxedo - is on stage almost the entire time, takes over almost all the dialogues - which in turn are mimed by the singers - and delivers a multitude of descriptive sounds: from the tik-tok of Eurydice's high heels to snoring and smacking, in various vocal registers. In other words, just about everything there is to be heard in a "semi-pornographic Offenbach operetta", as Kosky puts it. Hopp also gets to sing a melancholy ballad as he muses on his erstwhile life as Prince of Arcadia.
Tenor Tansel Akzeybek is a deliberately blase and vain Orpheus, no wonder he allows himself to be bossed around by the Public Opinion, embodied by the unique countertenor/baritone of Hagen Matzeit who suits this androgynous role well. Sydney Mancasola's Eurydice has many opportunities to display her clear soprano and it is understandable that her beauty beguiles the gods, but she lacks that last bit of femme fatale charisma to make a truly convincing Eurydice, she remains the nice girl next door. The chief god Jupiter is also sung by baritone Peter Bording with a velvety baritone, but he, too, lacks the charisma one associates with this daredevil. In contrast, the overwhelming stage presence of character tenor Wolfgang Ablinger-Sperrhacke is perfect as the lustful ruler of hell. Mezzo-soprano Nadine Weissmann is a swashbuckling red-haired Cupid who cheers everyone's lust for life and love. The many small roles of the gods' entourage are very well cast with ensemble members.
Offenbach's often dizzying tempi - and Kosky's realisation of them - are kept taut by conductor Adrien Perruchon and the excellent Komische Oper orchestra. The chorus of the Komische Oper - rehearsed by Jean-Christophe Charron - also keeps up and visibly enjoys the ubiquitious chaos.
The audience rewarded this evening with frenetic applause, even more so after the premiere speech and acknowledgement by director and host Barrie Kosky on stage.
Orpheus in the Underworld was created as a co-production of the Komische Oper Berlin with the Salzburg Festival and the Deutsche Oper am Rhein, where the production will be performed from February 2022.
Zenaida Des Aubris
the 15 of December, 2021
|
Print