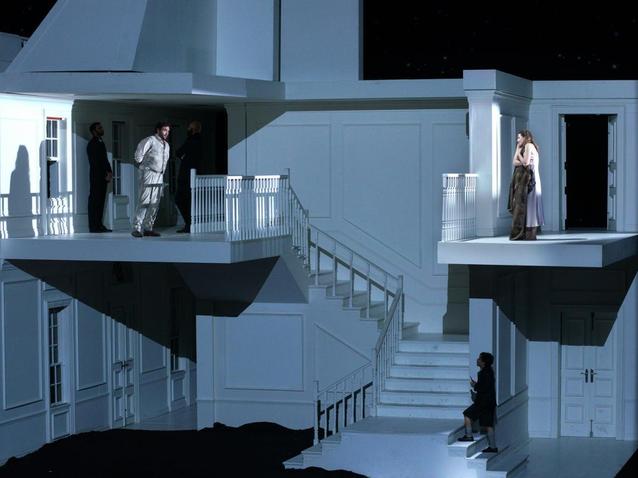 © Javier del Real
With some notable exceptions, the most eminent of which is Beethoven's Fidelio, the theme of maintaining marital loyalty, whilst morally so commendable, is theatrically utterly boring. Its opposite, instead, always affords interesting theatrical shambles which can range from the vaudeville to tragedy and everything in between.
If Händel's Rodelinda, a story about staunch marital loyalty, theatrically is not only tolerable but works rather well is because deep down it is not about loyalty but about a fight for power amongst a group of characters that presents an authentic gallery of perversion, including fratricide, betrayal, corruption, adultery, etc. A true – and theatrically delicious – vipers' nest.
Claus Guth, following his signature style of introducing spinning buildings on stage, which he already showed years ago with his magnificent Parsifal, situates Rodelinda in a Georgian mansion from which the lateral and posterior walls have been removed, a great scenography work by his habitual collaborator Christian Schmidt, who also signed the costumes.
This solution works perfectly again at all levels, both in terms of scenic agreeableness and fluidity, providing different spaces, as well as symbolically, with an imposing staircase into the first floor – the pathway ascending to power – where lies Rodelinda's bed, the altar where the legitimation of power will be consummated, in the case that anyone reaches access to it.
Claus Guth is also spot on in deciding to tell the story from Flavio's eyes, Rodelinda's son, a character without any text but fundamental in the development of the plot.
Flavio, who is always on stage, sees everything and interprets everything from his infantile perspective, his fears, his nightmares and, above all, his drawings, which are continuously projected onto the house's walls outlining the characters and the dramatic situations.
Claus Guth traps all the characters inside the house. For Flavio this house becomes a hell full of menacing figures. In the end, when everyone celebrates the happy ending of the story, little Flavio, isolated from everyone, becomes trapped by his ghosts for good. This moment is powerfully remembered in the terrible ending in The turn of the screw, Britten's opera from the homonymous work by Henry James.
The actors' direction, very rich, exhaustive, attentive to every detail and every gesture, allows the complex dramaturgy to run like clockwork. The appropriateness of the staging for Rodelinda, a title that had never been performed at Liceu, was topped in the night of the premiere with the good musical results obtained.
In the first place, it's worth noting the high level reached by the protagonist couple. American soprano from Cuban heritage Lisette Oropesa, debuting at Liceu although habitual at the Met, delivered a great quality Rodelinda. With a given beautiful voice, she articulated with decision and in tune some delicate high notes, she resolved neatly and fluidly the coloratura and her overall performance was convincing in all vocal aspects. Scenically, she also embodied her character very well, an intelligent woman who from her initial position of weakness will end up manipulating the ambitions and desires of all the male characters to ensure that only those selected by her have a place in her bed.
Alongside her, the other great winner of the night was Bejun Mehta, countertenor already well known and loved at Liceu in recitals, but who had not yet performed a staged character. His Bertarido, the absent husband thought dead by everyone, was exemplary in all aspects. His voice is soft, homogenous throughout the range, agile and without issues in the higher register. A prodigy. His spectacular "Vivi, tiranno" and the duet with Rodelinda "Io t'abraccio" will remain in the audience's memories.
Mezzosoprano Sasha Cooke was good in the ambiguous role of Eduige. Tenor Joel Prieto was irregular in the role of the dubitative Grimoaldo, he delivered moments of great beauty followed with interventions of lesser quality. Countertenor Gerald Thomson did very well in the role of the loyal Unulfo, the only boring role of the piece, because he is consistently good. Only sufficient was Gianluca Margheri in the role of Garibaldo, a total and absolute text book bad guy. Actor Fabián Augusto Gómez was memorable in the mute role of little Flavio.
Given the limiting factors that neither Liceu's orchestra nor Josep Pons, the principal conductor, are specialized in baroque music, the musical results achieved were rather good. With the orchestra supported by some instrumentalists who knew the Händel repertoire well, the ensemble didn't create the brilliance of sound that a good early music group would have achieved, but it sounded well.
Pons' direction was good, perhaps a little too cautious. Some greater risk in the dynamic contrasts, in some tempi, in the emphasis of some phrasing, would have added a bonus of vitality to an interpretation that was quite good.
Xavier Pujol
Rodelinda by Georg Friedrich Händel. Lisette Oropesa, soprano. Bejun Mehta, countertenor. Joel Prieto, tenor. Sasha Cooke, mezzosoprano. Gerald Thomson, countertenor. Gianluca Margheri, baritone. Fabián Augusto Gómez, actor. Orchestra of Gran Teatre del Liceu. Josep Pons, conductor. Claus Guth, stage director. Marcelo Buscaino, restaging. Christian Schmidt, scenography and costumes. Joachim Klein, lighting. Co-production by Gran Teatre del Liceu, Teatro Real de Madrid, Opéra de Lyon and Oper Frankfurt. Gran Teatre del Liceu. Barcelona, 2nd March 2019.
the 06 of March, 2019
|
Print