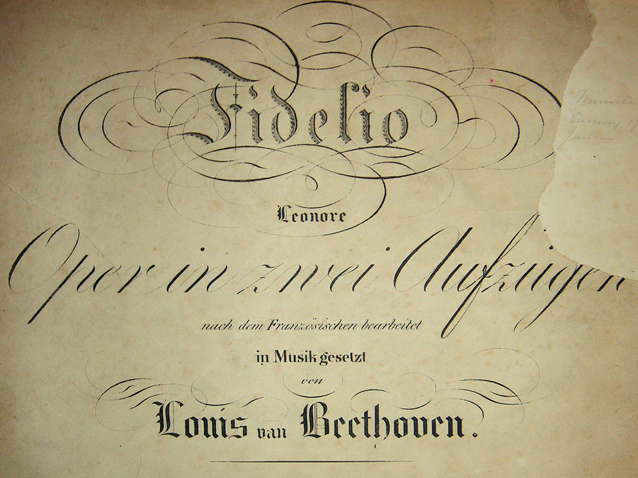 General informations
Composer:Ludwig van Beethoven
Librettist:

Joseph Ferdinand von Sonnleithner

Creation date:

1805

Creation place:

Austria

Acts number:

2

Reference:

op.72

Original language:

German

Opera House of original production:Theater an der Wien.
Original orchestration:

1picc,2fl,2ob,2cl,2fg,1ctrfg,4cors,2tp,2tbn,Timb Strings , tp en coulisse

Publishers:

Artaria, Vienne, 1814
Work description
Fidelio is Beethoven's only opera. Composed over a period of nearly 10 years, from the first failure in 1805 to the final version of 1814, this romantic drama, a musician's delight, underwent many reworkings. He wrote no fewer than four overtures to this opera and was never completely satisfied with any of them.
The libretto was inspired by an actual incident from the French Revolution, in which a woman dressed as a man was hired as a prison gaoler and managed to free her incarcerated husband. The dramatic art of this magnificent work, which deals with liberty, faithfulness, idealism and justice, holds a universal value within it.
Beethoven's musical genius is fully present in the intelligence of the orchestration, which Berlioz praised, without a gratuitous note, in which every effect is justified in the unfolding of the drama, in which the emotion is palpable in the voices, which are admirably highlighted.
Summary
Leonore has disguised herself as a man and presented herself as Fidelio, in order to be hired as a deputy gaoler in the prison where her husband Florestan is unjustly held at the orders of the cruel Don Pizzaro. In this hazardous undertaking, Fidelio has aroused the love of Marzelline, the gaoler's daughter, who now rejects her fiancé. The courageous and persistent wife will manage to save her husband from the death reserved for him by Pizzaro, his political enemy whose treachery will be exposed. 
Act 1
Florestan (tenor), a Spanish aristocrat, is a secret prisoner at the orders of Don Pizarro (baritone), the cruel governor of a State prison. To free him, his wife Leonore (soprano) disguises herself as a man named Fidelio and comes to work at the prison. She unwittingly seduces Marzelline (soprano), whose father, Rocco the Gaoler (bass) gives his permission to marry her. Pizarro is concerned about an inspection by the king's minister, Don Fernando (bass), who suspects the sinister governor of abusing his power. He then orders Rocco to kill Florestan, but Rocco refuses. Leonore-Fidelio beseeches the gaoler to accompany her to the dungeon, and he agrees.
Act 2
When Pizarro goes down to the cell to kill Florestan, Leonore reveals herself, steps in and threatens the tyrant. Meanwhile the good minister Fernando arrives, saves Florestan, chastises Pizzaro and frees the prisoners who, in a splendid finale scene, sing a joyful hymn with the people.