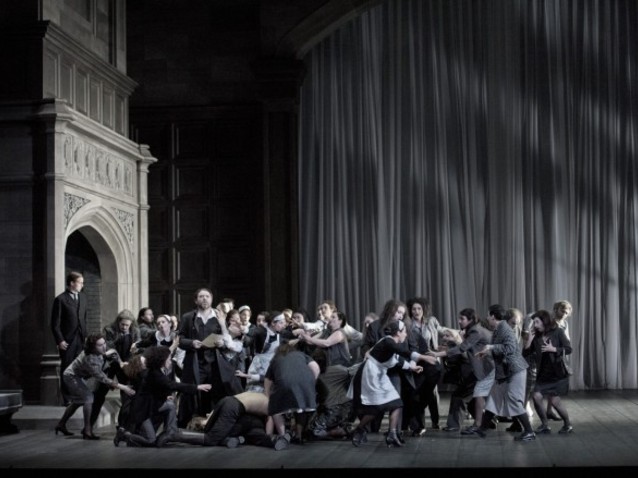 © DR
Liceu has opened the season with Macbeth, a title that hadn't been featured in the theatre for more than 10 years.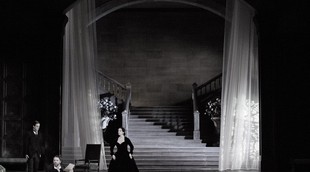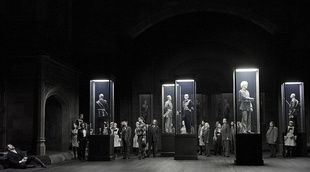 Musically, this Verdi opera still shows some traces of some late Bel Canto remains but also starts to announce the maturity and the personal style of the great central trilogy (Rigoletto, Traviata, Trovatore). Dramatically, it preserves and it even concentrates and thickens all of the primal violent, bloody, atavistic and barbaric theatrical strength of Shakespeare's original. Theatrically, Macbeth, a seductive opera, "ugly and unpleasant" that bursts in the middle of the stage splashing everything with horror and meanness, is one of Verdi's titles with more direct impact on the audience. An opera with two characters, the cruel but dubious Macbeth and his aggressive wife – a well of unscrupulous ambition –, that end up devouring the remaining characters, who become mere triggers for the action.
The production of Macbeth presented at Liceu, coming from the Grand Théâtre de Genève and signed by Christof Loy as stage director, is magnificent. In this staging, without losing momentum, everything becomes sophisticate, slender; this Macbeth is of an elegant brutality.
The scenography, dark, reinforced by a veiled, tenuous lighting –at points too tenuous– brings us back to the cold, oppressive magnificence of Manderley from Alfred Hitchcock's Rebecca. The cinematographic reference is intensified by the fact that, visually, everything in this production moves between black and white and all the shades of grey in between. Even the blood, so abundant and continuously spilled from the beginning to the end of the piece, is grey.
Musically, this Macbeth went quite well. Ludovic Tézier, with a beautiful baritone voice and a singing line of perfect style was debuting on the role. At the beginning it seemed like he was being over cautions in saving his energy in a role that is traditionally sung at full power from the very first scene. Later on, gaining in confidence, he became more generous vocally. His Macbeth is good, very good, but although vocally it might be more pertinent and stylistically adjusted than other famous Macbeths, it doesn't belong to the long tradition of alarmist Macbeths that, more often screamed than sung, acquired such renowned fame.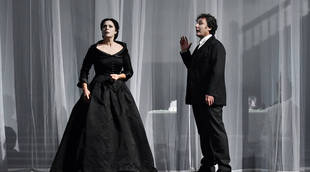 Martina Serafin, an expert in this role, was vocally acid. Verdi required a "brutta voce" (an ugly voice) for the role of Lady Macbeth, which doesn't mean a rude voice. Serafin offered the aggressive, angular voice that the composer was asking for. On the stage she blended very well with Loy´s dramatic proposal and she, alongside the production, was also elegantly brutal.
Vitalij Kowaljow was very correct as Banco, as well as Saimir Pirgu as Macduff, although we expected more of him in "Ah, la paterna mano", his one opportunity for showing brilliance.
It was also memorable, musically and scenically, Macbeth's third great protagonist, the choir, which taking the shape of a group of witches embodies the characters' fatal destiny. Loy moved them well in the stage and visually gave them the grotesque repugnant vulgarity that makes them important.
Giampaolo Bisanti, debuting at Liceu, consistently brought the orchestra to an insufficient volume, filed down as many rough corners as he could and provided an almost belcantist musical support to a title where, maybe mistakenly, it is a tradition to search for a more aggressive strong and angular sound.
the 10 of October, 2016
|
Print