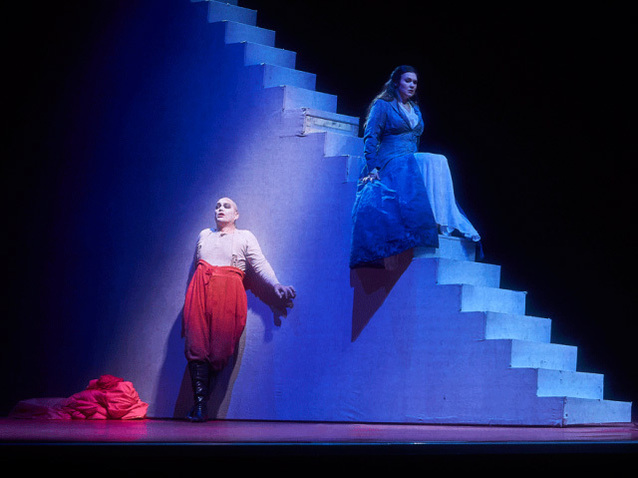 © David Ruano
Rigoletto comes back to Liceu – there will be fifteen performances and it will take the stage for the next few weeks.
Verdi's opera is presented in the same production, with Monique Wagemakers signing as stage director, as in March 2017 which was already reviewed for Opera Online. Nothing essential has changed and its virtues and flows are still present. However, it would seem that in this re-staged version, the actors' direction and the choir's movement received further work lightening a production which came across as rather rigid and visually static in the choral scenes.
Rigoletto's drama – Victor Hugo's character which Verdi considered "one of the greatest creations that the theatre can boast of, in any country and in all history" – revolves around various axis, the main ones being: power, vengeance and exclusion of those who are different. Wagemakers' proposal, which is set in a non-specific space and time in 'the past', explores all these axis in their essence and works in depth with the multi-faceted characters: a loving but oppressive father, more preoccupied about her daughter's virginity than her feelings; a seductive yet cynical and amoral Duca; and a servile and corrupt court that complacently witnesses power misuse. 
These themes are touched on in the great libretto by Piave (from Hugo's text) and they are hinted at as well in the subtle nuances of the score. However, traditional productions didn't highlight the underlying squalor underneath the external splendour whilst Wagemakers' does – possibly going beyond Verdi's and Piave's intentions. It is a possible and pertinent option – if not very faithful, but appropriate for today's moral stereotypes, at least the superficial and politically correct ones.
Musically, the opening night obtained rather positive results. Daniele Callegari, expert in the Italian repertoire and more precisely in Verdi, offered great musical direction. Although Rigoletto belongs to Verdi's central period, it contains moments where the composer regresses back to a bel canto style of writing for the voices, especially in more conventionally lyrical points, such as "È il sol dell'anima" and "Gualtier Maldè". Consequently, he also modifies the orchestral writing, looking for softer colours and, in this sense, Callegari adapted the orchestral sound masterfully.
The conductor looked for lively accompaniments that would highlight the tenson of the more dramatic scenes without shrillness. Generally, he obtained good togetherness, except for the scene with Maddalena, Gilda and Sparafucile where everyone seemed to be going separate ways.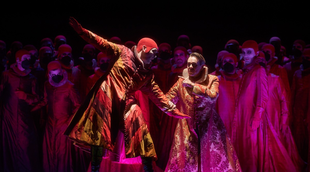 Christopher Maltman, Benjamin Bernheim (© David Ruano)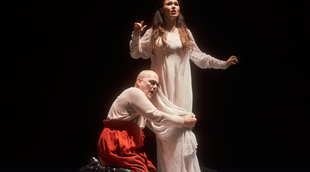 Christopher Maltman, Olga Peretyatko (© David Ruano)
There was great expectation at Liceu for Benjamin Bernheim's debut in the house, as Duca. The French tenor's voice is beautiful, and he possesses the appropriate level of squillo for the character, moving between the warmth of the lyric tenor and the transparency of the leggero tenor. His emission is clear, with good projection, and apart from a couple of high notes that lacked a good attack his performance was highly satisfactory. He didn't however make it into the 'top ten' of Liceu's long history of the part. In the coming performances, the role of Duca will be shared between Benjamin Bernheim, Saimir Pirgu and Josep Bros.
Olga Peretyatko, who will be sharing Gilda's character with soprano Aigul Khismatullin, offered a very good performance. She incorporated with credibility the character's gentleness and innocence and overcame without difficulty the shiny coloratura passages of her aria. She added dramatic temperament to the duet with the father and crowned the performance with a truly 'celestial' rendering of "Lassù in ciel".
Christopher Maltman, remembered at Liceu for his quality Don Giovanni, is also a good Rigoletto. He has power, vocal presence and sufficient stamina to successfully face one of the most exhausting roles in the baritone repertoire. Moreover, Maltman is a good actor and knows how to present the dramatic complexity of the character effectively. He moves away from the temperamental and melodramatic interpretative tradition of the great Italian Verdi baritones, but his is a quality Rigoletto.
The choir, in this case reduced to the male sections, was excellent providing a high-level performance with nuance and intensity.
Grigory Shkarupa as the sinister Sparafucile and Rinat Shaham as his sister, the sensual Maddalena, delivered below expectations.
Xavier Pujol
Barcelona, 28th November 2021
Rigoletto by Giuseppe Verdi. Benjamin Bernheim, tenor. Chistopher Maltman, baritone. Olga Peretyatko, soprano. Grigory Shkarupta, bass. Rinat Shaham, mezzosoprano. Orchestra of Gran Teatre del Liceu. Choir of Gran Teatre del Liceu. Daniele Callegari, conductor. Monique Wagemakers, stage director. Michael Levine, scenography. Sandy Powell, costumes. Co-production by Gran Teatre del Liceu and Teatro Real de Madrid. Gran Teatre del Liceu. 
Photos © David Ruano
the 30 of November, 2021
|
Print