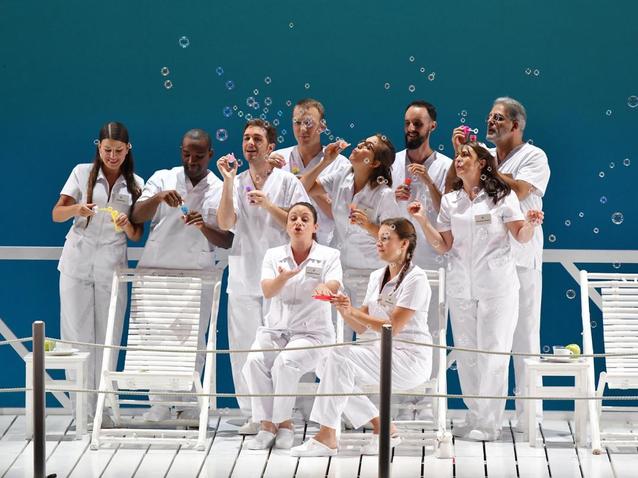 © (c) Antoni Bofill
Liceu has resumed its activity with Il viaggio a Reims, an unusual title for a season opening. We need to consider however that these performances, despite being the first ones, do not have the 'official' opening character that will arrive at the beginning of October with Un ballo in maschera. 
But why is Il viaggio a Reims not an appropriate title to open the season? Because, to start with, dramatically it isn't a proper opera but rather a sort of scenic cantata with minimal dramatic action. Secondly, – and mainly – because it requires 10 highly competent singers who will be facing a deeply demanding score from the most mature and experienced Rossini, and no theatre can nowadays afford the luxury of hiring 10 first level performers for this genuinely strange opera in one act. This piece, composed by Rossini in 1825 to celebrate the coronation of Charles X as King of France, presents a group of extravagant aristocrats coming from all over Europe to the hostel Il Giglio d'Oro in Reims the night prior to the coronation of – precisely – Charles X, an event to which they will eventually not be able to attend.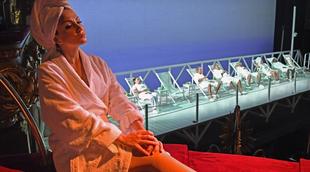 Irina Lungu © A. Bofill
Il viaggio a Reims is the ideal opera for singing courses and operatic academies because it has many roles and provides all important performers with arias and duos to give credit to their capacities. In fact, Pesaro's Rossini Opera Festival, where the present production comes from, uses the title and staging relatively frequently in their annual singing course.
Liceu didn't want to exclusively play the card of novice singers and put together, with great skill, a varied cast with consolidated names with long trajectory in the interpretation of the 'buffo' Rossini such as Pietro Spgnoli (Don Profondo) or Carlos Chausson (Baron of Trombonok) who shone by themselves but also provided robustness in the concertanti. They were mixed with singers who are right at the middle of their careers such as Manel Esteve (Don Alvaro), Maite Beaumont (Melibea marquise), Irina Lungu (Corinna) or Sabina Puértolas (Countess of Folleville) as well as a debut that came with great expectations – having won the Singer of the Year Award 2017 at the International Opera Awards –, Lawrence Brownlee (Count of Libenskof), and young beginner singers such as Ruth Iniesta (Madame Cortese), Taylor Stayton (Chevalier Belfiore) or Roberto Tagliavini (Lord Sidney). The global result was very satisfactory and, whilst nothing was memorable, everything was correct and surprisingly balanced in such a varied cast.
The responsible person for bringing everything down the right path was in many aspects the 'maestro' Giacomo Sagripanti, debuting at Liceu, a young conductor who is getting recognition from around Europe in the Italian repertoire and specifically the 'buffo' field. The orchestral sound wasn't specially refined or nuanced, but was very solid and the coordination with the voices, of special difficulty in a title like Il viaggio, full of duos and concertanti (one of which involving 14 voices!), was fairly correct.
The production, signed by Emilio Sagi as stage director, was extremely sober, austere, synthesised: only an elevated platform on the stage representing the solarium of a spa where strolled in bath robes the extravagant characters. Whilst the dramaturgy was elemental, the actors' direction was instead full of subtle details and helped to overcome the monotony and excessive uniformity of the scenic space.
Il viaggio a Reims: a light and easy appetiser for a season that will have a lot stronger and more robust courses. 
---
Il viaggio a Reims by Gioacchino Rossini. Irina Lungu, soprano. Maite Beaumont, mezzosoprano. Sabina Puértolas, soprano. Ruth Iniesta, soprano. Taylor Stayton, tenor. Lawrence Brownlee, tenor. Roberto Tagliavini, bass. Pietro Spagnoli, baritone. Carlos Chausson, bass-baritone. Manel Esteve, baritone. Orchestra of Gran Teatre del Liceu. Giacomo Sagripanti, conductor. Emilio Sagi, stage director. Pepa Ojanguren, costumes. Co-production of Rossini Opera Festival (Pesaro) and Teatro Real de Madrid. Barcelona, 13th September 2017.
the 15 of September, 2017
|
Print