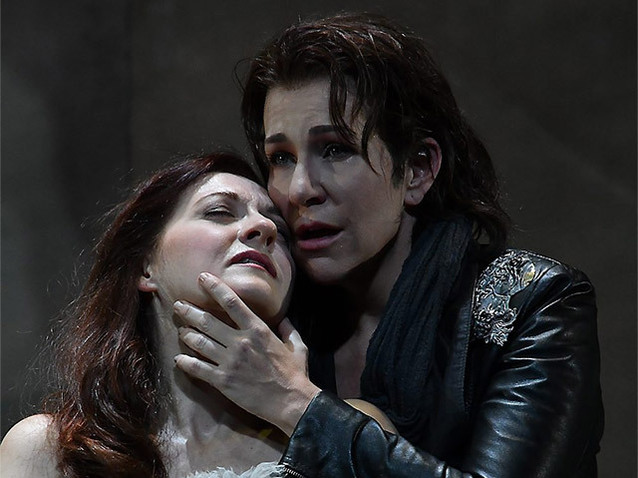 The dramatic intensity at the heart of Romeo and Juliet's theme is such that not only can it travel in the Western culture from Shakespeare to Bernstein being reborn in each generation, but it also survives, almost intact, the heavy bel canto rhetoric. 
Build upon Felice Romani's inflamed verses up to a cliché, which at no point come from the Shakespearian referent (we only wish they did), I Capuleti e i Montecchi is still an imperfect Bellini that, although containing moments of great quality, doesn't yet reach in the score the excellence of La sonnambula, Norma or I puritani. Its defence on the stage, as it often happens with imperfect pieces, isn't easy. It requires first class singers, orchestra and staging, and even with such support it doesn't guarantee the results. 
The strength of the characters, the excellent interpretation of the two main roles, a correct musical direction and a staging that mixed great skill in fundamental scenes and catastrophic errors in anecdotal aspects made the premiere of I Capuleti e i Montecchi at Liceu, after more than 30 years of absence, a considerable success. 
Firstly, needs highlighting Joyce DiDonato and Patrizia Ciofi's excellent work in all aspects. The North American mezzosoprano, Grammy Award 2016 and 2012 as best classical vocal solo, made a model Romeo. She resolved with great skill and mastery the required lower notes of the score, which were almost out of his register, sang an admirable legato, projected the sound, was confident in the music and on the stage, and always showed a profound commitment with the reading of the character that was proposed by the stage direction. 
Patrizia Ciofi survived an aberrant costume and a staging direction that seemed to had been thought against her and that forced her to sing climbing a basin and balancing on the edge of a ridiculous precipice. Vocally she was splendid and her duos with DiDonato were the best of the night.
Although with a harsh and not very beautiful timbre, tenor Antonino Siragusa reached all the higher notes of Tebaldo's role with strength and brightness. Marco Spotti and Simon Orfila didn't present any problems with the clearly secondary roles of Capellio and Lorenzo. The choir wasn't always together, especially when singing from outside the stage.
I Capuleti's orchestral part is not a prodigy in subtlety and is not counted amongst the best Bellini. Therefore, it is very difficult to play, as even when playing it good never sounds good. In this context, Riccardo Frizza, largely renowned bel canto maestro and debutant at the Liceu, achieved more than acceptable results.
What was seen on stage, a co-production from 2012 by Bayerische Staatsoper and San Francisco Opera, was a strange mixture of good and bad choices. The lighting, by Guido Levi, was excellent, significant. The costumes, by the famous couturier Christian Lacroix, who has a long experience in operatic works and was announced by the Liceu as "an elegant and unique costume that reveals the characters' hidden interior" turned out to be disappointing and in Giulietta´s case, embarrassing. 
Vincent Boussard's stage direction, extreme, brave and bold, resolved skilfully the mass movements that circulated through the stage as taking part in a ritual. It favoured –with DiDonato's complicity– the role of Romeo and it set out the duo of the first act and the last scene excellently. It failed due to excessive risk and, maybe, ambition in no few scenes of lesser dramatic interest.
Xavier Pujol
Barcelona. Gran Teatre del Liceu. 17/05/2016. Bellini, I Capuleti e i Montecchi. Joyce DiDonato, mezzosoprano. Patrizia Ciofi, soprano. Antonino Siragusa, tenor. Simon Orfila, baritone. Marco Spotti, bass. Symphonic Orchestra of Gran Teatre del Liceu. Choir of Gran Teatre del Liceu. Riccardo Frizza, conductor. Vincent Boussard, stage manager. Vincent Lemaire, scenography. Christian Lacroix, costumes. Guido Levi, lighting. Production of Bayerische Staatsoper, San Francisco Opera.
the 19 of May, 2016
|
Print