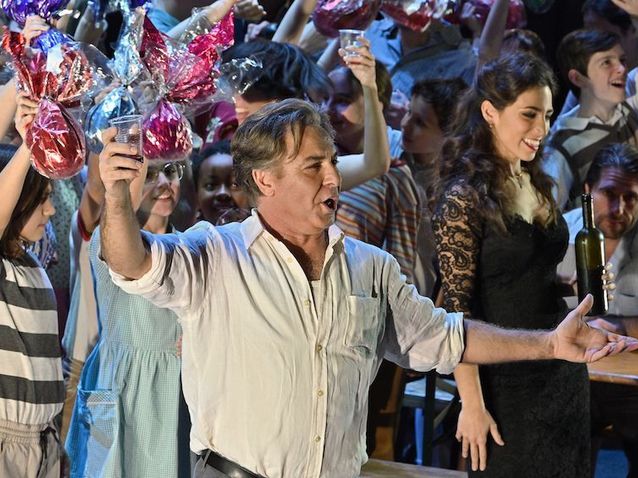 © DR
Christmas is coming and Liceu, like many other theatres, has decided once again to offer an attractive programme for the non-specialised audiences, who on these festive dates decide, perhaps for the only time in the season, to go for one night at the opera. On this occasion, the offer has consisted in the traditional double act integrated by Cavalleria rusticana and Pagliacci, the famous pair of short verismo operas, which tradition has transformed into an unbreakable matrimony.
In order to reinforce the binding of the couple, Liceu has chosen the celebrated production of these two titles signed by Damiano Michieletto, successfully presented at the Royal Opera House in London, which received the Lawrence Olivier award to the best opera production in 2016. In this intelligent proposal by Michieletto both operas, whilst respecting the literality of each one's music, are intertwined as if they were two chapters of the same story. In this way, Pagliacci takes place in the same small Italian village where Cavalleria rusticana's tragedy occurs and some characters of each piece appear in mute roles in the other. This happens particularly in the well-known intermezzi. In that of Cavalleria rusticana Nedda appears flirting with Silvio and in that of Pagliacci we can see how Mamma Lucia welcomes a repentant Santuzza, lamenting having caused Turiddu's death with her report.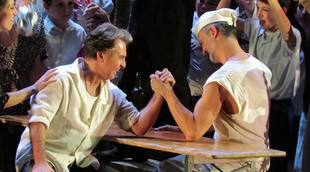 © A. Bofill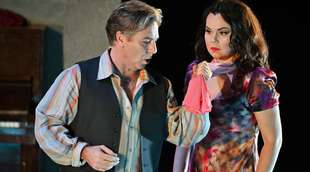 © A. Bofill
As well as intelligent, the production is pertinent. Both operas are very close in style, were only premiered within two years of each other and both revolve around jealousy, vengeance and murder in a rural, religious and poor Italian context. The staging of Michieletto's design was excellent. The rotatory scenography created by Paolo Fantin worked well for telling the stories, was well lighted by Alessandro Carletti and the actors direction was well accomplished, relevant and accurate. The result was a good new scenic proposal that was easily understandable for two renowned titles.  
Singing both main tenor roles of Cavalleria rusticana and Pagliacci – two demanding and difficult roles – in one night is not new, but achieving this tour de force at the level delivered by Roberto Alagna is not frequent. As Turiddu, Alagna showed a good voice, power and brilliance, although he excessively tended to sing uniformly, with little nuances and flat phrasing. In Pagliacci, he was sensational at all times and his "Vesti la giubba" was anthological. In his splendid maturity, Alagna must be one of few tenors capable of facing the challenge of singing Turiddu and Canio in one session, and of those few is almost certainly the best.
Baritone Gabriele Viviani also interpreted two roles, in Cavalleria he sang Alfio and Tonio in Pagliacci. The challenge does not require the demands of the tenor protagonist, but also presents significant difficulty. He also was best in Pagliacci than in Cavalleria.  As Santuzza Liceu presented a debuting singer, Russian soprano Elena Pankratova, a singer who, despite desplaying a powerful voice, did not have an appropriate timbre for the role. With a slightly metallic and harsh brilliance in the higher register, she appears more suited for the German and Slavic repertoire.
As Nedda, we had Polish soprano Aleksandra Kurzak who, with adequate voice, excelled in the interpretation of the role by filling it with nuances. Also excellent were Mamma Lucia and Lola in Cavalleria, interpreted respectively by Elena Zilio and Mercedes Gancedo, as well as Beppe sung by Vicenç Esteve in Pagliacci. Very disappointing, in Pagliacci, was North American Duncan Rock's Silvio.
The choir did very well in two operas which afford it important interventions and the orchestra presented a performance below expectations. Henrik Nánási's conducting on the night of the premiere was only correct, without much relief and with some togetherness problems.
Xavier Pujol
Barcelona, 5th December 2019
Cavalleria rusticana by Pietro Mascagni. Elena Pankratova, soprano. Mercedes Gancedo, soprano, Roberto Alagna, tenor. Gabriele Viviani, baritone. Elena Zilio, mezzo soprano. Pagliacci by Ruggero Leoncavallo. Aleksandra Kurzak, soprano. Roberto Alagna, tenor. Gabriele Viviani, baritone. Vicenç Esteve, tenor. Duncan Rock, baritone. Orchestra of Gran Teatre del Liceu. Choir of Gran Teatre del Liceu. Henrik Nánási, conductor. Damiano Michieletto, stage director. Eleonora Gravagnola, restaging. Paolo Fantin, scenography. Alessandro Carletti, lighting. Co-production Royal Opera House Covent Garden (London), La Monnaie (Brussels), Opera Australia (Sidney) and The Göteborg Opera.
the 10 of December, 2019
|
Print