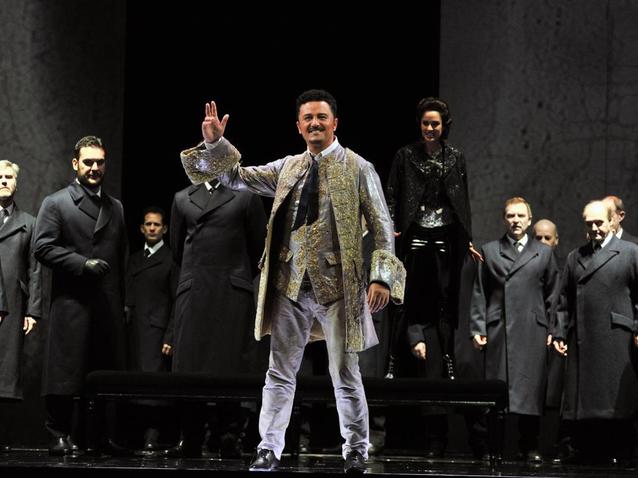 © (c) Antoni Bofill
The overall result of the Un ballo in maschera's opening at Liceu – presented as the official opening of the season, although the season had de facto already started last month with Il viaggio a Reims – is clear: the men and choir were good, less so the women, passable the conductor and orchestra, ugly and dark the production and very poor the stage direction.
Let's start with what went well. Carlos Álvarez is at the best moment of his career, already with plenty of experience and still with strength. He is a perfect 'Verdian baritone' and his knowledge of the vocal difficulty, musical demand and dramatic complexity of the roles Verdi lends to baritones was largely demonstrated in his Rigoletto last March and has been corroborated now in his Renato. His voice is balanced, possesses the shine in the high register required in a 'Verdian baritone', with a robust and well projected central register and, above all, a range of vocal nuances and scenic intelligence to give character and dramatic depth to the role.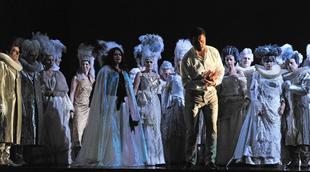 Un Ballo in Maschera - Gran Teatre del Liceu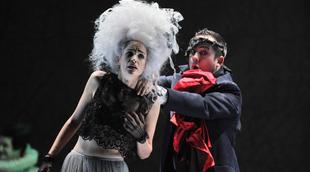 Un Ballo in Maschera - Gran Teatre del Liceu
Very well too was Piotr Beczala. His Riccardo might have won our hearts less than his Werther from last January, but was confident vocally, elegantly vehement and ended triumphantly despite a worrying start where the voice went to the higher notes without reaching a full roundness in the sound.
Dolora Zajick unfortunately shows age signs. Ulrica is a character that isn't on stage a lot but presents significantly high vocal demands that need to be faced with barely any time to prepare. Zajick, greatly esteemed at Liceu, sang from her experience but struggled to fill and give weight to the cavernous low notes of the gruesome character of the witch. The audience was benevolent with her.
American soprano Keri Alkema was the only survivor of the original cast that opened the production at the Théâtre du Capitole of Toulouse in 2014. Amelia requires a dramatic soprano who climbs up to the high register easily but who can fill with good sound the frequent descents to the lower register. Although Alkema navigates between soprano and mezzo roles (she has sung Giovanna Seymour at Anna Bolena and Principessa Eboli in Don Carlo) she had difficulty projecting the lower notes with strength. She went through Ecco l'orrido campo with difficulties and thankfully for everyone improved substantially in Morrò, ma prima in grazia. The singer was debuting at Liceu and overall her performance remained under the expectations.
The page boy Oscar is a delight, his interventions are the best light points in a tenebrous opera and nowadays, it is patrimony of leggero sopranos. Elena Sancho Pereg did an excellent Oscar, full of youth, ease and joy.
The choir, not having any solo interventions in Un ballo in maschera, did quite well musically and was totally static scenically, but this had to do with the stage direction.
Renato Palumbo's musical direction was a little on the superficial side, correct but without many nuances and totally covered Keri Alkema in her first aria with too powerful an orchestral sound.
Roman Ialcic and Antonio di Matteo were good in the roles of Samuel and Tom, the sinister conspirers.
Visually monotonous and boring, illuminated without much interest, the production didn't appeal much to anyone. Under a modern external appearance, it was totally conventional both in the reading and interpretation of the drama as well as in the dramaturgy. In some scenes the actors' direction seemed non-existent with characters wandering around the stage without precise dramatic intention. The costumes by Christian Lacroix, very original, contributed powerfully to the modern patina of the production but, with its attention grabbing gratuitous eccentricities, it often disoriented more than it informed.
Xavier Pujol
Un ballo in maschera by Giuseppe Verdi. Piotr Beczala, tenor. Carlos Álvarez, baritone. Keri Alkema, soprano. Dolora Zajick, mezzosoprano. Elena Sancho Pereg, soprano. Damián del Castillo, baritone. Roman Ialcic, bass. Antonio di Matteo, bass. Orchestra of Gran Teatre del Liceu. Choir of Gran Teatre del Liceu. Renato Palumbo, conductor. Vincent Boussard, stage director. Vincent Lemaire, scenography. Christian Lacroix, costumes. Co-production by Théâtre du Capitole (Toulouse) and Staatstheater Nürnberg. Barcelona, 7th October 2017.
the 12 of October, 2017
|
Print