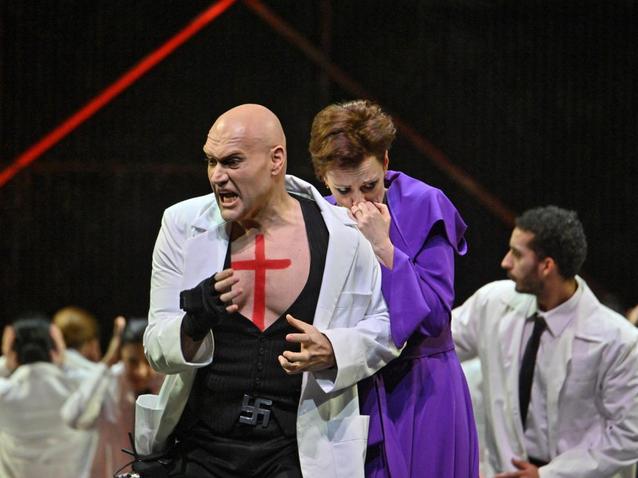 Finally, after many years, Liceu has hosted the world premiere of an opera, L'enigma di Lea by Benet Casablancas with text by Rafael Argullol. Casablancas, born in 1956, is one of the main current Catalan composers. Although his catalogue is long and varied this is his first opera. Rafael Argullol, born in 1949, is a poet, novelist, philosopher, essay writer and university professor in aesthetics and art theory.
The piece, described by the librettist as a 'mythical tale', takes place initially in an atemporal dystopia without any references and later in a psychiatric asylum in the present time. The piece presents the figure of Lea, a woman who was possessed physically by divinity, and who therefore accessed the secret of immortality. However, because of this, she is also condemned to wonder for eternity through time and space in an eternal present and to be nothing else but fire and sensuality. Lea will find Ram who, having known and been possessed by death, is condemned to wonder blind and to be only ice and reason.
Two guards, Milleocchi and Millebocche, Three Dames of the Border – protectors of Lea – three sculptors, Michele (Michelangelo), Lorenzo (Bernini) and Augusto (Rodin) and importantly Dr Schicksal (German for 'destiny'), an old circus owner, now director of a psychiatric clinic, will somehow intervene in the action, which will eventually bring together Lea and Ram through love.
At this point, the synthesis between reason and the senses appears achieved, but a choir of spectators in disagreement with such situation state that "our lives are common, coward, bound to what is useful, leaning in servitude towards what is convenient (…) and we shall not feed the vane suspicion that a different life might be possible" and request Dr Schiksal to proclaim that freedom cannot be possible.
The theme is certainly ambitious and the plot original, but on a stage this remains rather distant. Although the libretto reaches at points moments of great poetic beauty, its redundancy, repeating over and over the same six or seven fundamental ideas, renders the piece tiresome. Poetry, narrative or, even more straightforward, essay would probably have been more suitable vehicles than the theatrical stage for this kind of very interesting speculation. Philosophy, unless very well dressed up as life, almost never works very well on a stage.
Musically, L'enigma di Lea presents a complex elaboration: the orchestration accompanies the voices well, allows them to sing and in the moments where is presented on its own achieves level of remarkable quality. There is a great variety in tempi as well as a solid timbre work that links the characters with specific instruments. Lea is associated with the purity and transparency of the flute, Ram with violas and cellos, and the grotesque Milleocchi and Millebocche with oboe and English horn. The harmony is elaborate and each character presents its own vocality. The singing, which seats often in the Sprechstimme and the arioso, tends to remain within the central register of each voice type and only in Lea's part goes up frequently to the upper region of the voice. A little more vocal élan would have intensified the emotional content.
L'enigma di Lea was presented on stage with great dignity, the theatre poured money (over 300.000 €), resources and rehearsal time into it. Carme Portaceli, an experienced theatre director who, however, hadn't yet worked at Liceu, brought an elaborate dramaturgy to the complex plot and moved the characters and the choir well. Paco Azorín presented an atmospheric scenography, often cold and anguishing, appropriate to the dramatic situations. A good lighting from Ignasi Camprodon and a visually spectacular finale with the whole scenography in movement managed to not render the show boring.
The artistic level accomplished in the night of the premiere was the best asset. The maestro Josep Pons, as it is expected from the principal conductor of a theatre's orchestra, personally assumed the challenge and risk of a world premiere and did very well. The orchestra worked well and the flow between the pit and the stage was good. The vocal chapter also delivered at a great level. In first place, the mezzosoprano Allison Cook, who we knew at Liceu from her great work in Quartett by Luca Francesconi during the season 2016/17, did an impressive Lea both vocally and scenically. José Antonio López did very well in the role of Ram and countertenor Xavier Sabata was extraordinary in the histrionic role of Dr Schiksal. The choir was slightly disarranged as it didn't appear very comfortable in the score.
A different issue, not central but important, was the language. L'enigma di Lea is sung in Italian in the soloist parts and in Catalan in the choral ones (the composer is already working on the adaptation of the choral parts in other languages). The reason for having the soloists sing in Italian is, according to the creators, that Italian is opera's lingua franca.
It is true that premiering an opera in Catalan highly limits the international circulation possibilities of the piece, that premiering an opera in Spanish in Catalunya in the current climate could offend some people's sensibilities and would be interpreted politically, that doing so in English would be considered a concession to the dominant 'establishment'. Therefore, choosing Italian, a language that all opera singers master, seems like a good idea. This notwithstanding, to disguise the commercial and strategic opportunity of this absolutely legitimate decision with the argument of the lingua franca is nonsense.
Italian was opera's lingua franca until the end of the 18th century, when Mozart was premiering operas in Italian in Vienna or Prague, but since the 19th century this was no longer the case. Thankfully for art and culture, Wagner, Janácek, Mussorgski, Britten, or Gounod did not share this idea.
Xavier Pujol
(Barcelona, 9th Fébruary 2019)
L'enigma di Lea by Benet Casablancas, text by Rafael Argullol. Allison Cook, mezzosoprano. José Antonio López, baritone. Sara Blanch, soprano. Anaïs Masllorens, mezzosoprano. Marta Infante, mezzosoprano. Sonia de Munk, soprano. Felipe Bou, bass. Xavier Sabata, countertenor. David Alegret, tenor. Antonio Lozano, tenor. Juan Noval-Moro, tenor. Orchestra of Gran Teatre del Liceu. Choir of Gran Teatre del Liceu. Josep Pons, conductor. Carme Portaceli, stage director. Paco Azorín, scenography. Antonio Belart, costumes. Ignasi Camprodon, lighting. Production by Gran Teatre del Liceu. Gran Teatre del Liceu.
the 12 of February, 2019
|
Print