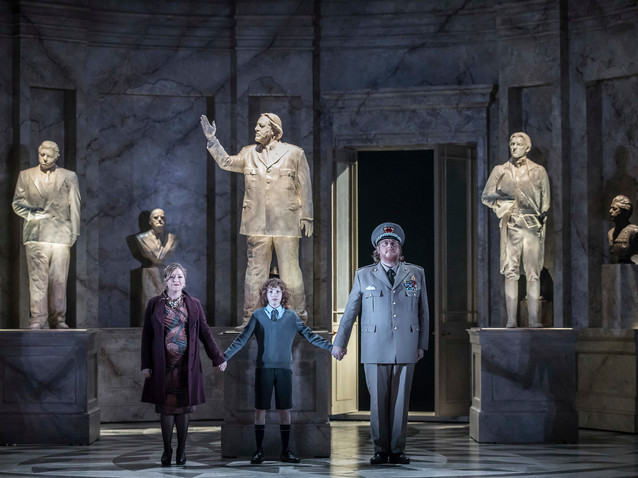 © (c) Johan Persson
Any world premiere at one of London's major opera houses is an exciting occasion, but Ryan Wigglesworth's The Winter's Tale was especially so given that it is based on a Shakespeare play that has seldom undergone the operatic treatment. There have been around a dozen works based upon the piece, including Max Bruch's Hermione, Carlo Emanuele di Barbieri's Perdita, ein Wintermärchen and John Harbison's The Winter's Tale, but that is a paltry total considering the number that have been inspired by Romeo and Juliet, and none of them are well known today.
The play considers what happens when jealousy takes hold of King Leontes of Sicilia. Mistaking his wife Hermione's innocent affection for King Polixenes of Bohemia for infidelity, he loses all sense of reason. This leads Polixenes and Leontes' own subject Camillo to flee, and Leontes to order his new born daughter to be abandoned in a desolate place. Only when his son Mamillius and (apparently) Hermione die of grief-induced illnesses does he realise the error of his ways and undergo sixteen long years of penitence.
The Winter's Tale Sophie Bevan and Neal Davies; © Johan Persson
His abandoned daughter Perdita survives, and is brought up on Bohemia by the Shepherd who found her. At the age of sixteen she falls in love with Prince Florizel, but his father Polixenes does not approve of the match because she is, as far as he is aware, low born. Camillo advises the young lovers to flee to Sicilia, where he is convinced that Leontes will be welcoming. Here, Leontes is reunited with his daughter while a statue of Hermione turns out to be not all that it seems.
Both Wigglesworth's music and Rory Kinnear's staging astutely reflect the respective moods of the three stages of the story. The first part plays out like a Greek Tragedy as we watch an entire world come crashing down around Leontes as a result of nothing more than his own obsession. The second occurs in a more open landscape where nature is shown to be virtuous, and the third in an almost dream-like setting where even miracles, it seems, can happen.
One might spot traces of Béla Bartók, Harrison Birtwistle and a great many other composers in Wigglesworth's extremely innovative and impressive score, but it is ultimately unique. In Act I sliding strings and brass and percussion are skilfully deployed to disconcert the listener in a way that perfectly describes how realities are being turned on their head, and how a society is being shaken to the point of virtual collapse.
The evening also works well dramatically, with Vicki Mortimer's sets entirely hitting the mark. The drama is set broadly in the twentieth century with Leontes' cylindrical palace feeling like a pressure cooker where temperatures and emotions can all too easily overheat. Walls and doors slide around so that the space can be opened out or become entirely enclosed. The inside walls appear to be made of marble and offer the area a certain grandeur. When, however, the entire structure closes up the exterior surfaces appear rougher, as if suggesting that Leontes has cocooned himself off from the outside world. Certainly, the 'common man' appears to be 'waiting at the gates' ready to threaten, if not actually topple, him long before a large crowd gathers to proclaim Hermione's innocence. When, however, Leontes' subjects deliver the Oracle's verdict on Hermione he opens the palace up, as if he is positively inviting the people in. This reveals his delusion in believing she will be found guilty, and his brutality and sense of self-righteousness in wanting everyone to witness her shaming.
Leontes is portrayed as dictatorial as he (and his subjects) sport military uniform, and a huge statue of him appears centre-stage alongside slightly smaller ones of his ancestors. That the world of Leontes, with an old-fashioned looking telephone, looks older than that of the common people, who wear more modern dress, may also be an allusion to the clash of old and new orders.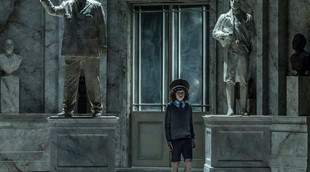 The Winter's Tale Zach Roberts; © Johan Persson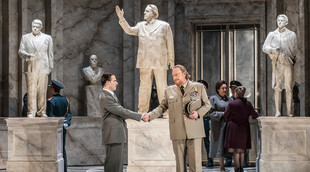 The Winter's Tale Leigh Melrose and Iain Paterson; © Johan Persson
The play sees Perdita abandoned alone on Bohemia as her overseer Antigonus 'exit(s) pursued by a bear'. The opera reaches the same point differently, though equally effectively, by showing Antigonus and the sailors tossing on the sea. They are only able to get Perdita herself onto dry land, with the help of Hermione in the form of an 'angel', before their tiny vessel is swept away. Act II of the opera is much shorter than its counterpart in the play, with comical characters such as Autolycus and the Clown who are not absolutely essential to the plot being cut entirely. Instead, this act is pared down to its bare minimum as it highlights the love that has blossomed between Florizel and Perdita, and Polixenes' consequent rage and disowning of his son.
Act III begins atmospherically as a statue-like Leontes takes centre-stage bathed in a haunting light. This highlights both his total sense of remorse and the almost magical realm that the story is about to enter. While, however, there is much to rejoice about here, the opera ends by playing up the sadder aspects of the story that the play leaves us to contemplate without explicitly raising again. Here the final image of Leontes, Perdita and the 'restored' Hermione reunited feels cool rather than jovial, reminding us that the time and youth that have been lost can never be recovered. Similarly, the sight of the dead Mamillius brings into focus the one tragedy for which there is no chance of redemption.
All of the words heard in Wigglesworth's libretto come from the Shakespeare, although not all of those in the play are used and a few are uttered by different characters. The cast is extremely strong with Susan Bickley as Hermione's lady-in-waiting Paulina, Samantha Price as Perdita, Anthony Gregory as Florizel, Leigh Melrose as Polixenes, Timothy Robinson as Camillo and Neal Davies as Antigonus and the Shepherd standing out in particular. Two performers, however, deserve special praise. The first is Sophie Bevan as Hermione who utilises an underlying soprano of sweetness and purity to produce a richer, darker sound that entirely befits the state of mind of one who is so hurt at being so false accused. The other is Iain Paterson whose portrayal of the jealous and obsessed Leontes is as powerful and focused as his superb bass-baritone.
By Sam Smith
The Winter's Tale | 27 February – 14 March 2017 | London Coliseum
the 02 of March, 2017
|
Print