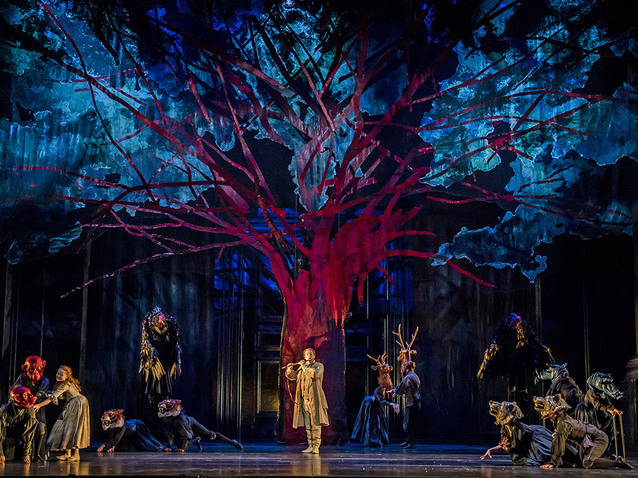 Die Zauberflöte is Mozart's final opera, and takes the form of a Singspiel that combines singing with spoken dialogue. In it, the Queen of the Night persuades Prince Tamino to rescue her daughter Pamina from captivity under the high priest Sarastro, who she claims is evil. As Tamino goes about his quest, however, and falls in love with Pamina, he learns that things are the other way around. The Queen of the Night represents the forces of darkness, while Sarastro's community stands for high ideals and enlightened values, leading Tamino to seek to join it. As a result, he and Pamina, separately and then together, undergo a series of trials of initiation. These are focused less on revealing brute strength than moral resolve and mental courage, and end in triumph with the Queen and her cohorts vanquished. Some comedy is also introduced in the form of the bird catcher, Papageno, who accompanies Tamino on his quest and fails the trials completely, although he is rewarded anyway with the hand of his ideal female companion Papagena.
Mozart and his librettist, Emanuel Schikaneder, were both Freemasons, and the work is noted for its Masonic elements and Enlightenment philosophy. It premiered on 30 September 1791, just a few months before Mozart died, not at Vienna's Burgtheater, but at Schikaneder's own Freihaus-Theater auf der Wieden, where by November 1792 it had already notched up a hundred performances. This venue was as famed for its fairytales and comedies as its Goethe, and the production included sixteen set changes as well as real lions, monkeys and serpents. As a result, while the piece has never seriously gone out of fashion, it did in nineteenth century Germany become caught between the advocates of Italian and Romantic opera, and bridging the gap between its fun and religious elements, its obvious magic and deeper symbolism, has remained a problem until this day.
If, however, doing full justice to one or more of the piece's elements risks sacrificing something of the others, David McVicar's 2003 production, revived here by Bárbara Lluch, goes a considerable way towards squaring the circle. It does this by offering a frequently quiet staging that nonetheless allows each of the opera's disparate elements to breathe uninhibited. It keeps the humorous aspects under control while allowing the emotional and symbolic elements to speak, unimpeded by an overly lavish set-up.
The production certainly has its sillier moments as the curtain rises on a dopey looking serpent, and Papageno's entrance is accompanied by a bird pushed along on wheels who proceeds to outwit the bird-catcher, at least during 'Der Vogelfänger bin ich ja' itself. If, however, the opera is, as Sarah Lenton describes it, a 'jumble of farce and sublimity' the former element requires just as much attention as the latter.
John Macfarlane's set, coolly yet brilliantly lit by Paule Constable, sees deliberately ill proportioned columns run down both sides of the stage, which give the resulting structure a post-modern feel. These can be relatively compressed to suggest an overbearing, enclosed space, or opened out to create a far larger area.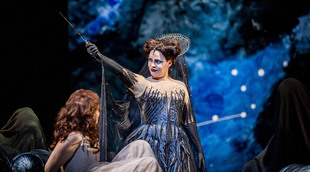 Elsa Dreisig as Pamina and Tuuli Takala as Queen of the Night in The Magic
Flute (C) ROH 2019. Photographed by Tristram Kenton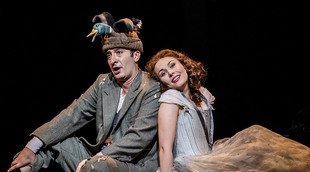 Vito Priante as Papageno and Elsa Dreisig as Pamina in The Magic Flute (C)
ROH 2019. Photographed by Tristram Kenton
There are, however, more dynamic and overtly humorous productions out there, and while the restraint shown here is generally a selling point, it has to be conveyed in exactly the right way. Thus, while the standard of singing in this revival is strong, there are times when the performances keep the drama as focused as it has ever been, and others when they make the production feel just a little tired. For example, when the Queen of the Night sings 'O zittre nicht, mein lieber Sohn' the Ladies and three further cloaked figures sway with her to accentuate her presence, but the effect feels a little less overwhelming than it should. This contrasts with the excellent sound that Tuuli Takala produces, which sees her coloratura in this and 'Der Hölle Rache' reveal cleanness, subtlety and accuracy as she also demonstrates impeccable phrasing.
Similarly,amusing though it is to see the two Priests ('old hands' Harry Nicoll and Donald Maxwell on typically good form) involuntarily jiving to Papageno's bells in 'Ein Mädchen oder Weibchen', the spectacle detracts from us really engaging with Papageno's sorrow. When this and 'Papagena! Papagena! Papagena! Weibchen, Täubchen, meine Schöne' are presented with less clambering into the audience and overt antics than in many productions, it seems a shame that an approach that seems to be geared towards us truly engaging with the bird catcher's feelings is undermined in this way. Vito Priante achieves a fine balance between presenting Papageno as a comic and a sad-eyed character, and if opting for one over the other might have had more obvious dramatic impact, there is never any cause to doubt the quality of his fine baritone.
As a result, Papageno and Pamina's 'Bei Männern, welche Liebe fühlen' is wonderfully effective as two tiny figures huddle at the front of the stage to reflect on love. The simple tableau formed as Elsa Dreisig's Pamina puts heart and soul into 'Ach, ich fühl's' is also deeply moving, with her impassioned, yet controlled, singing both contrasting and blending with the silence of the statuesque Tamino and crouching Papageno. At the end of the aria Benjamin Hulett's Tamino looks genuinely emotionally drained, and it is in moments such as this that the production does feel as fresh as ever. Hulett's tenor has some very warm hues that enable it to feel light, even as it is asserted with considerable strength, while Dreisig's shining and delicate feeling soprano is complemented by an overall performance that puts her entirely inside the role.
The production includes a relatively large group of actors who across the evening move between playing humans, animals, puppeteers and props. They operate the serpent and rise from the floor to, for example, give Papageno a glass of wine, so that their ever-changing roles hand the entire production an appropriate sense of theatricality. The actors also give the animals they play human traits as warthogs carry walking sticks and birds walk on stilts. All this generates an appropriate fantastical air, but one that also helps us to see everything as being grounded in Sarastro's community as the actors remove their animal masks at the end of Tamino's 'Wie stark ist nicht dein Zauberton' upon hearing Papageno's pipes.
Andreas Bauer Kanabas reveals a very strong bass that emphasises Sarastro's nobleness, while Rodell Rosel is an excellent Monostatos. There is also splendid support from Darren Jeffery as the Speaker of the Temple and Yaritza Véliz as Papagena; Kiandra Howarth, Hongni Wu and Nadine Weissmann as the Ladies; Richard Wolfson, Joshua Abrams and William James as the Child Spirits, and Andrés Presno and Julian Close as the Men in Armour. In the pit, Leo Hussain achieves an extremely full sound that remains beautifully balanced and thoughtfully paced.
By Sam Smith
Die Zauberflöte | 1 – 27 November 2019 | Royal Opera House, Covent Garden
the 04 of November, 2019
|
Print