Giuseppe Verdi's La traviata of 1853 is one of the most frequently performed operas in the world today. Based on Alexandre Dumas, fils's play La Dame aux camélias, it tells of Violetta Valéry who is a famed Parisian courtesan. Beneath her apparently carefree exterior, however, she is suffering from tuberculosis and her world is shaken when she meets Alfredo with whom she falls in love. They run away together and live off the sale of her goods, but one day Alfredo's father Giorgio Germont appears and begs her to leave him. This is because Alfredo's behaviour has brought disgrace on his family, which is impacting on the ability of Germont's daughter to marry and be happy. Despite loving Alfredo deeply, Violetta shows compassion towards the family and agrees.
Alfredo, however, does not discover the real reason why Violetta has suddenly walked away, and everything comes to a head when he angrily confronts her at Violetta's friend Flora's party. He eventually discovers the truth as his father also regrets pushing them apart, but by this time Violetta is terribly ill and, although the pair are finally reconciled, she dies in his arms.
There is much debate over how autobiographical Verdi's creation is because he was himself judged by society for living with the soprano, Giuseppina Strepponi, out of wedlock from the late 1840s (they were married in 1859). However, when the chorus suddenly condemn Alfredo for his treatment of Violetta at Flora's party it is certainly tempting to see this as the composer's way of getting the people to take his own side.
This is the twenty-fifth anniversary revival of Richard Eyre's 1994 production for the Royal Opera, revived here by Andrew Sinclair, and many subtle touches are to be found within its curved walls. Designer Bob Crowley works virtually every scene around a semi-circular set, with each one employing its own tools and techniques to shed light, and provide commentary, on the action.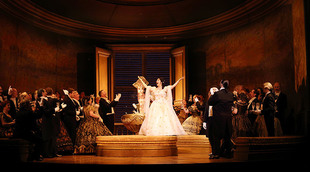 La traviata (C) ROH 2019 photographed by Catherine Ashmore
Simon Keenlyside as Giorgio Germont and Liparit Avetisyan as Alfredo
Germont in La traviata (C) ROH 2019 by Catherine Ashmore
Act I takes place in a sumptuous Art Deco interior, revealing Violetta's role as the archetypal fashionable Parisian. The most important features, however, are the doors. Whenever these are open, and people are free to enter, Violetta assumes her frivolous, sociable persona. As soon as they close, on the other hand, she becomes a far more introverted character. Indeed, the end of the Overture sees her sitting thoughtfully to one side, and it is only when the doors open at the start of the Act that she changes. They swing out once more as she moves from the contemplative 'Ah fors'è lui' to the carefree 'Sempre libera degg'io', in which she reasserts her wish to enjoy Parisian life to the full.
Similarly, Act II's gambling scene takes place beneath an ornate palace roof, its gilded surfaces lying at peculiar angles. Here we find a red bullring and a casino table with overhanging metal light. It is not to be taken as a literal space, but clearly the bullring alludes to the antics of Gastone and his friends as matadors, and creates an appropriate arena for action that all too readily alludes to gladiatorial combat. At the same time, the insertion of the more modern table and lamp under a palace roof may suggest that this form of gambling has taken its place within a far greater history of wealth and decadence in Paris.
The strength of the production, however, can be somewhat taken for granted, meaning that its seventeenth revival needs to be judged by how it comes across on the night. In this respect, a key point to note is that Daniel Oren's conducting takes the score, quite deliberately it would seem, at a slow pace. This is apparent from the moment that the Overture strikes up, and it means that Violetta's party in Act I, and to a lesser extent Flora's in Act II, do not possess the type of sparkle they really need. The compensating factor is that hearing Violetta and Alfredo's Act I duet 'Un dì, felice, eterea' sung so well at such a measured speed becomes even more impressive, both psychologically because we know it is harder to achieve, and in reality because the lines come across so very clearly. Nevertheless, even acknowledging that the languid pace brings some advantages, one is left feeling that if the evening could feel as good as this even with some sluggish tempi, how much more persuasive might it have been with greater zip?
It is undeniable that the performances are strong, with Hrachuhi Bassénz stealing the show as Violetta. Her soprano feels fuller than many, which aids the consistency in her performance, and her sound is beautifully accurate as it is also capable of conveying the utmost sensitivity. Her acting is persuasive so that when guests enter the room at her Act I party she does not instantly snap into her vivacious mode as many Violettas do but takes several seconds to compose herself, while her Act III rendition of 'Addio, del passato' is genuinely heart breaking.
Given the underlying strength to her sound, it also comes as a revelation when her singing with Sir Simon Keenlyside's Giorgio Germont in Act II proves quite so hushed. Keenlyside, despite being on the young side for the role, makes Germont feel more crusty and gnarled than many portrayals of the character. For example, most Germonts in this production have carried a cane purely as a mark of distinction but he really looks dependent on his for support. In a multi-faceted performance Keenlyside's face is constantly changing, and there are times when it can reveal the utmost sorrow at Violetta's plight. Overall, however, such moments are fleeting as his mopping of his brow reveals how intent he is on getting what he wants, and his sometimes beady eye asks if his persuasion has worked. Conversely, at the end when he realises the error of his ways, he really looks like a frail and broken old man, while his baritone is consistently strong throughout the evening.
Liparit Avetisyan is also an effective Alfredo as his tenor proves quite light, and yet warm and well shaped. If he comes across as particularly petulant that is entirely appropriate for the role, and by standing in direct contrast to Violetta he helps to mark her out as the truly honourable and virtuous character. There is also strong support from Stephanie Wake-Edwards' Flora, Jeremy White's Marquis D'Obigny, Germán E. Alcántara's Baron Douphol, Timothy Dawkins' Doctor Grenvil, Andrés Presno's Gastone and Sarah Pring's Annina. Casts vary over the run with, among others, Dinara Alieva and Kristina Mkhitaryan singing Violetta and Ramè Lahaj and Ho-Yoon Chung playing Alfredo at certain performances over the coming months.
By Sam Smith
La traviata | 17 December 2019 – 23 March 2020 | Royal Opera House, Covent Garden
the 22 of December, 2019
|
Print