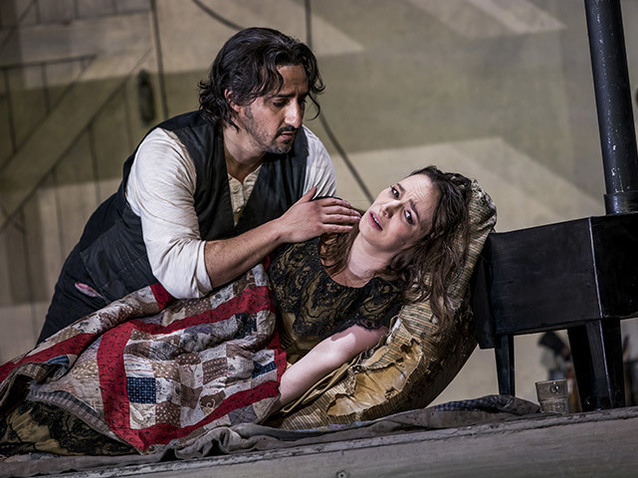 Giacomo Puccini's 1896 creation La bohème, which is almost cinematographic in its length and proportions, is one of the most frequently performed operas in the world today. Set in 1830s Paris, it focuses on six young adults and the love that four of them find with each other amidst the most impoverished of circumstances. One couple (Marcello and Musetta) have a stormy relationship but their frequent battles prove that their love actually has staying power. Rodolfo and Mimì,on the other hand, enjoy an apparently perfect love, but it is only fleeting as poverty offers no relief to Mimì and she dies of consumption.
The Royal Opera's previous production by John Copley premiered in 1974 and continued to be revived regularly until 2015. Richard Jones's production that replaced it in 2017 is now onto its second revival (by Julia Burbach), and both versions are to a large extent products of their respective times. Copley pushed boundaries by injecting such high levels of realism, dynamism and detail into his production. Today, we are more inclined to warm to a less exuberant aesthetic and Jones provides a staging that combines realism with a degree of stylisation.
Act I takes place in Rodolfo and Marcello's garret, with the diagonals of the roofline really drawing the eye in. Stewart Laing's set is also designed to suggest that the flat (and world) extends beyond the front of the stage. For example, Marcello is painting at the start but the canvas and easel are not visible because they are positioned in front of the 'boundary line' for the set. Similarly, Rodolfo climbs onto the roof and shouts out to the audience because his friends down below are somewhere in front of the flat and hence would be 'in' the auditorium.
The direction is similarly thoughtful with much attention being paid to where figures are placed as, for example, Rodolfo and Marcello sing their duet 'O Mimì, tu più non torni' from opposite corners of the set. The approach, however, is not entirely without its problems. The garret takes up only a small proportion of the stage area, and while it ensures that the performers are not swamped visually, it also has the effect of making everything including the emotions feel a littte too timid. The singing is not underpowered, but it can feel relatively small and introverted, although whether the roof over the garret is blocking the sound or this is just a psychological effect of the enclosed surroundings is unclear.
All this said, the stylisation and hyperbole that were so inherent in the gestures in 2017 have been toned down now, meaning that the production has settled well. Act IV in the garret also works far better than Act I because we are more emotionally invested in the characters by then, while Acts II and III, which take place in far more open spaces, are similarly successful.
Act II, which was written to paint a 'Christmas card' image of Paris, is executed beautifully as masses of people fill the streets (the revival movement director is Danielle Urbas). Three shopping arcades are wheeled into place, which create a magical glow with their strong aesthetic and use of perspective, and crowds scurry in and out of them as they look in the shop windows. Just when one feels that nothing more could be squeezed out of these pieces they are pushed aside to introduce Café Momus. In fact, the protagonists enter it via an arcade so that as one structure is wheeled off the other is brought on. Stage hands are employed to carry out these manoeuvres and, while they are generally hidden by the crowds of people, it is a positive that the attempts to obscure them do not feel too fussy.
The box-like area of Café Momus does not instantly feel inspiring as all of the protagonists sit in a straight line at the front, with the uniformity 'mirrored' by a row of chorus members who gaze through the windows at the back. However, Musetta's 'Quando me'n vo''livens things up as she sings it walking across the table tops, while everyone crowding around her as she complains that her shoe hurts creates a more dynamic image. In another slick move, Café Momus is then split in two at the end of the scene to allow rows of street lights to be placed centre-stage, between which the tattoo can pass.
The run is double, and in some cases triple, cast, and on opening night the conducting of Emmanuel Villaume, who shares the honours over the revival with Ariane Matiakh, was excellent. Simona Mihai, who only stepped in to replace Sonya Yoncheva at short notice, was also excellent as Mimì, with her soprano revealing both fullness and lightness, and her persona conveying the right sense of sweetness and fragility.
Charles Castronovo proves an effective Rodolfo with his large, expansive tenor often hitting ethereal heights, while Andrzej Filończyk as Marcello reveals a robust and engaging baritone. Gyula Nagy is a suitably cheeky and extroverted Schaunard, who also reveals how hard Mimì's illness hits him as he sits inconsolable on a chair, and Peter Kellner as Colline reveals a sturdy bass with some pleasing grains, especially in 'Vecchia zimarra'. Finally, Aida Garifullina takes the stage by storm as Musetta, revealing an extremely rounded and intriguing soprano, and making us see why Marcello should become so besotted with winning her back. This production, featuring the cast described above only with Sonya Yoncheva as Mimì, will be broadcast live to selected cinemas around the world on 29 January, with some venues also showing encore screenings on subsequent days.
By Sam Smith
La bohème | 10 January – 27 May 2020 | Royal Opera House, Covent Garden
the 13 of January, 2020
|
Print