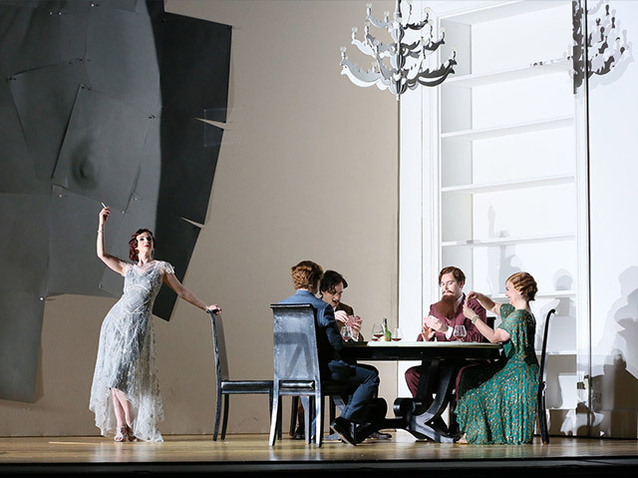 © (c) Donald Cooper
George Frideric Handel's twenty year long domination of London opera began in 1720 with Radamisto, meaning that Partenope, which appeared in 1730, was at the midpoint of this golden period. The opera was extremely well received on its premiere, but it is about as far removed from opera seria as any of the composer's works, and presents a challenge to any director who wishes to make sense of such a far-fetched story.
English National Opera, however, has long been known as the 'House of Handel' and Christopher Alden, a director with whom it has a long association, establishes a concept that works well for the piece. The story itself concerns Queen Partenope, founder of Naples, who has three suitors, Arsace, Emilio and Armindo. Arsace, however, wronged his former lover Rosmira, who has now disguised herself as a man (Eurimene) in order to win him back. She is, however, too independently minded to fall back into his arms at the earliest opportunity, and also pretends to be in love with Partenope as a part of her plan. Emilio is a prince from neighbouring Cumae who attempts to win Partenope by conquering her kingdom, but is captured in battle. Armindo meanwhile wanders around like a lovesick puppy, initially too afraid to declare his love for the Queen. After a number of twists and turns, Arsace and Rosmira are reunited while Partenope chooses Armindo as her husband.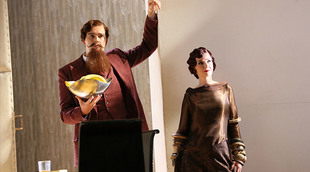 Matthew Durkan and Sarah Tynan (c) Donald Cooper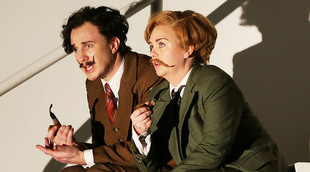 James Laing and Stephanie Windsor-Lewis (c) Donald Cooper
Alden, whose production premiered at the London Coliseum in 2008 and now enjoys its first revival, finds an appropriate setting for the drama by placing it in a modernist house. Each character then adopts the persona of an artist associated with the Surrealist movement. Emilio is Man Ray as he wears a mask and composes, takes and develops photographs, while Partenope could be Lee Miller and Ormonte, André Breton. At the start Partenope sits alone as the five men (if we include Rosmira in disguise) descend the staircase adopting poses and attire that we might associate with the Surrealist movement. Then we see Armindo hanging from the staircase halfway through his aria (James Laing impressively maintaining perfect pitch the whole while), and Emilio during his arranging the other characters on the floor for a photograph, so that they sing their following recitative lying down.
While all this is entertaining, in Act I it feels as if the Surrealist setting merely acts as a hook, albeit an effective one, on which to hang the story. From Act II onwards, it reveals a greater range of purposes. The war between Emilio and Partenope in Act II is enacted in a non-literal way with no obvious bloodshed and half of the characters quaffing champagne for its duration. All this comes across as intrinsically Surreal and could represent the war either as a piece of performance art, or as a state of mind. This makes a lot of sense since Emilio goes to war with Partenope to try to win her heart, while the wider set-up of the opera also feels intrinsically Surreal. It is about deep desires, above which lie layers of intrigue as characters do not move in straight lines to achieve their objectives, thus tying in with notions of the sub-conscious.
Nevertheless, while the evening does possess its fair share of amusing costumes and dancing, it never pushes things too far so that actions do not excessively distract from the performances of the arias. This is especially welcome when the excellent cast ensure they are imbued with so much beauty. With the exception of Patricia Bardon, who played Rosmira in the original production, the cast is entirely new to this revival and each performer brings an enormous amount to their role.
Sarah Tynan is possessed of a beautifully pure soprano as she presents a spirited and highly intelligent Queen Partenope, while Rupert Charlesworth is deeply impressive as Emilio, replacing the previously advertised Robert Murray at relatively short notice and revealing a supple and radiant tenor. As Arsace, Patricia Bardon displays an incredibly nuanced mezzo-soprano in which attention to detail is married with impeccable phrasing. Stephanie Windsor-Lewis is also possessed of a wondrous mezzo-soprano as Rosmira, James Laing brings his beautiful countertenor to the fore in the role of Armindo while Matthew Durkan is a spirited and effective Ormonte. Conductor and Baroque specialist Christian Curnyn ensures that the score maintains lightness throughout meaning that the music, and indeed the evening as a whole, come close to achieving an ethereal perfection.
By Sam Smith
Partenope | 15 – 24 March 2017 | London Coliseum
the 19 of March, 2017
|
Print