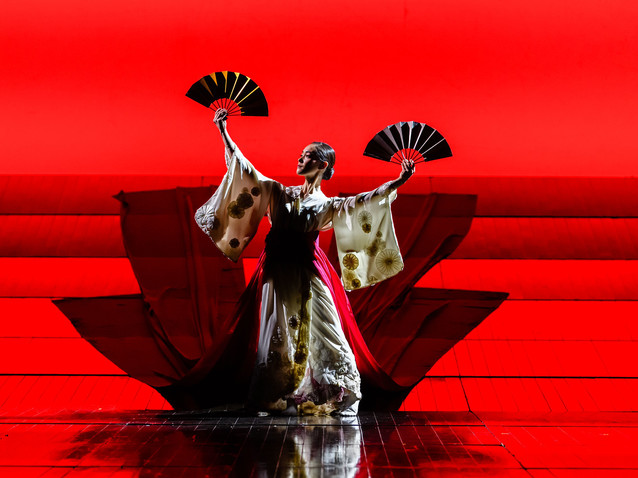 Set in Japan, Puccini's Madama Butterfly of 1904 explores the relationship between the American naval officer Pinkerton and the Nagasaki born Cio-Cio-San, who he both affectionately and patronisingly calls Madam Butterfly. She takes their marriage extremely seriously, even converting to Christianity the day before their wedding and consequently being ostracised by her family. He, on the other hand, sees his union as being akin to his Japanese house, which he has on a 999-year lease that he can cancel at any moment! When he leaves for America, and returns only to take the son she has had by him to form part of his new family, her tragedy is complete.
With drama preceding the music striking up and a tightly choreographed curtain call at the end, film director Anthony Minghella's visually stunning 2005 production of Madama Butterfly is unashamedly cinematographic in style. It is now on its seventh revival for English National Opera, but while the last three of these saw Sarah Tipple at the helm, the revival director on this occasion is Glen Sheppard and he makes the creation feel as fresh as ever.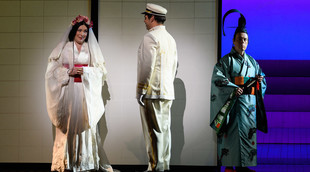 ENO Madam Butterfly 2020, Natalya Romaniw, Dimitri Pittas, Alasdair Elliott,
© Jane Hobson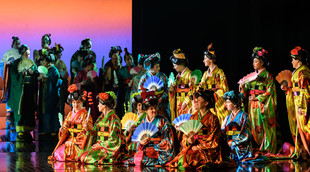 ENO Madam Butterfly 2020, ENO Chorus, © Jane Hobson
Michael Levine's set consists of shiny dark floorboards that slope upwards to a large rectangular gap, through which characters enter the stage, and from behind which red, orange, green or grey light glows depending on the mood. A similarly reflective surface slopes diagonally upwards so that even when people are behind paper doors on stage we still see their image, showing how little they can hide their true feelings. Their reflections have the same watery quality as those to be found in Monet paintings, only here they can appear above as well as below, indicating perhaps how certainties have been turned upside down.
In Act I, however, there seems to be a mismatch between the basic, sparse, clinically straight set, and the colourful, exquisitely detailed costumes of the Japanese women and paper doors that clutter the stage. This may well be a way of contrasting the American and Japanese cultures, but for the viewer the drama feels too incongruent with the setting to be truly moving.
Nevertheless, there are plenty of telling details and the manner in which Pinkerton manages to be tactless at every turn when Cio-Cio-San shows him her possessions, asking if the spirits of her ancestors are toys, reveals much about their relationship. Everything then comes right at the end of Act I as Butterfly submits to Pinkerton on their wedding night with the staging seeing paper lanterns (or moons) surround the lovers as the lights dim. It is also noticeable how the production makes a conscious effort to highlight some of the mechanics that underlie it, as here (and elsewhere) we see spotlights at the side descend, with their movement deliberately forming part of the visual effect.
Act II ensures that things remain on a high, with the breaking up of the Spartan set through the use of flowers hanging on strings creates a convincing image of the world that Cio-Cio-San inhabits. Her son is played by a puppet operated by three figures in black from Blind Summit Theatre. He is arguably more moving than a real child might be because his head movements and gestures can be manipulated so precisely to produce all of the desired effects.
In another sense, a puppet is the perfect metaphor for a child who is to be owned and manipulated at will by his American 'parents'. Indeed, as Butterfly commits suicide the sight of her blindfolded son waving an American flag, totally oblivious to what is happening, is deeply moving, as is the unravelling of her red obi to depict streams of blood flowing from her body. The poignancy of the closing image is also aided by seeing Pinkerton come into view, displaying obvious remorse and yet revealing the total weakness in himself that led to the tragedy in the first place.
All in all, what comes across as clearly as ever in this revival is just how much attention to detail there is. When Cio-Cio-San, her son and Suzuki settle down to await Pinkerton's return the child really looks as if he is tired, even though the puppet's actual face is not capable of expression. Similarly, it is carefully planned so that the son raises his flag at the end at precisely the same moment as Cio-Cio-San raises her sword to kill herself.
Natalya Romaniw is a show stealing Cio-Cio-San with her soprano possessing a vibrancy that gives her sound both fullness and a spirituality that entirely befits the character. Her acting is also extremely convincing as she grows progressively more desperate and distraught through Act II before showing serenity once more as she awaits Pinkerton's return, even reaching over to keep the chin up of her flagging son. Her performance of the iconic 'Un bel dì' is highly compelling as it only brings renewed sorrow at the thought of his absence so that she tearfully disappears behind paper doors at the end.
Dimitri Pittas captures Pinkerton's confidence and blustery self-assurance, as well as his total weakness in never facing up to his responsibility. His voice is large and quite direct and also fits his character well, but it feels less suited to blending with Romaniw's own. It is also quite different to Roderick Williams' baritone but, notwithstanding a few moments in Act I when it swamps it, this works better as it helps to delineate the very different characters of Pinkerton and the American consul Sharpless.
Williams' own sound is extremely warm and smooth and it complements his immensely sensitive persona. As he leaves the wedding gathering he bows respectfully to Cio-Cio-San while hardly being able to look her in the eye as he feels so uncomfortable at Pinkerton's deceit. One of the most moving parts of the entire evening is when he tries to break the news that Pinkerton will not be coming back in Act II, as with every manifestation of her excitement at the thought of his return we see his own heart break just a little more. There is also strong support from Stephanie Windsor-Lewis as Suzuki, Alasdair Elliott as Goro, Keel Watson as The Bonze, Njabulo Madlala as Prince Yamadori and Katie Stevenson as Kate Pinkerton.
In the pit Martyn Brabbins elicits a radiant, frequently charged, but always highly balanced sound from the orchestra. Adam Smith plays Pinkerton on 20 March and 4, 7 and 17 April, George von Bergen sings Sharpless on 17 April, and Martin Fitzpatrick conducts on 11 and 13 March and 7 April.
By Sam Smith
Madam Butterfly | 26 February – 17 April 2020 | London Coliseum
© Jane Hobson
the 01 of March, 2020
|
Print