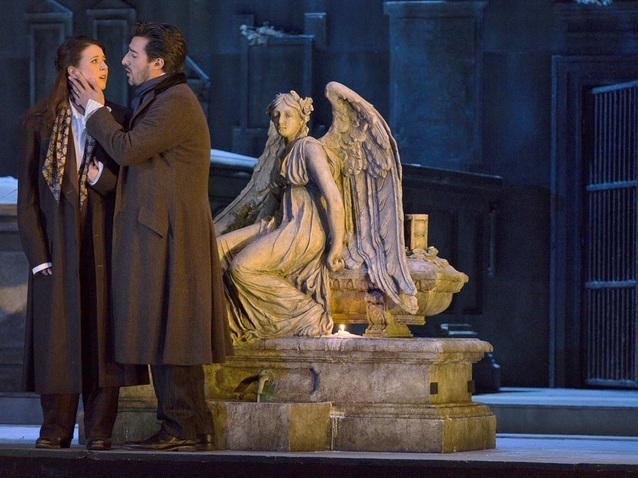 © dr
Based on Sir Walter Scott's historical novel The Bride of Lammermoor, Donizetti's Lucia di Lammermoor of 1835 is set in Scotland. The Ashton and Ravenswood families have a long-standing hatred of each other with the former family now owning the estate that previously belonged to the latter. The Ashtons have themselves fallen on hard times, however, leading the Master of Lammermoor Enrico to insist that his sister Lucia marry the wealthy Arturo Bucklaw to restore the family's fortunes.
Lucia, however, has secretly fallen in love with Edgardo from the Ravenswood family, and when Enrico discovers she is in love with the 'enemy' he is horrified. He concocts a scheme to make it appear as if Edgardo now loves another woman, which leads Lucia to agree reluctantly to marry Arturo. Following an altercation at the signing of the marriage contract, when Edgardo turns up and confronts Lucia, she goes mad and murders Arturo on their wedding night. Enrico finally appreciates what he put Lucia through when he convinced her of Edgardo's infidelity and forced her to marry Arturo, but it is too late to save the situation and she dies. On learning of her death, Edgardo commits suicide.
Katie Mitchell's 2016 production for the Royal Opera, a co-production with Greek National Opera, does not adhere to the original early eighteenth century setting (the opera references the recent death of William III which occurred in 1702). In fact, Vicki Mortimer's sets, which include a bathroom complete with running water, seem to cross a variety of eras, although they generally centre around the time at which Sir Walter Scott wrote his novel in 1819. Mitchell writes in some extra details, so that we realise within the first few seconds of Act II that the events of Act I, in which Edgardo and Lucia exchanged rings and made their own union, have led to Lucia becoming pregnant. This strand of thought is then followed through as the blood on Arturo's murdered body is subsequently mirrored on Lucia's own, showing how she has miscarried and providing a further reason as to why she should descend into madness and lose all will to live. 
The staging is certainly interesting, but just like the first time around, there is too much detail and it proves immensely distracting. For every scene two sets stand alongside each other with the central action occurring on one of them, and the other revealing what is happening simultaneously elsewhere (which in other productions would not be seen at all). This can, however, undermine the impact of the primary action by having it squeezed into such a tiny area, so that during the signing of the marriage contract the chorus practically stand still for the entire scene as there is no room for anyone to move.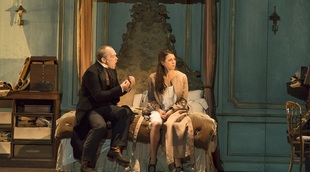 Christopher Maltman, Lisette Oropesa (c) Stephen Cummiskey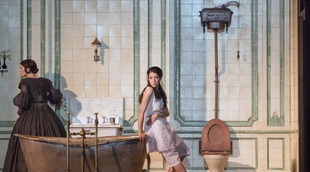 Rachael Lloyd, Lisette Oropesa (c) Stephen Cummiskey
The secondary action on the adjacent set is not only distracting but paradoxically undermines the significance of several events that normally occur offstage by having them spelt out for us. A related issue is that two ghosts, of the girl that Edgardo's ancestor murdered and Lucia's mother, frequently grace the stage. When, however, Lucia's words, notes and emotions reveal the ghosts she feels around her it feels childish and unnecessary to present them to us, and although they move slowly and silently they still prove incredibly distracting. At so many key moments of climax or revelation our attention is shifted away from the music designed to capture these towards the physical presence of one of these figures. In the same way, despite Lisette Oropesa putting in a stunning performance in the title role, the impact of the 'mad scene' is still blunted by asking us at times to gaze on her, Edgardo, the ghost of the girl and the ghost of her mother, when we wish to do nothing other than focus on Lucia. 
Some changes have been made to this revival, but the advantages gained through some of them are cancelled out by others that lead to scenes working less well. Last time Act I's 'Quando rapito in estasi' was sung with Lucia and Edgardo partially undressing and indulging in sexual intercourse (although the act was actually rendered very tamely). The difficulty was that the insertion of clear actions to play this out did not make the emotions of the two characters flow naturally, and this time the pair remain standing throughout the duet. However, although this change is a positive move overall, it does not provide so clear a signal that the pair made love, thus explaining why Lucia should become pregnant. In addition, the act of placing the ghost of the girl between Lucia and Edgardo towards the end of the scene remains, and while it makes sense symbolically, as it reveals the barriers to their love ever being, dramatically it destroys the chemistry between the pair at that moment.  
One scene that certainly works less well by being toned down is the one in which, in this production, we see Lucia with the help of her companion Alisa murdering Arturo in the bedroom. It is true that in 2016 this was so bloody and hyperbolic that it actually felt comical, but this had still been one of the places where the displaying of two scenes in parallel worked best. The scene in the original opera shows Enrico challenging Edgardo to a duel. This act may lead to bloodshed but in itself is civil as the men agree to it over whisky. Thus it stood in direct contrast to the women who in the 'adjacent' room were pummelling the very life out of someone. In this instance, the additional scene did not simply contribute unnecessary detail or information, but emphasised something in the main scene by contrasting it with the 'opposite'. One of Mitchell's aims in this production was to show Lucia not as some passive person, but as active and strong-minded, and this scene previously provided one of the best illustrations of her being so.
Nevertheless, irrespective of the strengths and weaknesses of the staging, the evening is a triumph because its musical credentials are so outstanding. Lisette Oropesa dazzles in the title role as her soprano is powerful enough to pierce our very hearts, yet never feels extravagant or overblown. It is paradoxical that her lines in 'Il dolce suono'(from the famous 'mad scene') seem almost as if they could evaporate into thin air, and yet, because of the underlying strength of technique and precision, feel rock steady.
Charles Castronovo is also on top form as Edgardo with his romantic tenor instrument being possessed of sufficient weight to create a full and expansive sound. Christopher Maltman is exceptional as Enrico, while Michele Pertusi reveals an extremely strong bass as the Calvinist chaplain Raimondo. Rachael Lloyd, Andrew Tortise and Konu Kim also play their parts to the full as Alisa, Enrico's friend Normanno and Arturo respectively. Conductor Michele Mariotti shapes the score very well, appropriately capturing its haunting and mystical elements. His pacing is also strong, enabling the music to breathe with no sense of haste, and yet never allowing things to languish to an unpalatable degree.
By Sam Smith
Lucia di Lammermoor | 30 October – 27 November 2017 | Royal Opera House, Covent Garden
the 05 of November, 2017
|
Print