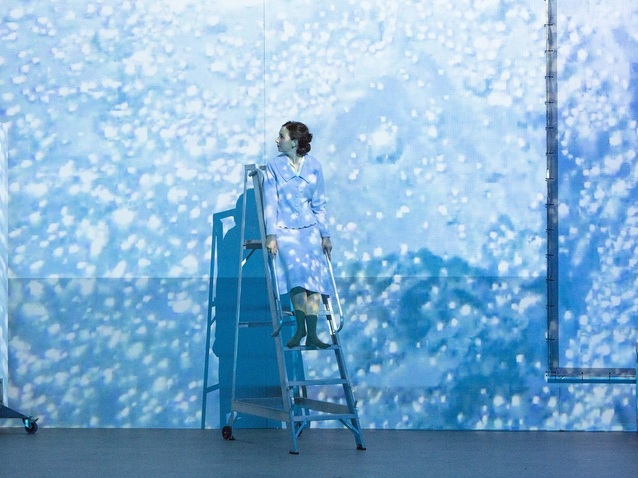 © Kip Carroll
After bringing Vivaldi's Bajazet to the Royal Opera House last year, Irish National Opera returns with Least Like The Other, Searching for Rosemary Kennedy. This opera by composer Brian Irvine and director Netia Jones, which premiered at the Galway International Arts Festival in 2019, focuses on the life of Rosemary Kennedy, younger sister of John F. Kennedy and eldest daughter of Joseph P. Kennedy and Rose Fitzgerald Kennedy. Perceived by her ambitious family as 'intellectually disabled', and being prone to seizures and mood swings, Joe Kennedy arranged a prefrontal lobotomy when she was 23, but this left her unable to walk or speak intelligibly. Joe did not even tell his wife about the procedure until it had been carried out, and after its failure Rosemary was hidden away for decades. 
As a consequence, much secrecy surrounds Rosemary's life and it is this that makes telling her story extremely difficult. However, in creating Least Like The Other Irvine and Jones have made a point of the fact they are presenting fragments of evidence, many of which have only recently come to light. Each scene is thus inspired by a specific source such as a letter, interview, scientific report or autobiography with projections informing us of where the respective words have come from. Each of the three main performers is on stage for the majority of the 70-minute piece, and while only one of them, soprano Amy Ní Fhearraigh, sings, both Ronan Leahy and Stephanie Dufresne speak and perform a number of roles while further voiceovers are provided by the assistant director Aoife Spillane-Hinks.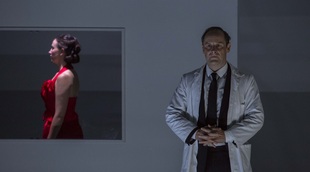 Least like the Other Searching for Rosemary Kennedy - Royal Opera House (2023), Amy Ni Fhearraigh, Ronan Leahy (c) Kip Carroll
With composer and director having collaborated to create the opera, everything is designed to have maximum impact. In the Royal Opera House's intimate Linbury Theatre, the excellent Irish National Opera Orchestra, superbly conducted by Fergus Sheil, is situated in two enclosed booths on either side of the stage. Although it is used to convey a range of spaces, the box-like performance area feels like a laboratory, which seems appropriate given that the action begins in a hospital and frequently involves (supposedly) scientific places of study. In the same way, while there are entrances and exits, the encasement of the stage by the orchestra's booths on either side suggests we may be peering in on an experiment where Rosemary is the subject and has no chance of escaping. 
The music hits us from the start as we learn how Rosemary's birth was botched because the doctor wanted to be present to receive payment for it, and hear Ní Fhearraigh reciting numbers as she tries to focus on counting. If, however, the score frequently feels overwhelming and unrelenting there is still some variation. In a scene that depicts swimming the mood is changed entirely, in keeping with the idea of Rosemary finding solace in the activity. The music here feels reminiscent of minimalist composer Harold Budd's 1978 album The Pavilion of Dreams, so that the feeling is akin to leaving the main area in a rave and entering the chill out room. Jones's watery projections complete the effect, with such visual elements proving important throughout the evening. Symbols flash up as Rosemary is asked, as part of various IQ tests, which is 'least like the other', thus tying in with the title where she is seen as being different, or inferior, to her siblings.
While the music and visual elements maximise the opera's effect, its basic power is attributable to the subject matter. It is impossible not to feel horrified at the ruthlessness and cruelty shown by the Kennedy family, or by the practices and attitudes that were rife in 1930s America. We learn about many of these from Leahy as he assumes the role of such figures as psychologist and eugenicist Henry Goddard who believed that the 'feeble minded', as he described them, were predisposed to criminality and prostitution. Even more chilling is learning that Walter J. Freeman, who supervised Rosemary's lobotomy, had no formal surgical training yet performed 4,000 over his lifetime, resulting in many failures and even deaths. Just as revealing of the attitudes of the day is the presentation of diet programmes where the women are treated like objects who need to be made beautiful.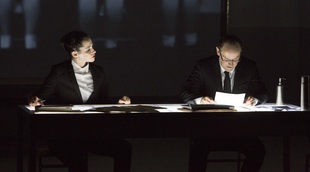 Least like the Other Searching for Rosemary Kennedy - Royal Opera House (2023), Stephanie Dufresne, Ronan Leahy (c) Kip Carroll
While, however, the exposing of a deeply patriarchal society that can use and abuse people with ease feels powerful because it is so horrific, the unfortunate byproduct is that Rosemary still comes across as someone to whom things are done. While that was the case in her life, surely the point of the opera should be to redress the balance by showing things from her perspective to reveal her own essence. Although there are traces of this, as we see her dressing up and enjoying herself as a debutante in London in 1938, we only hear her own words towards the very end. One could argue that the entire opera is designed to create a sensory overload so that our feelings as we receive all of the information are akin to those of Rosemary as she is bombarded by the various forces that rule her life. However, if this is the objective, it is undermined by the fact that we are told so much by people talking at us. With the opera consequently seeming at times like a lecture, it undermines our ability to feel on the receiving end of things in the same way as Rosemary may have done. 
With this opera, we find it easier to be shocked by all that we hear than to enter Rosemary's mind to understand who she really was on her own terms. Things are not helped by the fact that it virtually ends with her lobotomy at the age of 23 in 1941, meaning it hardly has anything to say about her final 64 years. While it was surely unintentional, the idea that there is nothing worth saying after her mental capacity is reduced feels a breath away from suggesting there is nothing worth caring about, when the whole point of the opera is totally the opposite. Nevertheless, from the music to the performances, and from the direction to the projections, everything that is presented is done so well that it is impossible not to feel this is quite an experience, while Amy Ní Fhearraigh's central performance stands as something special.  
By Sam Smith
Least Like The Other, Searching for Rosemary Kennedy | 15 - 19 January 2023 | Linbury Theatre, Royal Opera House, Covent Garden 
the 18 of January, 2023
|
Print