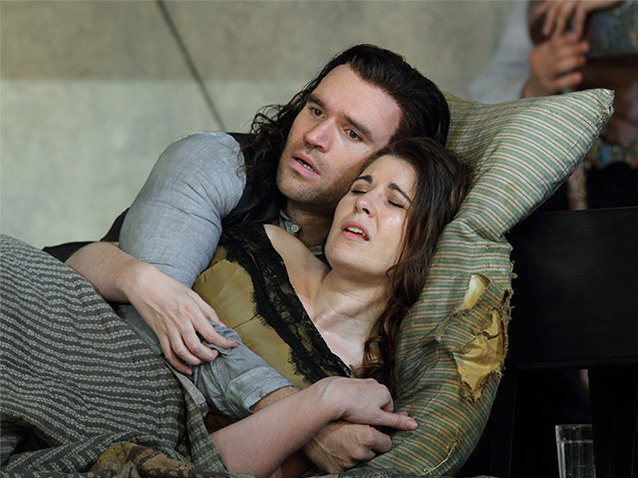 © (c) ROH - Catherine Ashmore
Giacomo Puccini's 1896 creation La bohème, which is almost cinematographic in its length and proportions, is one of the most frequently performed operas in the world today. Set in 1830s Paris, it focuses on six young adults and the love that four of them find with each other amidst the most impoverished of circumstances. One couple (Marcello and Musetta) have a stormy relationship but their frequent battles prove that their love actually has staying power. Rodolfo and Mimì, on the other hand, enjoy an apparently perfect love, but it is only fleeting as poverty offers no relief to Mimì and she dies of consumption.
The Royal Opera's previous production by John Copley premiered in 1974 and continued to be revived regularly until 2015. A firm favourite with audiences, it had to be lost one day, but it meant that whoever directed the next production faced an enormous challenge, given the real risk that any new version would invite unfavourable comparisons with its predecessor. In the event, however, Richard Jones' offering, which represents a joint production with the Teatro Real, Madrid and the Lyric Opera of Chicago, proves to be perfectly decent, and if it may not be around for the next 41 years it should still enjoy a reasonable number of revivals.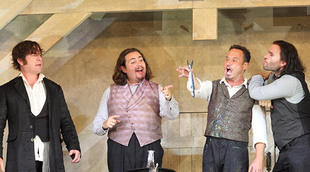 Luca Tittoto, Florian Sempey, Mariusz Kwiecien, Michael Fabiano,
© ROH. photo Catherine Ashmore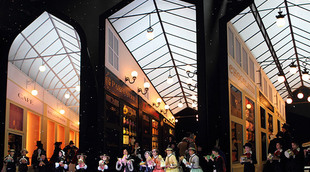 La Bohème © ROH. photo Catherine Ashmore
Both Copley and Jones' versions are to a large extent products of their respective times. Copley pushed boundaries by injecting such high levels of realism, dynamism and detail into his production. Today, we are more inclined to warm to a less exuberant aesthetic and Jones provides a staging that combines realism with a degree of stylisation. Act I takes place in Rodolfo and Marcello's flat, which is presented as an attic area whose series of diagonals really draw the eye in. Stewart Laing's set is also designed to suggest that the flat (and world) extends beyond the front of the stage. For example, Marcello is painting at the start but the canvas and easel are not visible because they are positioned in front of the 'boundary line' for the set. Similarly, Rodolfo climbs onto the roof and shouts out to the audience because his friends down below are somewhere in front of the flat and hence would be 'in' the auditorium. The direction is similarly thoughtful with much attention being paid to where figures are placed. For example, when Rodolfo, Marcello, the musician Schaunard and philosopher Colline surround the landlord Benoît they occupy four clear points around him, but assume different heights in order to break up the obvious symmetry. Rodolfo and Marcello sing their duet 'O Mimì, tu più non torni' from opposite corners of the set, and when groups of figures interact several often have their backs to the audience, although never when they are actually singing.
The approach, however, is not entirely without its problems. It is questionable whether La bohème, which is so capable of having a huge emotional impact, will ever feel as powerful as it could when the presentation style feels so measured, and hence does not enable us to believe that every interaction we see is entirely real. As a result, Act I can feel a little subdued, and throughout the evening there are times when the principals do not gel because they need to focus on their set gesture or positioning to the detriment of them genuinely interacting with each other. The production is at its most successful at those moments when it does not seem so constrained. For example, when Rodolfo first encounters Mimì he makes no secret of the fact he is playing with her as he dangles her 'lost' key in front of her, even as he declares that he cannot find it. In this way, by seeing how he 'woos' her and how she reacts to this, we gain a real insight into their feelings for each other because their exchanges feel entirely natural.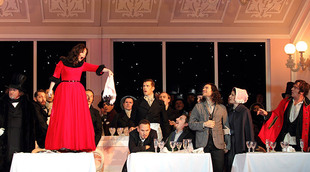 Simona Mihai, Mariusz Kwiecien, Florian Sempey, Michael Fabiano, Nicole
Car, Luca Tittoto © ROH. photo Catherine Ashmore
Act II, which was written to paint a 'Christmas card' image of Paris, is executed beautifully as masses of people fill the streets (the movement director is Sarah Fahie). Three shopping arcades are wheeled into place, which create a magical glow with their strong aesthetic and use of perspective, and crowds scurry in and out of them as they look in the shop windows. Just when one feels that nothing more could be squeezed out of these pieces they are pushed aside to introduce Café Momus. In one sense, this box-like area heightens the sense of activity by restricting the central performance space, while having masses of people gaze through the window and more spill out onto the street as the scene wears on. However, when La bohème is ultimately about grand emotions it can help to present these on a grand scale, and so the impact of much of the drama is thwarted by having two of the evening's sets focus so much into smaller areas of the stage. Nevertheless, the evening's progression as a whole is clear enough. Act I takes place in a restricted area, Act II fills the stage with activity, and Act III presents a vast open expanse before we are returned to the original area of the flat in Act IV. The final act, with its extremely emotive ending, is effective although it seems a mistake to substitute the men's jovial dancing of quadrilles and fandangos with them drawing pictures on the wall. When the music positively invites the performers to dance that surely is what they need to do.
There are a few ways in which Copley's production has clearly loomed large in Jones' thinking. In Café Momus Copley cleverly lined up the scene's seven protagonists in an order from left to right that enabled the various interactions between the relevant sub-groups to come to the fore. Jones does the same, although it feels a little more obvious that they are all in a row. Conversely, at the end of Act III, following Marcello and Musetta's spat, Jones reveals Musetta to be the 'defeated party' whereas Copley cast Marcello in that role. One can appreciate Jones' decision here because it takes two to have a tempestuous relationship. As such, it may be unfair always to label Musetta as the 'viper', and Jones takes the time to show how she can be genuinely hurt by the way in which Marcello reacts to her.
Michael Fabiano, Nicole Car © ROH. photo Catherine Ashmore
The evening's musical credentials are strong. As Rodolfo, Michael Fabiano reveals a smooth, warm and rounded tenor while Nicole Car's Mimì combines a sweet, mellifluous sound with excellent precision. Mariusz Kwiecień is a class act as Marcello and Simona Mihai a suitably feisty Musetta, while Florian Sempey and Luca Tittoto delineate the characters of the musician Schaunard and philosopher Colline to good effect. The small roles of Benoît and Alcindoro do not give their performers much to do, but Jeremy White and Wyn Pencarreg execute them well.
In the same way that this production has a slightly more sober aesthetic than the previous one, so too does the conducting of Sir Antonio Pappano, and all credit to him for adjusting his style to suit what is happening on stage. Pappano still ensures that the orchestra captures the overall sweeping nature of the music, which is so important with this score, but there is added delicacy in places and certain moments are particularly outstanding. The production is to be broadcast to selected cinemas around the world on 3 October and should work very well in close-up, Jones presumably having also had screenings in mind when he conceived the production.
By Sam Smith
La bohème | 11 September – 10 October 2017 | Royal Opera House, Covent Garden
the 13 of September, 2017
|
Print