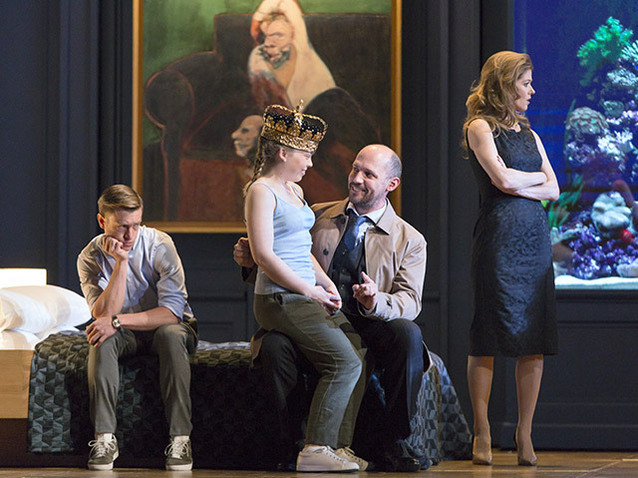 © Stephen Cummiskey
Lessons in Love and Violence is the third opera on which composer George Benjamin and librettist Martin Crimp have collaborated. They first enjoyed success together in 2006 with Into the Little Hill while Written on Skin, which premiered at the 2012 Aix-en-Provence Festival, has gone on to become the most widely performed opera of any to be written in the twenty-first century.
Their latest creation represents a co-production between no less than six major opera houses, and is currently enjoying its world premiere at the Royal Opera House. On the surface it has a straightforward plot, yet it is one that encompasses many complex themes.
Barbara Hannigan (Isabel), Stéphane Degout (King) and Gyula Orendt (
Gaveston) ;
© ROH. Photo by Stephen Cummiskey
It involves a King who has a wife, Isabel, two children and a male lover, Gaveston. The King's military adviser, Mortimer, who believes that all forms of love are 'poison', accuses the King of political irresponsibility in pursuing his love for Gaveston, a much hated figure in a country that is on the verge of famine and unrest. The King responds by accusing Mortimer of wanting his crown and banishing him.
This sets off a chain reaction of events as Isabel, at Mortimer's instigation, has to confront the anger and destitution of the people, which in turn leads her to agree to Gaveston's murder. When the King hears of his lover's death he rejects Isabel, which isolates him further, while Mortimer and Isabel set up house together and attempt to groom the King's son to be a puppet-king who will rule as they wish. However, when the King dies the son finds the strength to break free from his mother's clutches, and restore order by ruling as he sees fit.
The opera is told across seven scenes, and the lessons it provides could broadly be divided into two categories. The first are those that are directly espoused by characters so that in the first scene Mortimer teaches the King, and by extension us, that pursuing one's own desires can lead a nation to ruin. The second are those we might infer from what we see, so that we might also learn from this first scene the dangers of anyone in a position of power taking any advice they do not like as evidence that the giver has evil intent towards them. This is because the King accuses Mortimer of wanting his crown and consequently banishes him.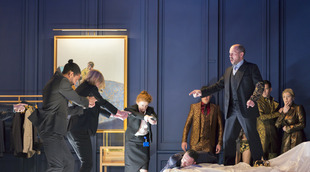 Lessons in Love and Violence, ROH ; © ROH Photo by Stephen Cummiskey
The opera alludes to the relationship between Edward II and his son, the future Edward III, by referencing three episodes in the former's reign. In another sense, however, it remains unspecific in terms of time and place (although most characters bear their correct historical names, neither the King nor country are ever named) in order to emphasise the universality of the themes explored. The conflict between private love and public responsibility is similar to that to be found in Aida, while Shakespeare's King Lear and Hamlet are referenced in the blinding of one character and another taking power at the end with relative ease because the system has already torn itself to pieces. The point is not that Lessons in Love and Violence is derivative but rather that all of these works encapsulate the big themes and dilemmas of life. Benjamin and Crimp's creation pushes them even further centre stage, however, because, at least on the surface, the context in which they are presented seems to exist almost entirely to support them.
As with Written on Skin, the director is Katie Mitchell and designer Vicki Mortimer. The set appears to place the action broadly in the modern day, but less important than the time period chosen, as this work could clearly be staged in any, is what the setting signifies. The same basic room of blue wooden panelling is used for every scene, with the same props occupying the area throughout albeit often in different positions. This emphasises the way in which we are gazing on crunch points that arise within the wider story, and generates a sense of claustrophobia as we feel there is no hope of escaping what is going to happen.
A sense of deterioration is conveyed throughout as paintings that once hung on the wall then lean against it, and a huge, luminescent tropical fish tank becomes empty and stagnant. Continuity is maintained by seeing people collapse on beds at the end of several scenes, albeit for often quite different reasons. Meanwhile, one painting combines two motifs that Francis Bacon frequently explored. On the one hand, it looks like one of his 'Screaming Pope' pictures, suggesting how tentative and uneasy power can be. It also, however, hints at the King's love for Gaveston as it resembles Bacon's images of his lover George Dyer who committed suicide. The King could thus be seen as embodying both of the associated themes. Mitchell's direction also includes a lot of slow motion movement, which helps to highlight tension in the scenario.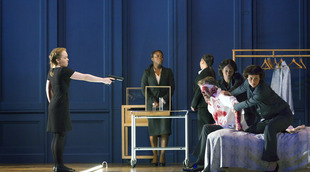 Ocean Barrington-Cook (Girl) and Peter Hoare (Mortimer) ;
© ROH. Photo by Stephen Cummiskey
Most interesting of all, however, is the fact that, although the characters might initially seem to represent themes or ideas, they are actually multi-faceted and do not move in straight lines. At the start, in simple terms at least, the King seems to be in the wrong in accusing Mortimer of wanting his crown because he offers displeasing advice. Had the King said he would not heed Mortimer's counsel but nonetheless thanked him for offering it in good faith, it may be that the pair would have remained so opposed that things would have blown up anyway, but it is at least possible that Mortimer would have stayed loyal. However, the level of cruelty that Mortimer later shows suggests that a certain ruthlessness always lay in him, and did not simply appear in reaction to his banishment. As a result, there may have been some truth in the King's initial accusation that Mortimer was power hungry, but the fact that it is not clear shows just how three-dimensional the characters really are.
The score is exceptionally skilful in capturing the mood and emotion. For example, when the King places his crown on Mortimer's head as a way of defying him to seize power, it conveys the seriousness of the gesture. After the moment has passed, however, the music accompanying the King placing it on his daughter's head is far more playful as it could simply signify a game that a father plays with his offspring. The music not only successfully conveys the mood but also describes physical actions so that when Isabel dissolves a pearl in acid the pizzicato strings suggest how it is bubbling away into nothing.
In conducting his own work, Benjamin brings a level of understanding to the score that could not be matched by anyone else, while the cast is uniformly excellent. As the King, Stéphane Degout's baritone is both radiant and powerful, while Barbara Hannigan is simply a class act as Isabel. Samuel Boden's light and ethereal tenor is ideally suited to portraying the King's son, while Gyula Orendt and Peter Hoare provide extremely fine support as Gaveston and Mortimer respectively.
By Sam Smith
Lessons in Love and Violence | 10 – 26 May 2018 | Royal Opera House, Covent Garden
the 14 of May, 2018
|
Print