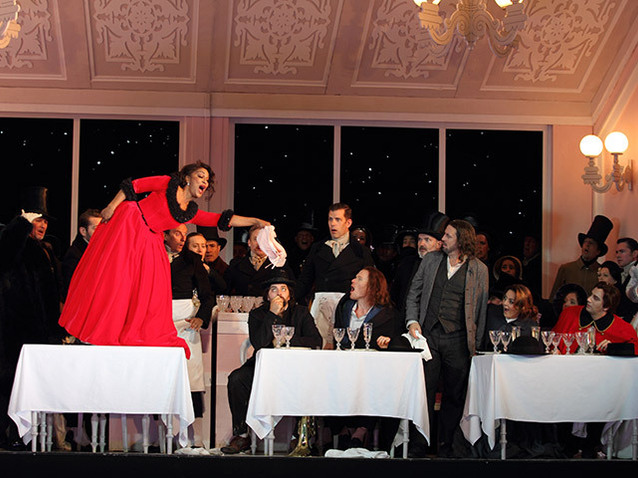 Giacomo Puccini's 1896 creation La bohème is one of the most frequently performed operas in the world today. Set in 1830s Paris, it focuses on six young adults and the love that four of them find with each other amidst the most impoverished of circumstances. One couple (Marcello and Musetta) have a stormy relationship but their frequent battles prove that their love actually has staying power. Rodolfo and Mimì, on the other hand, enjoy an apparently perfect love, but it is only fleeting as poverty offers no relief to Mimì and she dies of consumption.
This is the first revival (by Julia Burbach) of Richard Jones' 2017 version for the Royal Opera, which represents a co-production with the Teatro Real, Madrid and Lyric Opera of Chicago. Much excitement surrounded its premiere last September, especially since the production it replaced by John Copley was one of the Royal Opera's all-time greats, lasting from 1974 through to 2015. In the event, Jones' offering proved to be thoroughly decent, with a lot of attention to detail revealed in both the sets and protagonists' gestures.
For example, Act I takes place in Rodolfo and Marcello's flat, which in Stewart Laing's set is presented as an attic area with a series of diagonals that really draw the eye in. It is designed to suggest that the flat (and world) extends beyond the front of the stage, while the direction is thoughtful with much attention being paid to where figures are placed. In comparison with the previous outing, the performances here possess a slighty freer quality. This may be because the presumably reduced rehearsal time for this first revival would not have permitted the same degree of micromanagement over people's movements as was achieved last September.
However, with the flat only taking up a fraction of the stage area, there is a thin dividing line between a production feeling intimate, which this one was clearly designed to do, and small. When the performers are not spot on with their positioning at every turn, it can contribute to the overall experience feeling diminished. It is hardly a major problem, but this production will surely last at least a decade, and now that its initial burst onto the scene is completed, it may need a little time to settle and find its feet for the long road ahead.
However, Act II, which was written to paint a 'Christmas card' image of Paris, if anything feels stronger than last time. It is executed beautifully as masses of people fill the streets (the revival movement director is Danielle Urbas). Three shopping arcades are wheeled into place, which create a magical glow with their strong aesthetic and use of perspective, and crowds scurry in and out of them as they look in the shop windows. Just when one feels that nothing more could be squeezed out of these pieces they are pushed aside to introduce Café Momus. This box-like area heightens the sense of activity by restricting the central performance space, while having masses of people gaze through the window and more spill out onto the street as the scene wears on. Last time around the impact of the drama felt thwarted by having the movement, as with Act I, concentrated into a relatively small area, but this is not a problem now as what fills the lesser space is so engaging.
Two casts share the run with the first seeing Matthew Polenzani play Rodolfo, Maria Agresta Mimì, Etienne Dupuis Marcello, Danielle de Niese Musetta, Duncan Rock Schaunard and Fernando Radó Colline. On the night we attended, however, we saw the second cast headed by Atalla Ayan as Rodolfo. At its best, and especially at the climax to the iconic 'Che gelida manina', his tenor sounds very good indeed. However, when it is not at full throttle a few imperfections creep in, which make his sound less smooth than it clearly can be, and sees him swoop up to some notes. Similarly, there are moments when, as Mimì, Ekaterina Siurina's soprano is not entirely on song, although there are fewer of these and her 'Donde lieta uscì' in Act III is exceptionally well sung.
Rodion Pogossov asserts his strong baritone to excellent effect as Marcello in a performance made all the more impressive by the fact that he was originally scheduled to play Schaunard, and had to step in to replace Andrei Bondarenko in the larger role. Meanwhile, the new Schaunard, Andrzej Filończyk, sometimes feels slightly underpowered but reveals a highly pleasing voice that makes for a good performance overall. Vlada Borovko displays a sumptuous soprano as Musetta, and has the presence to help make Act II feel suitably grand. Jeremy White and Wyn Pencarreg prove as dependable as always in the small roles of Benoît and Alcindoro, while one of the most impressive performances of the evening comes from In Sung Sim as Colline who asserts an immensely powerful and engaging bass, and consequently delivers a very moving performance of 'Vecchia zimarra'.
This is ultimately a strong first revival of Jones' La bohème, which suggests that if there is a way to go in some areas before the production settles, in others it is well on its way to doing so. The latter point is no better demonstrated than in Act IV in which Mimì's death is genuinely moving as Rodolfo pulls back the blanket used to cover her face, and throws off Marcello when he tries to intervene. On this occasion, the splendid conducting of Nicola Luisotti also helps to seal the evening.
By Sam Smith
La bohème| 16 June – 20 July 2018 | Royal Opera House, Covent Garden
the 26 of June, 2018
|
Print