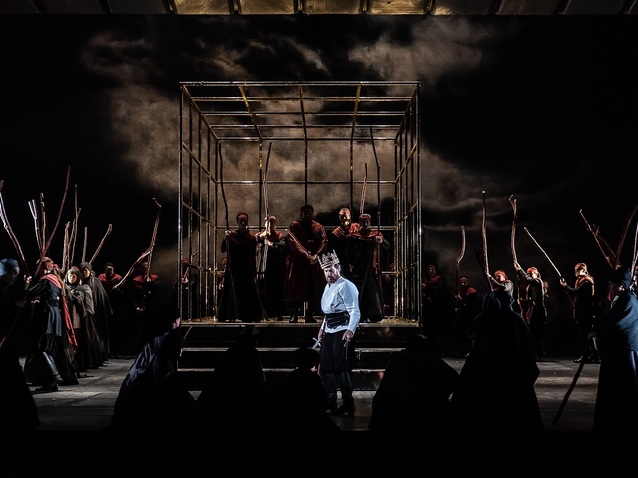 © Clive Barda
The 33-year old Verdi was taking a risk when he wrote Macbeth for the Teatro della Pergola in Florence in 1847. His operas until then had largely been grounded in fact or history, and indulging in the genere fantastico ('fantastical genre') had its dangers when at the time it was far from universally loved.
In the event, however, the premieres were so warmly received that the Florentines soon awarded Verdi his own gold crown. Macbeth became the composer's favourite of all of his operas, and in 1865 he revised it to produce a French version. That was less popular at the time, but from the middle of the twentieth century onwards has tended to be the version of choice, though it is usually performed in Italian.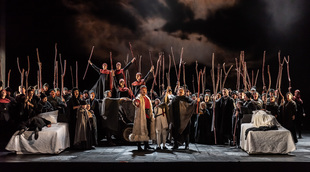 Malcolm EGOR ZHURAVSKII, Macduff DAVID JUNGHOON KIM,
ROH Macbeth ; © ROH 2021 Ph. Clive Barda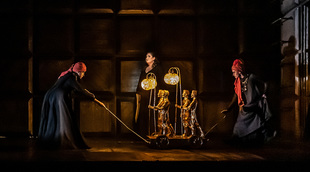 Lady Macbeth ANNA PIROZZI, ROH Chorus, ROH Macbeth ;
© ROH 2021 Ph. Clive Barda
The story by and large follows that of Shakespeare's original with any differences resulting from the fact that Verdi, and his librettist Francesco Maria Piave, were writing for a different medium, and responding to their own nineteenth century world. For example, Verdi employs an entire chorus of witches, partly because this form lends itself to opera but also because at the time productions of the play often utilised many, rather than just three, so he was imitating what he saw.
Phyllida Lloyd's 2002 production for the Royal Opera, revived here by Daniel Dooner, faces all of the challenges that confronted the original in making depictions of witches and ghosts feel both enchanting and believable, and, as a general rule, it overcomes them well.
No literal setting is created for the drama, but all of the required elements are interwoven into a concept that never grounds the action in a specific century. Anthony Ward's set consists of a large box-like area from which the back wall frequently appears and disappears. When it is present, as for the Macbeths' bed chamber, it creates a dark, repressive area that could almost pass for a contemporary hotel bedroom, thus handing the pair's machinations a sense of ruthless modernity. The claustrophobic atmosphere also suggests that, once the couple have started on their power hungry quest, there is no hope of escape. The back wall comes away to create the forest where the witches dwell, or the castle where great pageantry takes place, all against the backdrop of a storm-lit sky. That we witness 'imaginary' scenes such as the show of Banquo's descendants as kings (bright golden men riding large golden horses) through a frame, helps to make the images feel mystical rather than chintzy.
The sense of inevitability is also highlighted by having the black robed, red turbaned witches (seemingly reminiscent of Jan van Eyck's self-portrait in the National Gallery) involved throughout as they fulfil their own prophecies. In each instance, it is a witch who delivers Macbeth's letter to his wife, holds aloft the crown to place on his head, helps Fleance to escape when Banquo is killed and presents Macduff's children to Macbeth to be slaughtered. In Siegfried Wotan tells Erda that the Norns weave what the future will be, but have no means to influence it. That is clearly not the case with these witches, which makes for some uncomfortable viewing because it suggests it may even be their own plan they are fulfilling. When we see the witch save Fleance, revealing such a dispassionate face as she does so, it strikes us that she intends the father to die as much as the son to be saved.
Lloyd's choice regarding the witches is a sound one, and it feels part and parcel of an approach in which every prop or feature is designed to say something. Macbeth's crown is stored in a cage before he and Macduff's final fight occurs in a golden box-like contraption that feels like a larger version, thus showing how the King has become imprisoned by his own lust for power. The deaths that lead to Macbeth's ascent are also proclaimed loud and clear as we see the former Thane of Cawdor crucified at the back of the stage and then Duncan's body laid out before the masses. The accumulative effect of all of these things, however, is that every move seems designed to make a specific point. This is not necessarily conducive to making us feel that the Macbeths operate within a real or natural world.
One thing that does not feel contrived, however, is a dream sequence in Act III in which the Macbeths picture themselves with children, suggesting that their lust for power derives from lacking the fulfilment that comes from having a family. It works because, in this context, it is not saying that childlessness justifies their actions, but that family relationships facilitate a depth of feeling that cannot be met by anything else. Macduff actually says in Act IV that he is unable to have revenge on Macbeth because he has no children to dispatch, while the cloud formation on the backdrop that vaguely resembles a rocking horse stands as a reminder of what the Macbeths are missing out on. They may feel the absence of children in their lives particularly acutely because the original Shakespeare play at least makes clear that Lady Macbeth once bore them.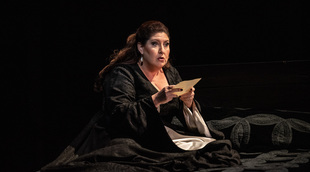 Lady Macbeth ANNA PIROZZI, ROH Macbeth ; ROH 2021 Ph. Clive Barda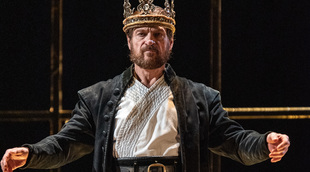 Macbeth SIMON KEENLYSIDE, ROH Macbeth ; © ROH 2021 Ph. Clive Barda
If the staging has always been effective, this revival is made extraordinary by the quality of the music making with Daniele Rustioni's conducting proving as exciting as it is clearly assured. The soloists are all outstanding in their own right, but one also senses that, coming together as they do here, they feed off each other to raise all of their portrayals to the very highest level. Anna Pirozzi, who also sang the role for two performances in the most recent 2018 revival, is a superlative Lady Macbeth. With her soprano proving as alluring as it assertive, she thrills the audience by virtue of the brilliant technique and accuracy that she brings to her most striking of sounds. Quite the measure of the strength of her performance is that when it comes to 'Una macchia è qui tuttora!', which she tackles extremely sensitively, we do actually feel something for the character, in spite of everything she has done.
Her interaction with Simon Keenlyside's Macbeth is also superb, so that they feel cut from the same cloth in some respects and extremely different characters in others. When everyone is shocked by the death of Duncan she does not hold back in showing her supposed pain, while he is too guilt-ridden even to express that convincingly. When she deliberately faints, and he catches her, it is ambiguous as to whether his action is complementing hers, or if he is trying to prevent her from putting on such a hyperbolic display because inside he cannot stand the hypocrisy.
Nevertheless, as formidable as Pirozzi's Lady Macbeth is, Keenlyside, who also played the role here in 2011, makes Macbeth anything but a mere vassal of his wife. His baritone is so rich, powerful and multi-faceted that it takes on an almost spiritual dimension while his commanding presence ensures that there are certainly occasions when he comes across as the prime mover in every sense. Günther Groissböck is luxury casting as Banquo, David Junghoon Kim, who also played Macduff for three performances in 2018, excels in the Act IV aria, 'Ah, la paterna mano', while Egor Zhuravskii reveals an extremely expansive and thrilling tenor as Malcolm. April Koyejo-Audiger and Blaise Malaba deliver excellent performances as the Lady-in-Waiting and Doctor respectively, and it is indeed the fact that the cast is so strong across the board that makes this Macbeth something special. The performance on 26 November will be streamed live on the Royal Opera House website, and remain available to watch online until 26 December.
By Sam Smith
Macbeth | 16 – 30 November 2021 | Royal Opera House, Covent Garden 
the 23 of November, 2021
|
Print