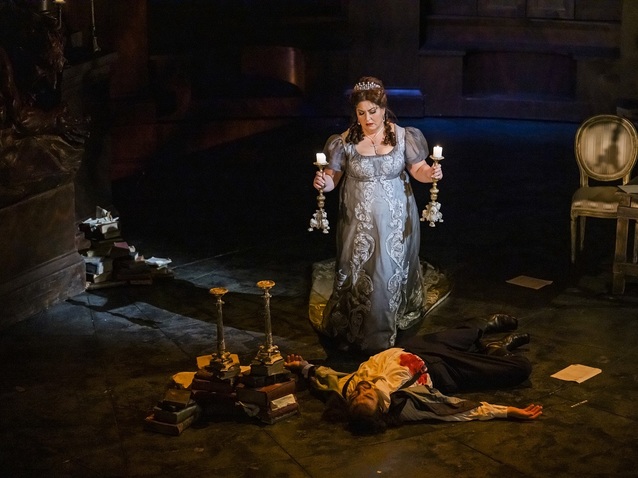 © Tristram Kenton
Based on Victorien Sardou's 1887 French-language play, Giacomo Puccini's Tosca of 1900 is one opera that few directors choose to set in anything other than its original time and place. There are exceptions to this rule, but when all of the action can be linked to a real historical event on a precise date, there are certainly advantages to retaining the intended setting, and many risks associated with changing it.
The entire story takes place during the afternoon, evening and early morning of 17 and 18 June 1800, following the Battle of Marengo between Napoleon's army and Austrian forces. The Austrians were initially triumphant and sent news of victory back to Rome, but the city's celebrations were cut short when a later report revealed that Napoleon had mustered reinforcements and inflicted a crushing defeat.
Tosca is set around the hours when the conflicting messages arrive in Rome. Angelotti, a consul of the city when it was a republic but a prisoner since Neapolitan forces occupied it, escapes from the Castel Sant'Angelo and turns to the painter Cavaradossi to hide him. Rome's Chief of Police, Baron Scarpia, attempts to squeeze information as to Angelotti's whereabouts from Cavaradossi's lover, the celebrated singer Floria Tosca. She is naturally prone to jealousy and Scarpia taps into this, but in the process he becomes obsessed with possessing her.
After Scarpia sentences Cavaradossi to death for hiding a fugitive, Tosca promises the Chief to give herself to him if he will release her lover and allow both of them to leave Rome. Scarpia agrees, explaining that he still needs to appear to have killed Cavaradossi, and so (apparently) instructs his agent Spoletta to stage a mock execution, after which they can both escape. As soon as Scarpia has written out their passport, however, Tosca stabs him to death. At the subsequent execution Tosca discovers all too late that Scarpia tricked her, and that Cavaradossi was shot with real bullets. As news of Scarpia's murder spreads, Tosca realises there is no way out and leaps off the parapet of the Castel Sant'Angelo to her death.  
One of the most heart wrenching aspects to Tosca is the very fact that a singer and painter who at the start of the story are simply going about their daily lives should find themselves thrust into a situation that spirals out of control so quickly that within twenty-four hours both are dead. Indeed, whether we assign the point of no return to Cavaradossi's initial decision to help Angelotti, or to the moment when Tosca determines to head to his villa, which ultimately leads Scarpia's forces to both men, their fates feel largely sealed by the end of Act I before the sun has even gone down.
Jonathan Kent's production for the Royal Opera House, which started life in 2006 and is now enjoying its eleventh revival (from Amy Lane), brings out the tragedy to the full as it sees every set work around some form of curve. Act I presents the shadowy side of Rome's Sant'Andrea della Valle, with the Attavanti chapel where Angelotti initially hides lying both behind and below the church's main altar. From the audience's vantage point the nave and chancel stand above the stage, with marble columns and candles proclaiming beauty and light. In contrast, the lower level offers a 'behind the scenes' glimpse of the church where different artistic and architectural styles vie for attention. There is an ancient Corinthian capital (upon which a statue of the Madonna stands), while the painting Cavaradossi is working on appears opposite the faded remains of a medieval Last Judgment fresco that presumably survives from an earlier church on the site.
It is within this more cluttered area that the church as an institution is shown to be imperfect, which in the context of the Neapolitan occupation derives from its virtual inseparability from police and state. During a recitation of the 'Te Deum' when the choir and crowd sing to the heavens above, Scarpia alone occupies the entire lower level revealing how, in practice, he rules over all three of these domains.
The late Paul Brown's set actually places the church at a slight angle to the auditorium, and this asymmetrical trend is continued in Act II when Scarpia's apartment in the Palazzo Farnese is based around two curves that cross one in front of the other. Interestingly, the only shelves to bear books at all are those that hide the room where Cavaradossi is tortured and even these turn out to be fake. Act III's scene of execution on the ramparts of the Castel Sant'Angelo is dominated by a low curved parapet that only runs down one side of the stage, and creates a suitably hostile moonlit area.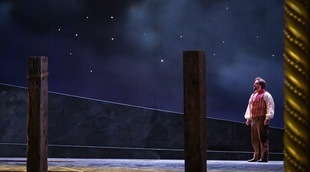 Freddie De Tommaso (Mario Cavaradossi) © The Royal Opera, 2021.
Photos by Tristram Kenton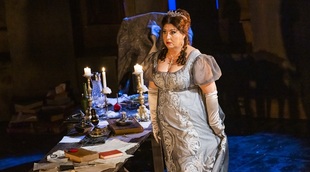 Anna Pirozzi (Floria Tosca) © The Royal Opera, 2021.
Photos by Tristram Kenton
Oksana Lyniv's conducting is extremely strong as she extracts a notably precise, balanced and beautiful sound from the orchestra. Three casts appear over the course of the run, and when I attended all of the principals delivered performances that were as thrilling as they were undoubtedly accomplished. As Cavaradossi, Freddie De Tommaso's tenor is relatively direct, but so secure is his sound and so pleasing his tone that it makes for an exhilarating performance as his rendition of 'E lucevan le stelle' proves to be particularly appealing. De Tommaso's actions in Act III also reveal that he knows he will not be getting out of the situation alive, though these differ to those of other recent revivals. In 2019 when Tosca showed Cavaradossi their passport he crushed it with his foot when he believed that she had slept with Scarpia in order to obtain it. However, once he discovered the truth he made no effort to retrieve it because by then he knew that Tosca would not be escaping either because Scarpia's body would be discovered soon enough. De Tommaso, however, retains the passport until far later so that it is only when Tosca actually describes how he will be shot with dummy bullets that he throws it away, having worked out that they will be real.
Anna Pirozzi, recently seen playing Lady Macbeth here, displays a rich, full voice whose sumptuousness is intriguingly complemented by a degree of lightness. While many portrayals of Tosca suggest she is demanding because she knows she is appealing enough to Cavaradossi to get away with being so, Pirozzi hints a little more at the character's vulnerability in that she really fears her love for the painter may not be reciprocated. Her and De Tommaso's voices are possibly not an ideal match for each other, but any associated difficulties reveal themselves far more in Act I than Act III.
Claudio Sgura, with his excellent baritone, is a splendid Scarpia. Most portrayals of the Chief of Police hand him a certain degree of charm but Sgura makes him feel an especially smooth operator. Similarly, while most performers suggest that Scarpia feels vulnerable by being so intoxicated with Tosca, Sgura reveals particularly acutely how the man used to controlling everything around him suddenly cannot control himself as he positively crumbles at the end of Act I. Yuriy Yurchuk is luxury casting in the small role of Angelotti, Jeremy White is thoroughly convincing as the frequently exasperated Sacristan and Hubert Francis is an effective Spoletta.
The direction also remains strong to the very end. The opening to Act III sees soldiers casually going about their business, which actually enhances our own sense of trepidation as to what might befall Cavaradossi as he faces execution. The manner in which the soldiers march on to shoot him and then retreat also works brilliantly with the music. It simultaneously captures the routine nature of their business from their own point of view, the fear felt by Tosca despite believing everything will be all right, and our own absolute sense of impending doom. As the curtain falls, three of the plot's survivors can do nothing but take a few awkward steps. This only emphasises their own sickening sense of shame at the fact that all of the giants, the evil ones included, have now passed on.
Elena Stikhina plays Tosca, Riccardo Massi sings Cavaradossi and Alexey Markov takes on Scarpia for some performances in December, while all of the performances in February 2022 see Angela Gheorghiu, Stefan Pop and Michael Volle sing the three principal roles and Marco Armiliato conduct. The performance on 15 December will be broadcast live to selected cinemas around the world, with some venues also showing encore screenings on subsequent days.  
By Sam Smith
Tosca | 8 December 2021 – 22 February 2022 | Royal Opera House, Covent Garden
the 14 of December, 2021
|
Print