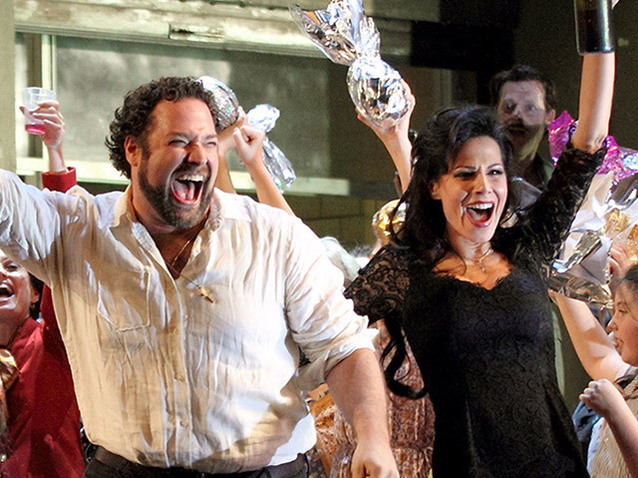 Damiano Michieletto's take on Pietro Mascagni's Cavalleria rusticana and Ruggero Leoncavallo's Pagliacci, which represents a co-production between Opera Australia, La Monnaie in Brussels, The Göteborg Operaand the Royal Opera House, was well received when it first appeared at the latter venue two years ago. With this first revival from Rodula Gaitanou proving just as strong, and hence confirming that its initial success was no fluke, it is reasonable to acclaim the production as one of the most outstanding in the Royal Opera's current repertoire.
Although the two operas were written as entirely separate entities, in 1890 and 1892 respectively, today they are more often than not performed together. This is because their short running times mean they can comfortably fit into one evening, and thematically they complement each other as both tell stories of love, betrayal, jealousy and murder.
Cavalleria, Elina Garanca (c) ROH Catherine Ashmore
The works do not so much involve love triangles as quadrangles, and in both instances the figure within the quartet who feels the most shunned carries out an action, whether it be pre-meditated or in haste, that has the most dreadful consequences. Cavalleria rusticana tells the story of Turiddu who returns from the army to discover his lover Lola has married Alfio. He responds by seducing Santuzza, but soon rejects her and begins an affair with Lola. Santuzza, feeling both ashamed and shunned, tells Alfio of his wife's infidelity, and in the duel that follows Alfio kills Turiddu.
Pagliacci is about a travelling troupe of actors. One of them, Tonio, loves the leading actress, Nedda, who is married to the group's leader, Canio. Nedda, however, shuns Tonio in favour of the villager Silvio, and Tonio is so put out by this that he tells Canio of the affair, although both remain ignorant of the secret lover's identity. Everything comes to a head as the actors perform their play. Canio demands the name of Nedda's lover, because that is what his role of Pagliaccio requires him to do, but it becomes increasingly unclear whether he is acting or not. After Nedda continually refuses to answer, Canio kills both her and (after he runs to help her) Silvio, while Tonio declares that 'the play is over'.
Michieletto places both operas broadly in the modern day, which proves very effective. This is because the Italian village setting alludes to a romantic ideal, and yet it also feels as if the various suspicions and betrayals are being played out against a backdrop of soullessness and decay. There may be religious processions through the streets, but the beauty of these is undermined by the television aerials and satellite dishes on the buildings. Similarly, the traditional way of life is being eroded by those individuals making money in the modern world, who boast of their wealth with fancy clothes and cars. All this works because opera verismo, of which these two pieces are classic examples, is about showing real life, and so a setting that feels both gritty and relatable is perfect for doing this.
The sense of reality is also aided by a strong attention to detail and the weaving of the two stories into the same scenario. Both operas include an Intermezzo and Michieletto uses each to reveal something from the other story. For example, during the one in Cavalleria rusticana we see Nedda meet Silvio, presumably for the first time. Given that earlier in this opera we saw Nedda and another player Beppe sticking up a poster advertising their forthcoming performance upon their arrival in the village, we gain a keen sense of the real time period over which Silvio would have been meeting with Nedda. In addition, the fact that Silvio is shown to work in Turiddu's mother's bakery emphasises how all of the action takes place within a very close-knit community. The Intermezzo of Pagliacci sees Santuzza lament Turiddu's death with his mother. This reveals how people's lives don't end when the curtain falls and that they have to live with the repercussions of what happened, although their silent routine also offers a ray of hope for the future. Continuity is also maintained by having the same person play both Turiddu and Canio, even though this was not by design for this first revival, as it was for the original production. This suggests that Turiddu has metaphorically risen from the grave to embody Canio and take revenge for what happened to him.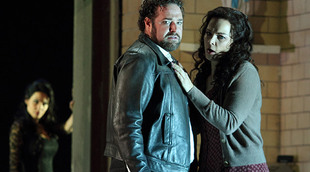 Bryan Hymel, Elina Garanca (c) ROH / Catherine Ashmore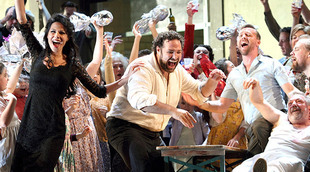 Bryan Hymel, Elina Garanca (c) ROH / Catherine Ashmore
The staging is very effective as it employs a rotating stage, courtesy of Paolo Fantin, that reveals a fixed number of sets for each of the two operas. This, quite literally, keeps the drama and emotional colour wheel turning so that towards the end of Cavalleria rusticana Santuzza pleads with Turiddu's mother as they disappear from view at the same time as Turiddu emerges wounded from the duel and collapses dead. In Pagliacci this is used to even greater effect as Michieletto sets the play in a modest village hall with all of the local residents turning out to see it. By exploiting the stage's rotation and using some actor doubles for the principals, the play is performed onstage and backstage simultaneously, thus blurring the line between fiction and reality. In this way, Canio makes his accusation from the auditorium while the spectators don masks and stare at him rather than the stage.
Daniel Oren's conducting is highly effective. While Sir Antonio Pappano two years ago may have delivered the score in a more sprightly fashion, Oren certainly grasps the full scope of the music. He consequently ensures it is played out on a vast scale, which is entirely appropriate and, with such a strong cast, he can afford to do. The principals are headed by Bryan Hymel who was originally booked to play Turiddu, but is also taking on Canio for seven performances, replacing the previously advertised Fabio Sartori. To go the distance over these two demanding roles is an achievement in its own right, but Hymel does more than simply stay the course as his voice proves impassioned, expansive and fresh from start to finish. Elīna Garanča's mezzo-soprano, which possesses some quite dark hues, proves strong and intriguing, and helps to mark out Santuzza's total sense of desperation at her unrequited love for Turiddu.
Three performers reprise their roles from two years ago, with Elena Zilio once more proving a class act as Turiddu's mother, Carmen Giannattasio repeating the magic that she previously brought to the role of Nedda, and Martina Belli using her excellent mezzo-soprano and some fine acting to reveal why Lola should be the woman that so many men desire. The new additions to the cast are equally excellent, with Mark S. Doss as Alfio displaying a splendid bass-baritone, and Andrzej Filończyk and Luis Gomes revealing fine baritone and tenor instruments as Silvio and Beppe respectively. It is Simon Keenlyside, however, who delivers one of the best performances of the evening as Tonio. He brings his outstanding baritone to the fore, and displays some immensely subtle acting in a role that it is all too easy to play simply as caricature. The performances in January 2018 feature partially different casts, and include Anna Pirozzi as Santuzza, Roberto Frontali as Alfio and Tonio, Fabio Sartori as Canio, Simona Mihai as Nedda and Samuel Dale Johnson as Silvio.
By Sam Smith
Cavalleria rusticana / Pagliacci | 2 December 2017 – 13 January 2018 | Royal Opera House, Covent Garden
the 18 of December, 2017
|
Print