© DR
Don Giovanni of 1787 is one of three operas that Mozart wrote with the librettist Lorenzo Da Ponte (the others being Le nozze di Figaro and Così fan tutte). It tells of the eponymous hero, or rather antihero, who effortlessly conquers thousands of women. Although in the process he makes many enemies, the ladies he has cheated have a habit of coming back for more or trying to save him, and in the end he is responsible for his own downfall. When the ghost of the Commendatore who he murdered comes to dinner and invites him to repent, the Don instead chooses to live by the life he has led and consequently descends to hell.
That, at least, is what normally happens, for in this new production for English National Opera director Richard Jones introduces a final twist that turns everything on its head. This only occurs at the end, however, and before this his approach to telling the story possesses its fair share of strengths and weaknesses.  
As a general rule, Don Giovanni can withstand being set in a variety of places and eras, so long as the class system that is prevalent in the original can be replicated. In this production, however, although we are made aware enough of the social hierarchies involved, the overall choice of setting, while not proving entirely unsuccessful, can blunt the impact of some of the opera's points.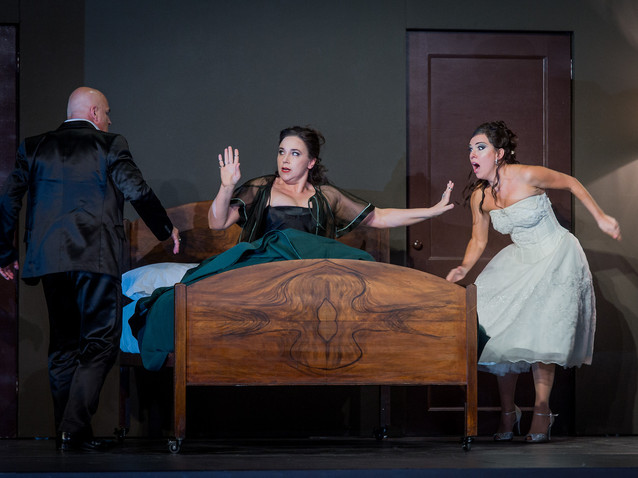 Christopher Purves, Christine Rice, Mary Bevan (c) Robert Workman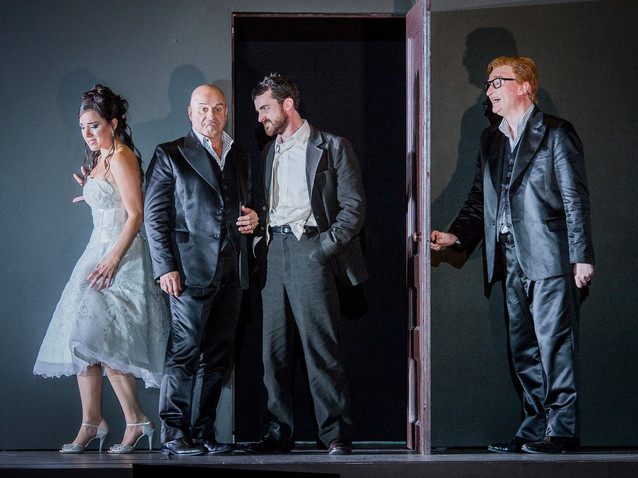 Don Giovanni (c) Robert Workman
Jones opts for a shady film noirish setting of streetlights, telephone boxes, muted colours and dingy bedrooms. From the large plane walls created by Paul Steinberg's set many telling details emerge. For example, as we watch Don Giovanni seduce Donna Anna towards the start we see the Commendatore in a bedroom opposite do the same to another woman. This suggests that the Don may only represent a more extreme version of the average high ranking man in the society. The Overture is accompanied by a scene in which women of all ages and social classes walk past Don Giovanni. None is able to resist diving into the nearest bedroom with him, highlighting the universality of his appeal, and even a man (a dead ringer for the Don's servant Leporello) is not immune. There are also many other interesting details. When posters of Don Giovanni proclaiming 'Wanted' are put up, this only provides further opportunities for Donna Elvira, a woman who is besotted with him despite all the wrongs he has done her, to gaze on his image. A few arias are sung down telephones to recipients on the other end, which alters the dynamics of the interactions and highlights sub-texts that would not be apparent were the people to encounter each other face-to-face.
However, presenting the piece in seedy, sordid surroundings is still not entirely successful. Film noir tends to feature femme fatales who render men helpless with their charms, so the gender reversal seen here does not represent the neatest of fits. More importantly, the Don normally stands as a dashing well-to-do figure who, on the outside, appears thoroughly respectable. Here he is more obviously sinister and dangerous, and although he can be played that way, the choice has a few disadvantages. The hierarchies may be brought out well enough as the production suggests that even well-to-do ladies have a 'dark' side, but it does not allow Don Giovanni to dominate the air as he might in productions that enable a more dashing and flamboyant character to be projected. Christopher Purves is an excellent match for the required portrayal of the Don here and plays the part well, but he cannot command the stage as he might if the set-up were different. Vocally he is good, but this is not the finest hour for this normally very strong and reliable baritone, although he may develop as the run continues.
The deliberately subdued set-up does have an adverse effect on the amount of excitement that the production generates. It is possible to overcook Don Giovanni by making it too outlandish, but this production proves it is also possible for it not to be outrageous enough. A lot of interesting points seem to be made and then left, rather than being used to drive the action forward. In this way, the party at the end of Act I, in which the Don is exposed, feels a little pathetic as the 'forces' advancing on him appear relatively static and the mere throwing of streamers does not generate a sufficient sense of pandemonium.
The twist at the end is very clever, and sees a lot of the points that have been drip fed to us prior to this suddenly make sense. Unfortunately, it also means that we have spent a lot of the evening up until that point being uncertain as to where certain ideas are going, but it undoubtedly means that the evening finishes on a high. It would be wrong to give the ending away, but it provides an appropriate commentary on the modern world as it suggests that the shaking of moral compasses is so complete that it is possible to escape punishment in any shape or form for 'crimes' committed. Indeed, it may or may not be significant that in this moment the Don takes to wearing a wig that makes him look a little like Donald Trump!
Mark Wigglesworth's conducting is excellent, while the cast, which includes Caitlin Lynch as Donna Anna, Clive Bayley as Leporello and Nicholas Crawley as Masetto, is also strong. Particular accolades, however, should go to Christine Rice who brings a well-shaped and almost spiritual mezzo-soprano to the role of Donna Elvira, and Allan Clayton who applies a beautiful, ringing tenor to his portrayal of the well-meaning Don Ottavio. Mary Bevan also proves an extremely sweet-voiced Zerlina, while James Creswell, with his incredible bass, is in a league of his own as the Commendatore.
By Sam Smith
Don Giovanni | 30 September – 26 October 2016 | London Coliseum
the 02 of October, 2016
|
Print