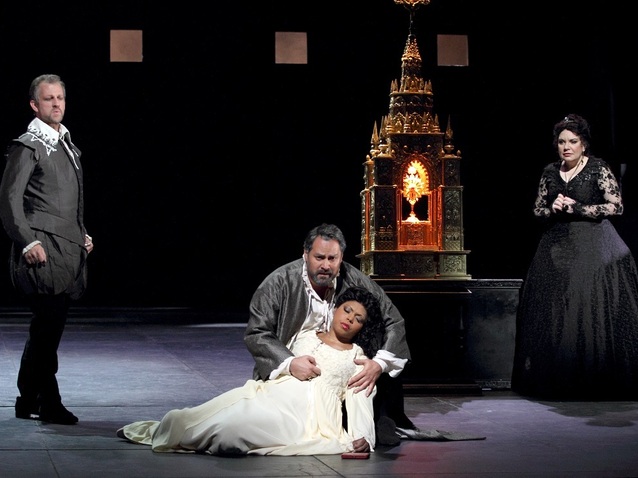 © (c) ROH - Catherine Ashmore
Giuseppe Verdi's Don Carlo, which premiered in 1867 in Paris as Don Carlos, exists in several versions, and, depending on which is performed, is either his longest or one of his longest operas. Although the first performance was in French, Nicholas Hytner's 2008 production for the Royal Opera House employs the Modena version of 1886, which is one of several to utilise an Italian libretto.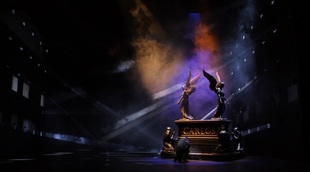 Don Carlo ; © ROH, Catherine Ashmore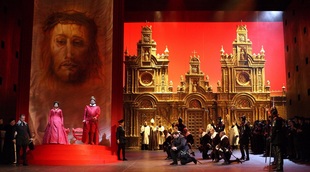 Don Carlo ; © ROH, Catherine Ashmore
Set in sixteenth century Spain, and based on Friedrich von Schiller's dramatic poem, the story sees church and crown battle for supremacy as individuals are forced to choose between their private love and public responsibility. Don Carlo is the son of Philip II of Spain and falls in love with the French Princess Elizabeth of Valois. Philip, however, rules that he shall marry Elizabeth himself and, because this would secure peace between the two warring nations and alleviate many people's suffering, Elizabeth agrees. As he mourns his loss, Carlo's friend Rodrigo persuades him to find his purpose by championing the cause of Flanders, a nation that Philip rules cruelly.
When Carlo petitions his father, however, Philip insists that oppressing Flanders is the only way to maintain stability, and then grows increasingly anxious that the Prince should be undermining him. He seeks the advice of the Grand Inquisitor who grants him permission to kill his son and also demands that Philip hand Rodrigo over to the Inquisition. The latter is killed after deliberately taking the blame for the Flemish rebellion so that Carlo may live to help Flanders. When, however, the Prince says his farewells to Elizabeth as he plans to leave to fulfil his mission, the King and Grand Inquisitor move in on him. At the same time the dead Emperor Charles V rises from his tomb to declare that suffering is unavoidable and ceases only in heaven.
In Hytner's production, Bob Crowley's sets seem to combine realism, formalism and expressionism. For example, Act I begins in the snow covered Forest of Fontainebleau. While, however, tall thin trees cover the stage, they are framed by a series of rectangular arches that suggest we are gazing in on a scene. At the same time, the path through the snow follows a very obvious zig-zag pattern.
Some sets generate much atmosphere so that Charles V's imposing tomb, seemingly designed to intimidate anyone who kneels before it, is bathed in huge shafts of light (courtesy of Mark Henderson) that inspire awe and reverence. The object is then moved across the stage to introduce a diagonal row of columns that, through manipulation of their respective sizes, appear to run to quite a depth. The costumes are sixteenth century but the sets do not stand in one specific era, with some of their features feeling decidedly modern. In many ways they are designed to bring out certain points so that as Philip II encounters Rodrigo, his advance towards him imitates other diagonals seen in the set. All of the intended effects work well, except on a few occasions when the sets' features feel just a little too garish. For example, in Act III when the heretics are sent to be burnt at the stake, a huge, crude image of Christ's face contrasts poorly with the rich golden gates of Valladolid Cathedral in the background, thus giving the scene insufficient gravitas.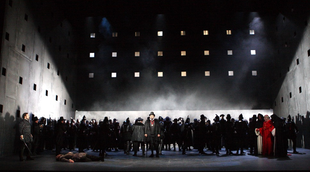 Don Carlo ; © ROH, Catherine Ashmore
Bertrand de Billy's conducting is excellent, while the cast also proves strong. Bryan Hymel as Don Carlo delivers his warm yet striking sound with flair and a sense of ease. Three principals are late replacements but one would never know this from their performances. Kristin Lewis as Elizabeth of Valois displays an exceptionally rich and sumptuous soprano that still feels sweet and clean by virtue of its precision. Christoph Pohl as Rodrigo reveals a very secure and pleasing baritone that also makes his duets with Hymel particularly fine, while Angela Simkin shines as Tebaldo, despite only replacing Emily Edmonds (who returns later in the run) at the eleventh hour. Ekaterina Semenchuk also stands out as Princess Eboli, while Ildar Abdrazakov as Philip II, Paata Burchuladze as the Grand Inquisitor and Andrea Mastroni as Charles V all play their parts to the full.
By Sam Smith
Don Carlo | 12 May – 29 May 2017 | Royal Opera House, Covent Garden
the 17 of May, 2017
|
Print