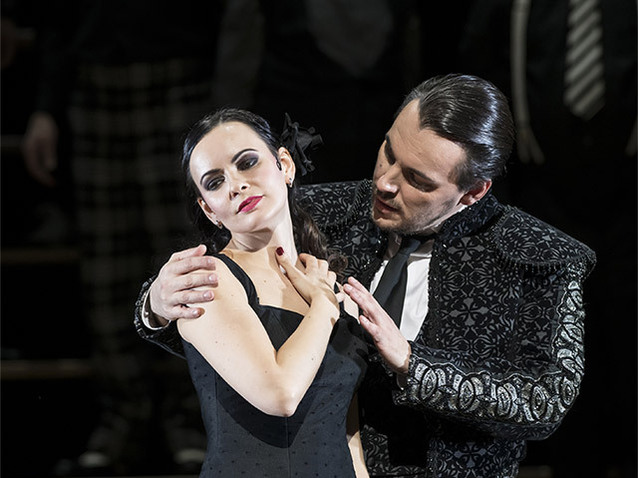 © (c) Bill Cooper
Based on Prosper Mérimée's eponymous novella, Georges Bizet's Carmen of 1875 is the story of the ultimate temptress. A gypsy and cigarette factory worker in Seville, Carmen has the power to entice any man she chooses. Once, however, they are besotted with her she quickly moves on, leaving them heart broken and unable to accept what has happened.
In the opera Don José, an army corporal, has almost everything he could ever desire. He has decided to marry the sweet, loving Micaëla, and he has the blessing of his mother, a job he is proud of and the opportunity to see his home village. When Carmen decides that she likes him, however, he ends up sacrificing everything he has for her, and cannot accept it when she loses interest in him and turns to the torero, Escamillo. 
If Carmen hardly sounds a sympathetic character, she can certainly engage an audience with her allure and steadfast determination to live by her own rules. Freedom is the most important thing to her so that when Don José threatens to kill her unless she says that she loves him, she accepts her fate, preferring death to proclaiming a lie and feeling a sense of imprisonment.
Barrie Kosky's production, which is new to the Royal Opera having first been seen at Frankfurt Oper in 2016, may be one that you either love or hate. To enjoy it one may need to shed all hitherto held ideas regarding what Carmen should say or deliver, but anyone who is able to do so could, like this reviewer, find the staging truly extraordinary.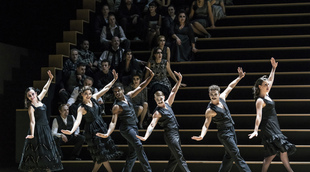 Carmen, ROH ; © ROH/Bill Cooper
The opera is longer than usual as the production includes musical material that Bizet drafted for it but did not include in its premiere, and a narration that overall exceeds the length of the dialogue it replaces. This can break up the normal pacing, especially towards the beginning when some of the verbal 'interruptions' act as a check on the music building up momentum, but there is compensation for this. The pre-recorded narration is delivered by the Voice of Carmen (Claude de Demo) and so this puts her at the centre of events in every way, even though she describes those that directly involve her in the third person. The narration enables us to gain insights into many new areas such as how women's beauty, and by extension women, are perceived in the society, and Don José's own past. Both of these are described in Mérimée's original 1845 novella, thus helping us to understand more about the context in which the characters we see operate.
The stage is dominated by one huge staircase, courtesy of Katrin Lea Tag, upon which figures, including the entire chorus, can appear. The production also employs a group of six dancers, choreographed by Otto Pichler, and together these elements convey all of the emotion in quite a different way to normal. 'Avec la garde montante' usually sees the children take centre-stage, perhaps marching in a boisterous way amidst a scene that is packed with colour. Here the children's chorus (Covent Garden's Youth Opera Company) simply stand on the steps and, while they bob a little as they play their instruments, it is the dancers who provide the real movement. The fact there are only six of them means that the necessary exuberance is rendered in a more stylised way than usual, but the sheer slickness and professionalism in their movement makes the entire affair feel like a quality product in which class shines through. At the start of Act III the dancers work so well with the music that it seems almost as if their movements are conjuring it up.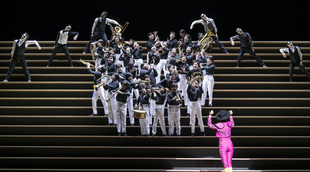 Carmen, ROH ; © ROH/Bill Cooper
A similar point can be made in relation to the start of the fight between Carmen and another factory worker. The women come down both sides of the staircase with one soldier trying to keep each of the two groups in check. There is less sense of the pandemonium that is normally seen at this point but the scene is just as effective because of the spatial awareness revealed as the groups descend. Joachim Klein's lighting designs are also crucial to the success of both this scene and the evening as a whole. Much of the stage is lit from above, while two lights in front create diagonal shadows of the figures that appear jagged as they rise up the steps.
The quintet 'Nous avons en tête une affaire' between Carmen, her friends Frasquita and Mercédès, and the smugglers Dancaïre and Remendado reveals the unusual way in which interaction in this production is conveyed. Rather than it occurring directly between the five principals, it is rendered by having them sit in a line with the six dancers as all eleven perform an extremely slick routine. This generates a different but highly effective dynamic, while the iconic 'Les tringles des sistres tintaient' sees precision and exuberance combine as it also employs the dancers to good effect.
One to one interactions are also rendered very differently so that at the end of Act II Carmen and Don José spend less time looking at each other than with her following him wherever he walks. Don José may kneel as he pleads with Carmen, but he does not do so directly in front of her. However, when we see the pair pressed against the side of the proscenium arch one moment and three figures spread out from the top of the steps to the bottom the next (with Zuniga having just appeared) we can appreciate how this production moves us from the intimate to the vast with impeccable ease.
Anna Goryachova as Carmen ; © ROH/Bill Cooper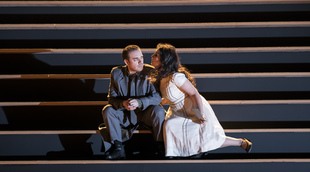 Francesco Meli (Don José), Kristina Mkhitaryan (Micaëla); © ROH/Bill Cooper
The approach of rendering interactions in a rather stylised way requires performers who can effectively convey emotion within this new frame of reference, and that is exactly what this production has. In the title role Anna Goryachova's beautiful mezzo-soprano and astutely observed expressions and gestures are certainly important, but she radiates a presence simply by feeling the part so that her allure is tangible even when she is completely still. Francesco Meli is an intriguing Don José, being both needy and quite brutish so that his refusal to leave Carmen derives from an inherent stubbornness as well as his emotional inability to accept that she no longer loves him. His tenor is strong and expansive, although in 'La fleur que tu m'avais jetée' it is the precision and control he exerts over the aria that is most striking. Kostas Smoriginas is also an excellent Escamillo, proving upstanding and vocally strong, although his performance of 'Votre toast, je peux vous le rendre' (the Toreador Song) feels more solid perhaps than electric.  
The vast staircase is also effective when just one person occupies it. For example, Micaëla sings 'Je dis que rien ne m'épouvante' all alone on it, which emphasises her bravery as a tiny figure entering the smugglers' hideout to find Don José. Kristina Mkhitaryan sings the part extremely well with her shimmering, nuanced soprano producing something pure and ethereal in the upper register. Her acting also brings a tear to the eye as she pleads with Don José to come with her in the face of a cruelly mocking throng. Before this, however, is one of the best illustrations of the effectiveness of the staging as Carmen, Frasquita and Mercédès agree to distract the customs officers and sing with Dancaïre and Remendado. The five slide down one side of the steps while the chorus sits on the other, sometimes jiving and sometimes staring at the quintet so that the lights pick up a mass of profiles. There are also a host of excellent touches so that we see Carmen's slipping of Don José's rope in Act I mirrored in him vainly trying to keep her by clinging to the long train of her dress in Act IV.
Jakub Hrůša conducts extremely well on his Royal Opera debut, and shares conducting responsibilities over the run with Christopher Willis. Five of the later performances feature a largely different cast that includes Gaëlle Arquez as Carmen, Andrea Carè as Don José, Alexey Markov as Escamillo and Susanna Hurrell as Micaëla. The performance on 6 March will also be broadcast live to selected cinemas around the world. This production should work well on the big screen as the set and lighting will create effective, large-scale images while close-up shots should help to penetrate the psychology of the characters.
By Sam Smith
Carmen | 6 February – 16 March 2018 | Royal Opera House, Covent Garden
the 09 of February, 2018
|
Print