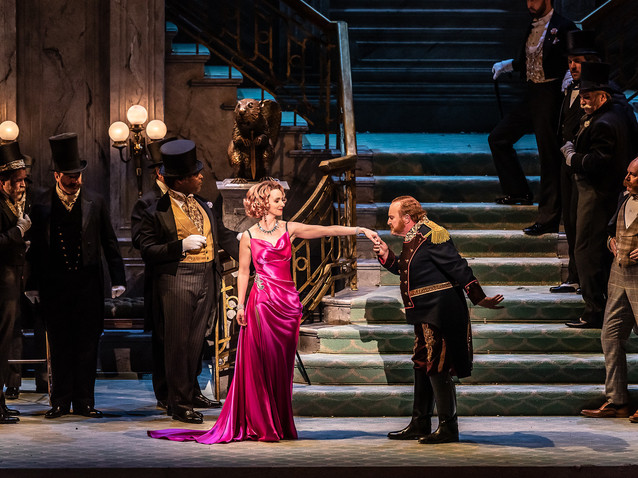 Franz Lehár's The Merry Widow (or Die lustige Witwe) is an operetta that was immensely popular on its premiere in 1905, and has continued to cause much amusement in opera houses ever since. Based on Henri Meilhac's play L'attaché d'ambassadeof 1861, it tells of one Hanna Glawari who is a merry widow because, when her husband died, he left her a fortune of twenty million francs. She comes from the small Balkan principality of Pontevedro whose economy is collapsing, which leads its ambassador to Paris, Baron Zeta, to determine that she must marry a Pontevedrin in order to keep the money in the country.
Zeta therefore wishes her to marry Count Danilo Danilovitsch, the first secretary of the embassy. Danilo and Hanna, in fact, loved each other years ago, but his father prevented their marriage as she had nothing to her name. Danilo now refuses to court Hanna or tell her that he loves her, as he does not wish to be misconstrued as only being after her wealth. This is the backdrop to the action, which occurs at the Pontevedran embassy, and other locations, in Paris, with Zeta having engineered a ball to find Hanna a suitable husband. There are various sub-plots concerning a lost fan and an affair between Zeta's own wife Valencienne and the French attaché to the embassy, Count Camille de Rosillon, but there is a happy ending when Hanna declares that her husband's will stipulated that if she remarried she would lose her fortune. This is enough for Danilo to propose to her, as it proves he is really doing so out of love, but, after accepting, she declares that this is only because her money will automatically become the property of her new husband!
It is a deceptively difficult task for a major opera house to pull off these type of operettas because it is so easy for productions to fall either side of the tightrope they inevitably walk. On the one hand, they require energy and so it is always a risk that top professionals, in their pursuit of excellence, will leave everything feeling just a little subdued. On the other, it can be all too simple to go for obvious laughs and pay insufficient attention to the works' subtlety and dry wit. English National Opera's last two dives into this kind of work, which were both Gilbert and Sullivan creations and both generally decent, arguably fell on opposite sides of the divide. The Pirates of Penzance (2015) was a little stiff, although its 2017 revival was much improved, while Iolanthe (2018) was highly amusing, but, if anything, went a little too far in milking the laughs.
Overall, Max Webster's new production of The Merry Widow gets the balance better than either of these two. Its success in doing so can be attributed to several factors, but in very simple terms it tempers a downright hilarious English translation of the libretto with a staging that retains the right level of decadence to suck us into the scenario.
In Ben Stones's sets Act I presents a grand staircase, even if one of its rails falls off to highlight the bankrupt nature of Pontevedro. Act II reveals a beautiful starlit sky that perfectly complements Hanna's performance of 'Es lebt' eine Vilja, ein Waldmägdelein', which she sings sitting on a moon that descends from the ceiling. There is still an appropriate playful element, however, as a big joke is made of the beaver being the national animal, leading to paintings and statues of it gracing the stage and even the foyer of the Coliseum! As Pontevedro is a fictitious country it gives great scope for any choreographer to decide what its national dance might be, and here Lizzi Gee makes it suitably outlandish, complete with two people dressed as giant beavers.
Richard Thomas and April de Angelis's new English translation is extremely liberal, and thus allows many laughs to be elicited over the evening as it introduces jokes about cheap prosecco, Pilates and even Brexit. For example, at one moment Zeta describes Pontevedro as a small country that wishes to go back to its glory days and stand proud alone. Despite having no industry or natural resources, he asserts, it believes that everyone will want to do business with it!
If, however, the staging and performances generally propel the evening forward at an appropriate pace, there are times when the momentum does feel uneven. The 'Women' song, which involves seven of the men, is extremely clever as it starts with the clichéd premise that most male business actually takes place in the toilets, and then works this up into an hilarious routine. On the other hand, the famous 'Ja, wir sind es, die Grisetten', in which in this production it is Hanna rather than Valencienne who takes centre-stage, falls a little flat. It was certainly deliberate to enable the dance to present the women's perspective, but every time self-conscious words are introduced concerning the difficulty of the routine, it puts a check on us being entranced by the magic of Maxim's with the result that everything simply feels lame.
Kristiina Poska conducts the Orchestra of English National Opera well, while the excellent cast is led by Sarah Tynan as Hanna. Though her speaking voice does not match the standard set by the rest of her performance, she certainly applies the right level of sparkle to her soprano, and shimmy and elegance to her persona, to command the stage. Nathan Gunn brings a smooth and warm baritone to the role of Count Danilo, and successfully projects the character's seeming indifference and caddishness. Rhian Lois and Robert Murray are spot on as Valencienne and Camille, while Jamie MacDougall and Nicholas Lester are also strong as Raoul de St Brioche and Vicomte Cascada as they look, either by accident or design, like the characters of Gilbert and Sullivan in the film Topsy-Turvy. The highest accolades of all, however, go to Andrew Shore who is an old hand at playing everything from Major-General Stanley in The Pirates of Penzance to Doctor Bartolo in The Barber of Seville, and whose sense of comic timing as Baron Zeta is second to none.
By Sam Smith
The Merry Widow | 1 March – 13 April 2019 | London Coliseum
the 06 of March, 2019
|
Print