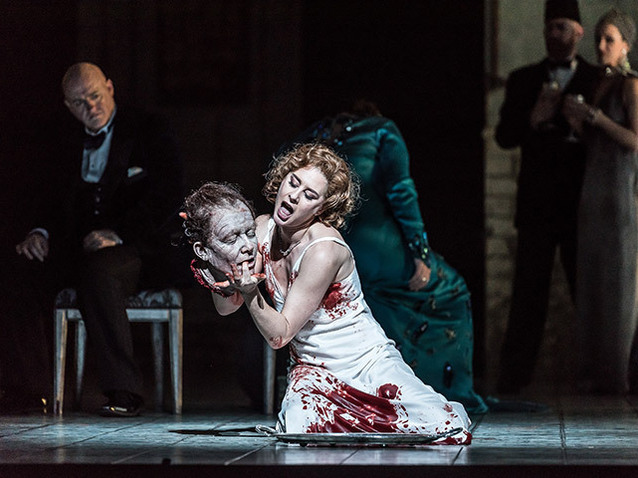 © Royal Opera House
Despite only being mentioned briefly in the New Testament, the character of Salome has certainly caught the imagination as she has pervaded art, literature and music over the centuries. In the Gospels of Matthew and Mark she is described as a girl who pleased King Herod so much at his birthday feast with her dancing that he promised her anything she desired. After consulting Herodias, the husband of Herod and her mother, she asked for the head of John the Baptist on a plate, with Herodias desiring this because John had proclaimed her marriage to be unlawful. The King was mortified, but could not go back on a promise he had made in front of so many guests and so ordered John's execution.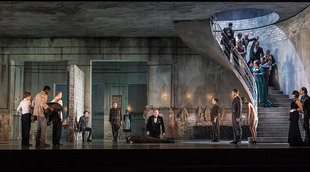 Salome © ROH
So brief is the girl's appearance in the Bible that she is not even named, being referred to simply as the daughter of Herodias. She was subsequently given the name of Salome, however, after being linked to the eponymous figure who was mentioned as a stepdaughter of Herod Antipas in Josephus' Jewish Antiquities. Subsequent depictions have tended to present her as an icon of dangerous female seductiveness, with her entertainment having acquired the title of the Dance of the Seven Veils. Some, however, have identified her light-hearted and cold foolishness as the trait that led to John the Baptist's death. Oscar Wilde's Symbolist play, which premiered in Paris in 1896, sees Salome take a perverse fancy to John, and insist on his execution when he spurns her affections. It is this version of events that Richard Strauss largely follows in his opera of 1905, as he includes her kissing the severed head at the end.
David McVicar's 2008 production of Salome, now enjoying its third revival (from Bárbara Lluch), creates a visceral thrill with its raw depiction of the story's gory elements. At the same time, however, it plumbs the psychological depths of the characters. In this broadly modern day staging, Es Devlin's set focuses on the underbelly of Herod's palace. The lavishness of his halls is merely alluded to through a banqueting table that occupies a single strip high above the stage. The main area, in contrast, contains the entrance to the prison where Jokanaan (John the Baptist) is held, and acts as a catch-all cellar with its wine racks, hanging meats, dirty tiles and dim lighting. It is here that the soldiers indulge in their own debauchery while keeping watch.
It is a production that allows the principals to shine by positively inviting multi-faceted performances from them. In this way, the presentation of Salome is not so left field as to stop her from being a femme fatale, but she does come across as being more than merely one. In an astutely observed portrayal, Malin Byström, making her Royal Opera role debut, achieves a fine balance between projecting sexual allure, a child-like petulance and a deeper, contemplative yearning. It is noticeable that as Herodias delights in her daughter claiming Jokanaan's head, she in contrast sits silent with the intensity of her own thoughts and feelings rendering redundant any outward show of triumph. Her cradling of his head at the end also suggests that, amidst the gore and brutality, she really is, on her own terms, forming a spiritual union with him.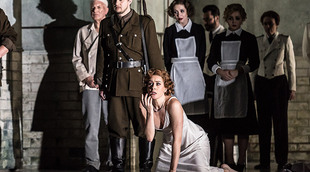 Malin Byström © ROH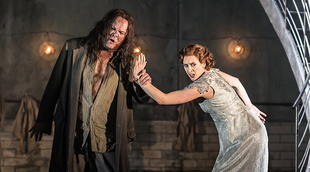 Michael Volle, Malin Byström © ROH
As Jokanaan, Michael Volle's baritone is outstanding as he really emphasises the ruggedness of this crazed, mystical Prophet. His voice is so strong that all of his offstage singing comes across clearly, and if when he is onstage he overpowers Byström just a little, this may well be deliberate on her part. Their encounter occurs early on, and Byström really ensures that Salome grows over the evening so that her soprano blossoms by degrees. This is all to the good because a character who felt so intense and hyperbolic from start to finish would be less effective overall.
The production enables many facets to be explored. Like the Wilde play, Strauss' Salome tends to reduce Herodias to being a bit-player, but, especially when played by someone with the presence of Michaela Schuster, she still comes across as an important figure with her own agenda, even if ultimately she is eclipsed by Salome. A silent stare between the two is all that is needed to show that Salome is asserting her taking of Jokanaan's head as her own victory, and not her mother's. At the same time, Strauss, unlike Wilde, places less emphasis on Herod's own motivations, but in spite of this John Daszak creates a very three-dimensional character. This King can be brutish, but shows how on the one hand he likes to see himself as a generous charmer who is loved rather than feared, and on the other how he is immensely vulnerable both to female allure and the powerful Jewish authorities.
The real coup of the staging is the Dance of the Seven Veils. It occurs on a bare stage, lit with blue light from the side, and sees doors move from left to right to create new spaces every time that they stop. Through these Herod and Salome pass in scenes that see her dress up in fine garments before throwing them aside and washing herself clean. Although it is frequently sensuous, the sequence moves away from simply presenting a seductive dance to explore Salome's various emotional states. For example, a child's toy in one scene may hint at her history with Herod, or at abuse that she received in the past and left her damaged. We are reminded, however, of how Jokanaan is never far from her mind as even during the Dance she stares down into the prison where he is held.
The sequence also sees the only scene change of the evening as the main set literally drifts out at the beginning of it and in again at the end. By placing the routine almost in the realms of dream, it removes the requirement for there to be onlookers (the guests at the feast), and thus makes the encounter between Herod and Salome seem far more intimate. Henrik Nánási's conducting is also excellent, revealing how for a sound to feel so visceral and bombastic, it has to be based on strong underlying precision, balance and delineation of line.
By Sam Smith
Salome | 8 – 30 January 2018 | Royal Opera House, Covent Garden
the 11 of January, 2018
|
Print